An Oklahoma woman has no parental rights over the son she raised for two years with her estranged wife, who has since started dating the former couple's sperm donor, a judge ruled Monday. 
Kris Williams and Rebekah Wilson, who were legally married in June 2019, were both initially listed on the boy's birth certificate when Wilson gave birth to him in August 2019, according to court documents. The boy, referred to only as W.R.W.W. in the judge's ruling, was conceived using the sperm of Harlan Vaughn, with whom Wilson entered a "Known Sperm Donor Agreement" in September 2018.
Williams and Wilson, however, split in November 2021, and Wilson moved in with Vaughn shortly afterward, court documents state. But while Williams was on the child's birth certificate, she did not adopt him before she split with Wilson, and she has not seen him since Nov. 23, 2021.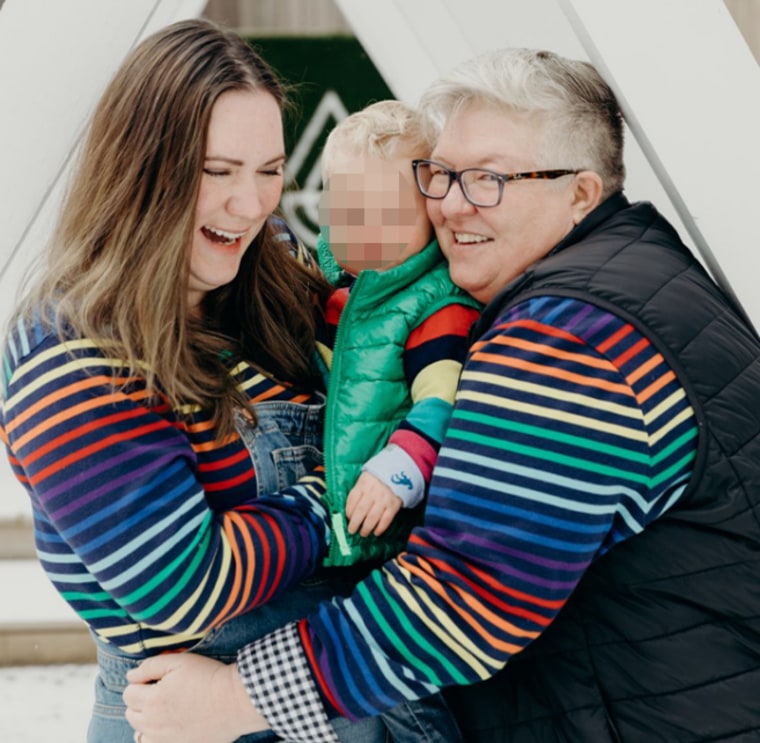 "The reality is that the law provides a legal remedy available to Williams," Oklahoma County District Judge Lynne McGuire wrote in her decision, referring to adoption. "She knowingly chose not to pursue it."
McGuire's ruling found Wilson and Vaughn, who have since had a second biological child together, to be the "legal parents" of W.R.W.W.
Williams told NBC affiliate KFOR of Oklahoma City that she was "in shock" by the judge's ruling.
"I can tell you that that brings a lot of anger and emotion on me," Williams said through tears Tuesday. "Why? Just why?"
In a statement to KFOR, Vaughn said that he and Wilson are "grateful for the court's validation."
"We remain focused exclusively on our child's protection and well-being," Vaughn said.
While the case is complicated, the verdict should be a cautionary tale for other LGBTQ families, according to some legal experts and LGBTQ activists.
In Oklahoma, as in many other states, married couples are presumed parents of children born within the marriage. However, McGuire ruled that because the state's parentage act predates the legalization of same-sex marriage in the state, it did not apply in Williams' case.
"[The act] does not take into account same-sex marriage, and there is no presumption that the wife of the mother is automatically presumed the parent of a child born during the marriage," McGuire ruled.
Williams' attorney, Robyn Hopkins, contends that the ruling puts the burden of adoption on same-sex couples, while exempting heterosexual couples of the same responsibility. 
"Show me where the case law says that gay people have to adopt their own children?" Hopkins asked KFOR. "Why do gay people have to have a home study and a background check to adopt their own children and pay upwards of a couple thousand dollars and go to court to make it official?"
Hopkins added that she and Williams will appeal the ruling to the Oklahoma Supreme Court.