Nearly a year since two people died following drug-facilitated thefts after they visited gay bars in New York City — and dozens were robbed using the same method — authorities defended the pace of their investigation.
"With these cases, you have to get it right," Mayor Eric Adams said at a news conference Tuesday. "And sometimes the desire to get it right collides with the immediacy that people would like to see justice."
John Umberger, 33, a political consultant, and Julio Ramirez, 25, a social worker, were found dead after they visited gay bars in Manhattan's Hell's Kitchen neighborhood last year. Both had left the bars with at least one unknown person before their bank accounts were drained of thousands of dollars using facial recognition access on their phones, relatives said.
The deaths were a part of a broader "citywide robbery scheme" that included 17 incidents from Sept. 19, 2021, to Aug. 28, authorities have said. 
The news conference, which was held outside police headquarters in Manhattan and included District Attorney Alvin Bragg, came a day after the final suspect in connection with a string of drug-induced robberies was arrested.
In total, five men — Jayqwan Hamilton, Robert Demaio, Jacob Barroso, Andre Butts and Shane Hoskins — have been arrested in recent weeks. Bragg announced that a sixth man, Eddie Ashley, was also charged in relation to the crimes and was already in custody.
More from NBC News on this story
"I know these incidents have provoked a lot of fear. Nobody, nobody, should have to worry about their safety and well-being when enjoying Manhattan's vibrant nightlife," Bragg said. "And this investigation sends a clear message that we have no tolerance for this type of dangerous and deadly conduct."
Several gay men who survived similar incidents previously described their initial interactions with the police department as dismissive and accusatory. 
But Police Commissioner Keechant L. Sewell pushed back Tuesday when she was asked whether detectives were initially dismissive because the victims were gay. 
"We will never discriminate against anyone in this city," Sewell said. "They are all part of our communities, and we will make sure that we address any concerns that they have."
Bragg also shared a hotline for New Yorkers who believe they have been victims of similar crimes Tuesday and encouraged victims to step forward.
About a month ago, the medical examiner's office ruled the deaths of Umberger and Ramirez as homicides caused by a "drug-facilitated theft." Multiple drugs were found in their systems, including fentanyl, lidocaine and cocaine.
Among several charges, Hamilton, Demaio and Barroso were all arrested on charges of murder. Hoskins and Butts were arrested and accused of felony larceny and identity theft.
Authorities said Tuesday that Hamilton had 12 previous arrests, Demaio had four and Barroso had nine.
An attorney for Demaio, Dean Vigliano, said in a text message that "when Mr. Demaio learned he was wanted he opted to turn himself in." Vigliano declined to comment further.
Attorneys for the five other men could not be immediately reached for comment.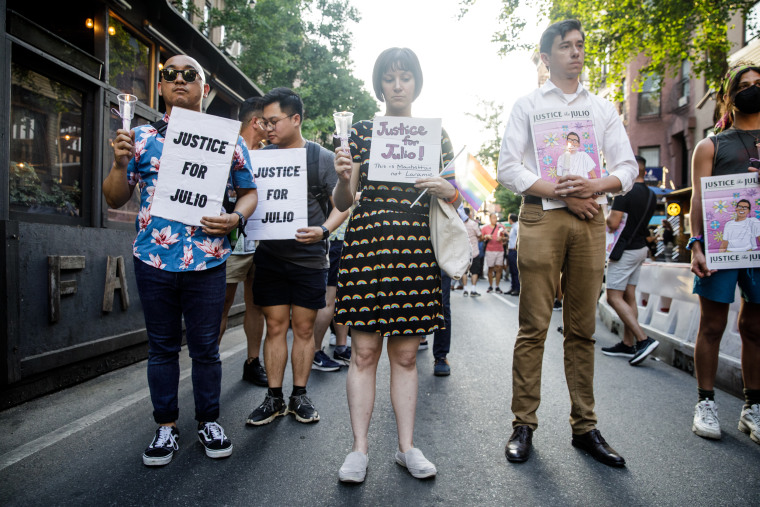 NBC News has spoken with several gay men who said they survived similar incidents from December 2021 to March 2023. 
On Tuesday, NYPD Chief of Detectives James Essig said that "many if not most of the men who were confronted were members of the LGBTQ community." Police previously said comparable crimes were being committed against patrons of bars without any LGBTQ affiliation.
Adams noted that while the police department's Hate Crime Task Force assisted in the investigation, the motive was "clearly rooted in greed" and a "total disregard for the victims."
"Our hearts go out to the families," he said. "We're going to continue to communicate to the community, but it was about being thorough so we do not make the mistake of being premature and allow dangerous people to stay on the street."
A separate group is suspected of committing similar crimes against 26 victims, two law enforcement officials said this month. Fashion designer Kathryn Marie Gallagher, whose death in July was ruled a drug-facilitated homicide by the medical examiner's office, was one of the group's victims, the officials said.
Last month, the New York City medical examiner's office also confirmed that it is investigating "several additional deaths in similar circumstances" to those of Ramirez and Umberger. It is unclear, however, whether they were found dead after having visited gay bars or whether they were connected with the same suspects.
A spokesperson for the medical examiner's office said at the time that the office "could not comment further due to the ongoing criminal investigations."
Linda Clary, Umberger's mother, has spent the past year pushing police to find those who were involved in his death. The announcement of the arrests brought sadness, as well as gratitude to the police, she said.
"It's overwhelming, because sometimes you feel so relieved that these people are not out there and able to continue hurting other families and people. And then this is sort of one step in a long process when you look at a trial," Clary said, adding that the arrest brings up many feelings.
"It hurts because he is here," she said, referring to the suspect. "And John is not."