Kansas City, Missouri, police are investigating an alleged pellet gun shooting outside an LGBTQ bar. 
Officers were called to Fountain Haus, an LGBTQ-friendly venue, around 1 a.m. Sunday after they received reports that someone waiting in line to enter the bar was experiencing pain in an arm and believed a pellet gun may have struck them, a police spokesperson said.
Police said no medical attention was required. 
NBC affiliate KSHB of Kansas City reported that it was still not clear Monday morning whether the alleged shooter hit anyone else in the line. 
Police said detectives in the department's assault squad are investigating the incident as an aggravated assault and maintaining contact with the FBI.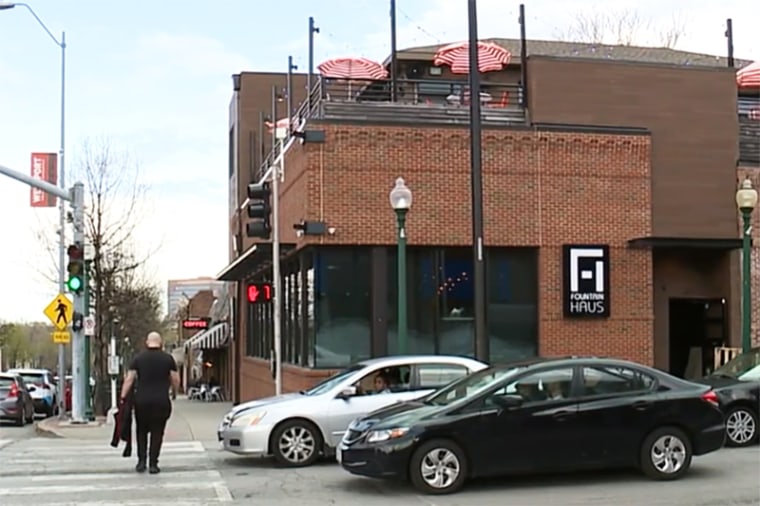 Fountain Haus, in Kansas City's Midtown Westport, an area known for its late-night entertainment, opened in April 2022 hoping to attract patrons from the local LGBTQ community. The venue hired its own security team at that time to ensure the safety of its customers, according to KSHB. 
In response to the incident, Justice Horn, the chair of the Kansas City LGBTQ Commission, tweeted an image of what appeared to be an email sent by the club's management. 
A police spokesperson said the department's LGBTQ liaison officer contacted Fountain Haus management to discuss safety measures.
Fountain Haus management did not immediately respond to a request for comment. 
The incident, which occurred just a week before the Kansas City Pride Parade on Saturday, is the latest of several attacks against LGBTQ venues in the past year. 
In February, a woman was arrested and charged with multiple hate crimes after she allegedly torched an LGBTQ Pride flag outside a New York City restaurant. In October, a gay couple in Connecticut said they were beaten and bloodied outside a gay bar they own. The same month, a gunman killed five people and injured 25 others at an LGBTQ club in Colorado Springs, Colorado. 
Missouri legislators have filed 48 anti-LGBTQ bills this legislative session, more than in any other state besides Texas, according to the American Civil Liberties Union. In response, Kansas City Mayor Quinton Lucas in May declared the city a sanctuary for transgender people seeking gender-affirming care.