For the better part of two decades, Pride Night celebrations in professional sports went off with a minimum of fanfare, as clubs eagerly showed off their embrace of the LGBTQ community.
Fast-forward to last month, when a Florida lawmaker voiced displeasure with the Pride Night guest list of a Major League Baseball team 2,700 miles away, leading to a cancellation, un-cancellation and hurt feelings of everyone involved — including that of a two-time Cy Young Award-winning pitcher.
Somewhere along the line, the routine act of backing a generic LGBTQ celebration became not-so-routine anymore, with even stitching on practice jerseys becoming a hot-button topic.
"I think it's people's existing political leanings showing a little bit," said U.S. Rep. Mark Pocan, D-Wis., chairman of the Congressional Equality Caucus and one of Congress' 13 openly LGBTQ members.
He added, "Since Donald Trump, a lot of people who wear white hoods have left them in the closet for the last six years. You can suddenly say stuff that's unpopular out loud, because this is the current environment."
Cyd Ziegler, a historian of gay sports and the founder of the LGBTQ sports news website Outsports, traces the current backlash to two inflection points: patches and pronouns.
Five Tampa Bay Rays players refused to wear LGBTQ Pride-themed jerseys last June. And earlier this year, Philadelphia Flyers defenseman Ivan Provorov and San Jose Sharks goaltender James Reimer refused to wear warmup equipment with Pride symbols.
"We had teams that started to put Pride rainbow flags on the uniforms of players, and that is when some of the players were like, 'Uh, I'm not doing that,'" Ziegler said. "So that was a change."
But the bigger inflection point, he said, might be centered on issues around transgender rights. Embrace of cornerstone gay rights, such as same-sex marriage, was a relatively simple step for most Americans, Ziegler said, and far less complicated than questioning gender roles and identification.
This is "the new battlefront," he said, and with trans rights front and center, he doesn't think the Pride Night debates are going away anytime soon.
"This is not just a bump in the road," Ziegler said of the backlash. "This is going to be a fight."
The most recent debate over Pride Night stems from the Los Angeles Dodgers honoring the Sisters of Perpetual Indulgence at the team's annual LGBTQ Pride event on June 16.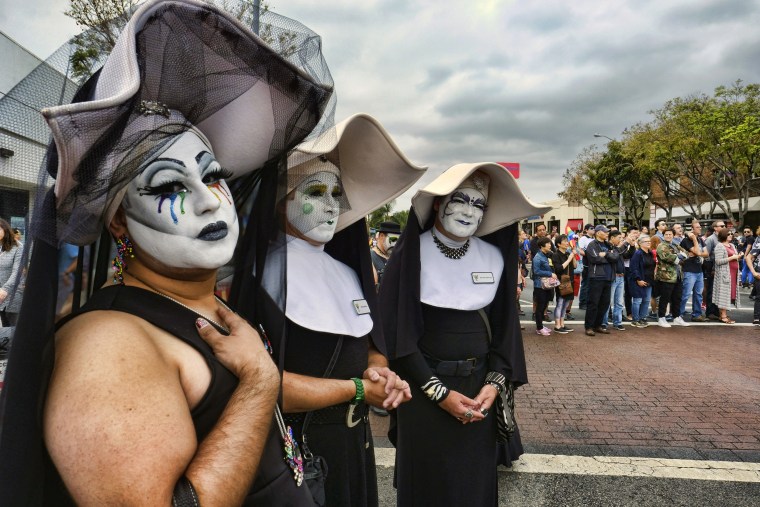 The decades-old charitable group of drag performers describe themselves as a "leading-edge Order of queer and trans nuns."
The Pride Night temperatures could even be boiling into the 2024 presidential race, with former Vice President Mike Pence chiming in Wednesday about the Dodgers' guest list.
"Having been raised in a Catholic family, the Dodgers decision to invite the Sisters of Perpetual Indulgence, a hateful group that blatantly mocks Catholicism, to their event next month is deeply offensive," Pence told his Twitter followers on May 31. "The MLB should not be apologizing to the Sisters of Perpetual Indulgence, they should be apologizing to Catholics across America."
Athlete Ally, which promotes sports as a vehicle to end prejudice against the LGBTQ community, said in a statement this week that Pride Night events are important to greater acceptance of all communities.
"Sport has traditionally been a space where LGBTQI+ players, coaches and fans are unwelcome," the group said in a statement. "While much progress has been made through the years, often thanks to out athletes and coaches who have helped pave the way forward, there still are tremendous barriers to making sport truly a safe, welcome and inclusive place for all."
The group added, "Teams have the power to incorporate their values into how they show up for the communities that love and support them, and Pride nights are an opportunity for teams to proactively show up for their LGBTQI+ fans."
MLB's open embrace of the gay community dates back nearly 30 years, to when the San Francisco Giants held their first "Until There's a Cure Day" in 1994. The game and pregame ceremonies raised money and awareness in the battle against AIDS.
The event was widely embraced in the San Francisco Bay Area with only minimal disruption.
But Pride Day/Night celebrations are usually traced to a Dodger Stadium incident in August 2000, when security guards kicked out two female fans who had kissed in the stands.
The team apologized, gave tickets to local gay community groups and, perhaps inadvertently, touched off a sequence of events leading to Pride Day/Night celebrations held by 29 of 30 MLB clubs ever since.
The Texas Rangers remain the lone star holdout franchise to never have held such a celebration, Outsports reported.