Some corporate sponsors have kept lower profiles at Pride celebrations this year, but most have not tightened their purse strings or ditched LGBTQ causes in the face of conservative blowback, event organizers and advocates say.
Many Pride organizers across the country say high-profile brand backlashes, restrictive legislation and heightened threats against LGBTQ people have fueled record crowd turnout this year. While that has often meant spending more to keep attendees safe, the polarized climate has also kept sponsorship dollars flowing to Pride events and the groups they support.
Nearly 78% of U.S. Pride organizers surveyed this year by InterPride, a network of Pride events around the world, said their corporate sponsorships either rose or held steady since last year — higher than the 62% global figure — while 22% reported declines.
Indy Pride, which organizes official celebrations in Indianapolis, faced new difficulties in the run-up to this year's festivities. One corporate sponsor pulled its logo from an event, and another raised questions about a youth Pride carnival it had agreed to sponsor after getting "blasted" on social media, said executive director Shelly Snider.
Most of the Pride organizers NBC News spoke with, including Snider, declined to identify corporate sponsors that shrunk their involvement or visibility, concerned about alienating important financial backers. Like Indy Pride, Pride organizations are typically nonprofit organizations that also offer year-round services to the LGBTQ community, such as grants, educational events and support for political activism.
Indy Pride's security costs have tripled, Snider said, and its events have beefed up their safety protocols.
"We've hired extra security, gone through 'stop the bleed' training in case there is an active shooter," she said. "This is new to this year. I didn't think when I took this job that we would have to [learn how to] use a tourniquet, but here we are."
Even so, Indy Pride raised a record $641,000 and saw crowds swell to an estimated 60,000 at its festival and parade last weekend, putting the event at full capacity.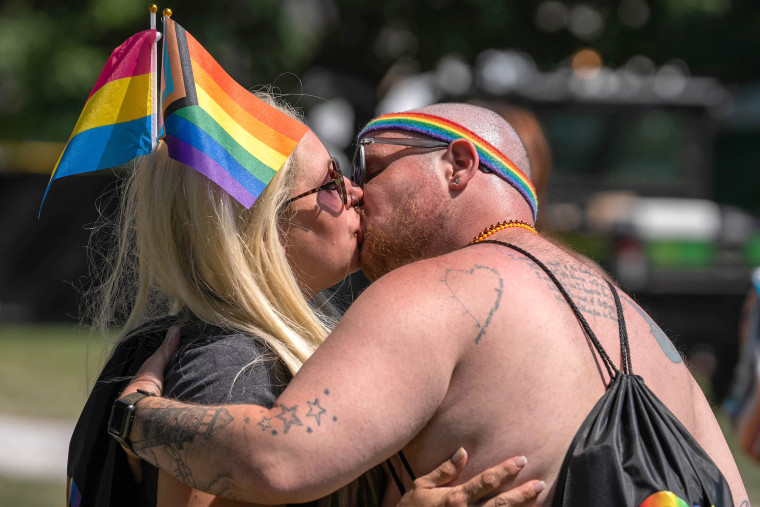 The mix of changes Snider and other organizers described paint a more complicated picture than recent headlines around brands' scrambles to respond to anti-LGBTQ backlash — like that faced by Bud Light and Target — may suggest. While some businesses have walked back their ties to LGBTQ events and causes, including Pride-related marketing, many more have maintained or increased their support.
We've seen an uptick in support throughout the year. More people are showing up and out, including allies.
Josh Coleman, President of Central Alabama Pride
Josh Coleman, president of Central Alabama Pride in Birmingham, said some longtime corporate sponsors dropped out this year, including Wells Fargo. Others have demanded more input on where their branding appears. But donations have held steady this month, he said, in part because more local and regional sponsors have filled the gaps left by larger companies' retreats.
"It's been a little frustrating," Coleman admitted. "Some folks use allyship when they want to."
Overall, though, "we've seen an uptick in support throughout the year," he said. "More people are showing up and out, including allies."
In Tennessee, where a federal judge recently rejected a drag ban that state Republicans enacted earlier this year, corporate backing for Memphis's Mid-South Pride hasn't suffered.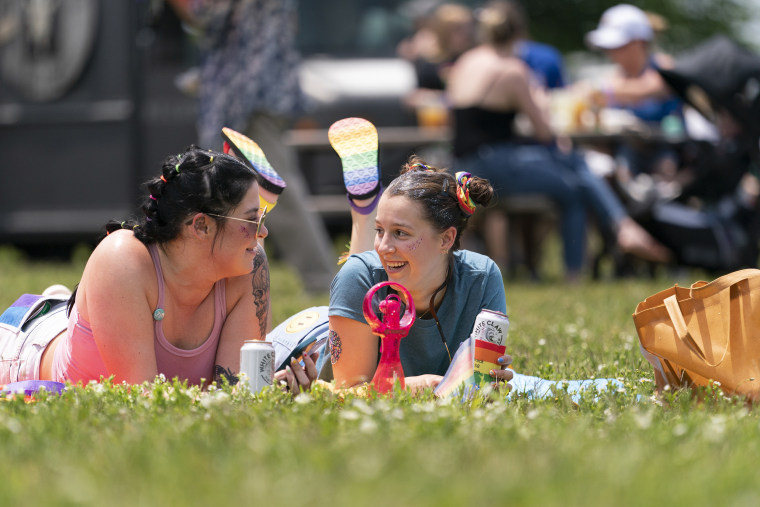 "We had issues," festival director Vanessa Rodley said in an email, but after the judge temporarily blocked the measure from taking effect in late March, "we saw a wave of new sponsors that wanted to show support. There are a few we never got back, but thanks to our community stepping up and new sponsors, we were able to make it."
A handful of major brands, including Kroger and Terminix, didn't return as Mid-South Pride sponsors after making $7,500 and $3,500 contributions, respectively, in 2022, the group's public sponsor lists in recent years show.
But others, such as Nike, Ford, Charles Schwab and Tito's Vodka, either matched or upped their previous-year investments, which ranged from $5,000 to $10,000 apiece. And regional businesses, including a mortgage brokerage and a dentistry practice, jumped in this year with $5,000 sponsorships.
A Wells Fargo spokesperson said the bank "is a longstanding supporter of the LGBTQ+ community" and still "sponsoring parades in cities across the country."
After being contacted, a Kroger spokesperson said the grocery chain "discovered a recent retirement left the [Memphis] parade without a contact at the company" and reached out to Mid-South Pride organizers. "We provided a contact from which to request support for this year or a future event."
Terminix didn't respond to a request for comment.
Some advocates warn that any pullback in the visibility of corporate support during Pride Month — especially by the most well-known brands — risks signaling that LGTBQ consumers are expendable. Others have long called for fewer rainbow-slathered logos and more substantive, if quieter, support from private-sector allies.
"Visibility is the least important," said Bruce Starr, CEO of the marketing agency BMF. "What are you actually donating and giving" to support LGBTQ causes year-round matters more, he said.
In Auburn, Alabama, Pride on the Plains President Seth McCollough said one of the group's three corporate sponsors gave money this year but asked to not be thanked or recognized publicly.
"It was kind of surprising to me," McCollough said, but added, "I guess I understand where they are coming from."
McCollough said Pride on the Plains hasn't lost its biggest corporate backers even though state lawmakers advanced anti-drag and anti-trans bills this year.
Among them is Target, which drew national attention for pulling some Pride merchandise last month after store employees were threatened. The retailer continues to be a top sponsor and provides volunteers to Pride on the Plains, McCollough said. But while big businesses can often contribute larger sums, the group relies on smaller companies for most of its funding anyway.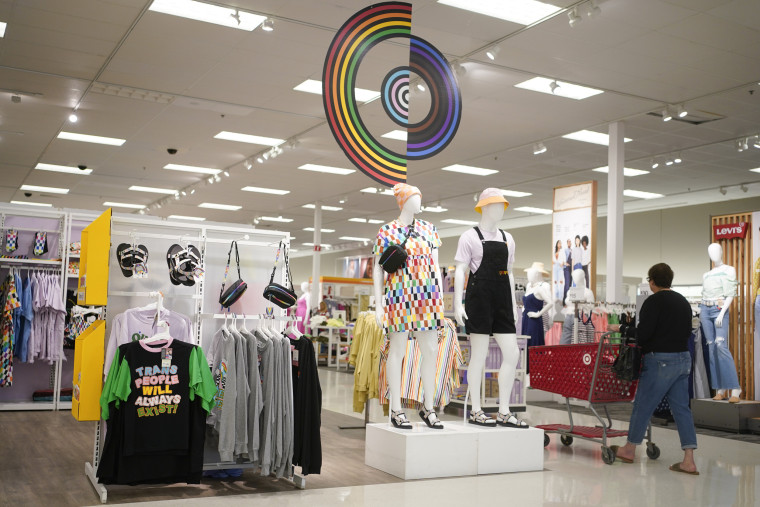 Many Pride celebrations facing difficulties are in the Midwest and South, regions that have seen a wave of Republican-led anti-LGBTQ legislation this year. Organizers in bluer states haven't experienced much difference.
Pride officials in New York City, home to the first Pride March, in June 1970, said this year would be on par with last in terms of arranging sponsors and security. But Pride organizers in Charleston, South Carolina, said they've seen a significant drop in funds and sponsorships post-pandemic, after setting records in 2019.
Kendra Johnson, executive director of Equality NC, said threats against the community and Pride events have risen dramatically throughout North Carolina.
"I'm 52 — I've never seen it like this," Johnson said, citing threats of violence and cases in which she said organizers were doxed. Johnson's LGBTQ advocacy group doesn't plan Pride festivities, but she said some organizers in the state have told her of sponsors pulling out of local events.
Ron deHarte, co-president of the United States Association of Prides, an umbrella group representing nearly 100 organizers across the country, acknowledged that many groups face growing challenges.
"We're hearing that there are a few organizations that have made their own decision to modify their programs or cancel based on legislation, out of fear of government action" by some state authorities, he said.
But many sponsors remain committed after years of support for the LGBTQ community, despite the criticism that often comes with it. Tense political climates, as well as presidential election years, tend to drive enthusiasm and attendance at Pride celebrations because many people become more engaged, deHarte said.
"This certainly isn't the worst we've seen," he said, "and we've continued to survive for decades."