A man was arrested and another was left bloodied as dozens of people protested a Drag Story Hour event in New York City on Sunday, according to videos shared on social media and in local news reports. At least some of the protesters appeared to be affiliated with the Proud Boys, a far-right extremist group.
The protest took place outside the LGBTQ Community Center in Manhattan's West Village neighborhood, where New York Attorney General Letitia James was hosting a Drag Story Hour event, with drag performers reading children's books to kids and their families. Drag has deep historical ties to the LGBTQ community, and the center is just a short walk away from the iconic Stonewall Inn, arguably the birthplace of the modern LGBTQ rights movement.
A video posted on Twitter by a journalist affiliated with the local media site FreedomNews.tv shows a protester wearing a gold Anonymous mask being apprehended by police. A police spokesperson confirmed in an email that the masked man, Robert Porco, 53, of Fishkill, New York, "was arrested and was charged with Assault," saying "he approached a victim and struck him in the face." The victim suffered a "physical injury to his face" and "swelling to his nose" but was not hospitalized, the spokesperson said.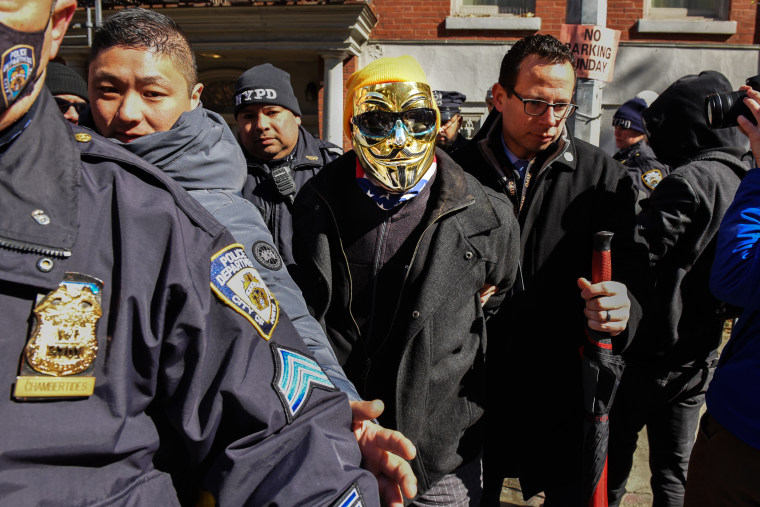 In a separate video shared by the same Twitter account, a different protester walks away from the event with his face bloodied.
"I came here to help, not get the s--- beat out of me," he said, accompanied by a fellow protester in a Proud Boys sweatshirt and surrounded by a swath of local media.
Counterprotesters could be heard in the background shouting: "Go back to Long Island" and "F--- the Proud Boys."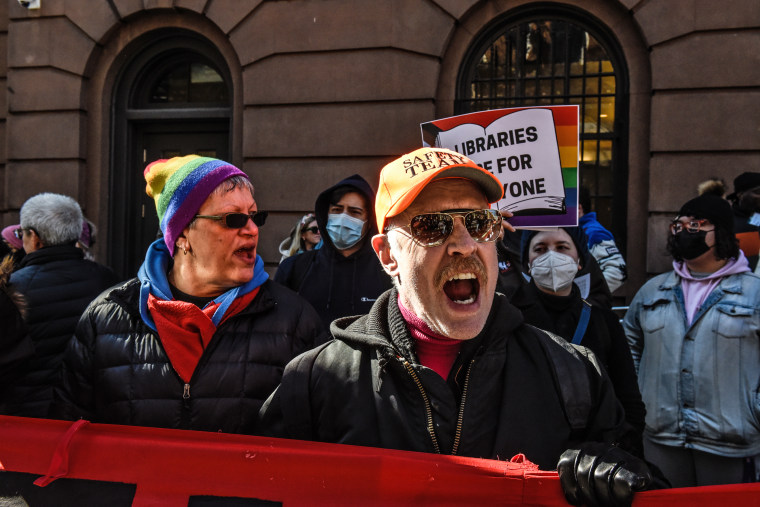 Representatives for James and Drag Story Hour's New York City chapter did not immediately respond to requests for comment.
James said in a statement Sunday that the recent rise in anti-LGBTQ protests and legislation has left her "devastated and disappointed."
"Hate has no home in New York, and I will always fight to ensure our LGBTQ+ siblings' rights are upheld and defended," she said.
Drag — once an underground art form — has become a political flashpoint in recent months.
So far this year, legislators in at least 16 states have proposed measures that would restrict drag performances, according to an NBC News analysis. The majority of the bills would limit drag in the presence of children.
Supporters argue that such legislation is needed to protect children from sexualized entertainment, while critics say it broadly paints all drag as overtly sexual and unfairly targets the LGBTQ community.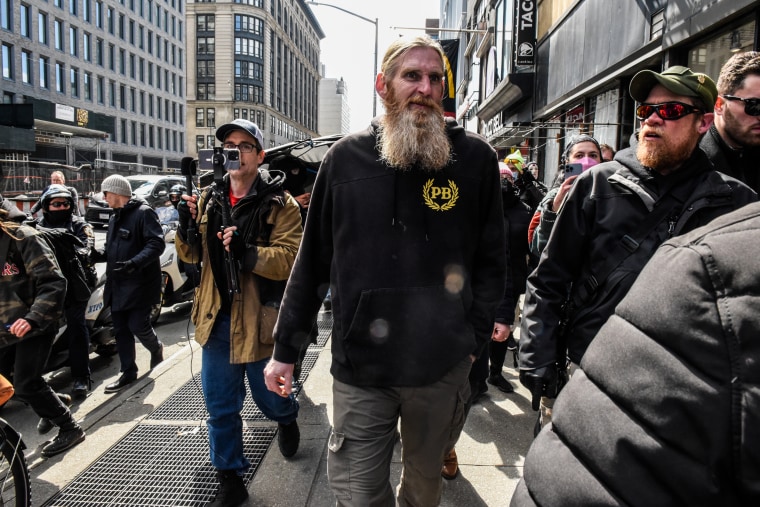 This month, Tennessee became the first state to enact such legislation, banning the art form in public or at locations where it can be seen by minors. Performers who violate the law more than once can be charged with a felony and sent to prison for up to six years.
The debate over whether drag is appropriate for children has, as it did Sunday, prompted violence in recent months.
There were at least 141 incidents of protests and threats targeting drag events last year, according to the LGBTQ advocacy group GLAAD. In response to such incidents, several of the country's top drag queens have said they have increased security at their events, some by hiring armed guards.
"My two young daughters have been going to Drag Queen Story Hour for years with their two dads. They like it for the simple reason that it's fun and interesting — there's nothing more complicated than that," New York state Sen. Brad Hoylman-Sigal, who is gay, said in a statement Sunday. "Those who are attempting to use Drag Queen Story Hour to stir up controversy and vitriol directed at the LGBTQ community and specifically drag artists should be ashamed of themselves."