A sign with a homophobic slur outside a Florida auto repair shop has sparked backlash from the local community and social media users.
The sign, which appeared to have gone up over Memorial Day weekend outside Rick's Repair Shop in Tallahassee, said, "Veterans get a day fags and child molesters get a month why," appearing to refer to Pride Month in June.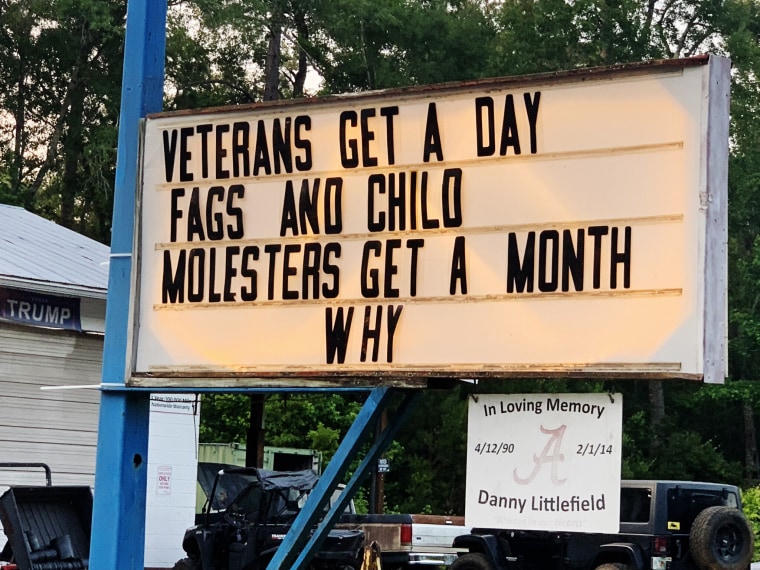 Jackson Peel, a spokesperson for the Florida House Democrats, tweeted a photo of the sign and publicly denounced the message. 
"This kind of bigotry should have no place in our Tallahassee community," Peel wrote. "It is an embarrassment and the people at Rick's Repair Shop should be ashamed of their foolish, hurtful, and wrong words."
The viral post, which was shared Sunday, has been viewed over 900,000 times and received hundreds of responses. 
Tyler Clark-McLendon, the board chair of Tallahassee Pride, shared Peel's tweet and said the shop "chose to have a hate-filled Memorial Day."
Tallahassee City Commissioner Jeremy Matlow also criticized the business, sharing Peel's tweet and writing, "I'm not sure the sad, miserable place a person must be in to take the time to put this up, but I do know the majority of folks in Tallahassee reject this hatred and respect the freedom to be who you are, love who you want and support LGBTQ rights every month of the year."
Shop owner Rick Hughes is known in the community for sharing controversial messages outside his store, according to Peel.  
Hughes could not be reached for comment.
Since the post, Rick's Repair Shop has received hundreds of negative ratings and reviews on the business-review platform Yelp.
Yelp posted a message Tuesday afternoon saying it had temporarily disabled the posting of new reviews to the shop's page due to "increased public attention, which often means people come to this page to post their views on the news rather than actual consumer experiences with the business."
Earlier this month, drivers in Orlando, Florida, were met with a violent and homophobic message on the road, where a digital traffic sign that appeared to be tampered with displayed the message "KILL ALL GAYS."
Orlando police said the incident is under investigation, NBC affiliate WESH of Orlando reported.
Orlando Mayor Buddy Dyer denounced the hateful message, calling the sign "disgusting" and saying "hate has no place in Orlando." 
"To Orlando's LGBTQ+ residents and visitors: you are respected and valued here," Dyer tweeted. "And we won't be deterred in our efforts to ensure that our city is inclusive for all."