A Texas school district reversed a high school's restrictions on a production of "Oklahoma!" after a transgender teen lost his role in the show, prompting backlash from the community. 
Sherman Independent School District board members voted 7-0 at a meeting Monday to reinstate the original cast and script chosen for the production after more than 60 people at the meeting criticized the school's decision, NBC affiliate KTEN of Denison reported. 
"We want to apologize to our students, parents and our community regarding the circumstances that they have had to go through to this date," board President Brad Morgan said in a statement after the meeting. "We understand that our decision does not erase the impact this had on our community, but we hope that we will reinforce to everyone, particularly our students, that we do embrace all of our Board goals, to include addressing the diverse needs of our students and empowering them for success in a diverse and complex world."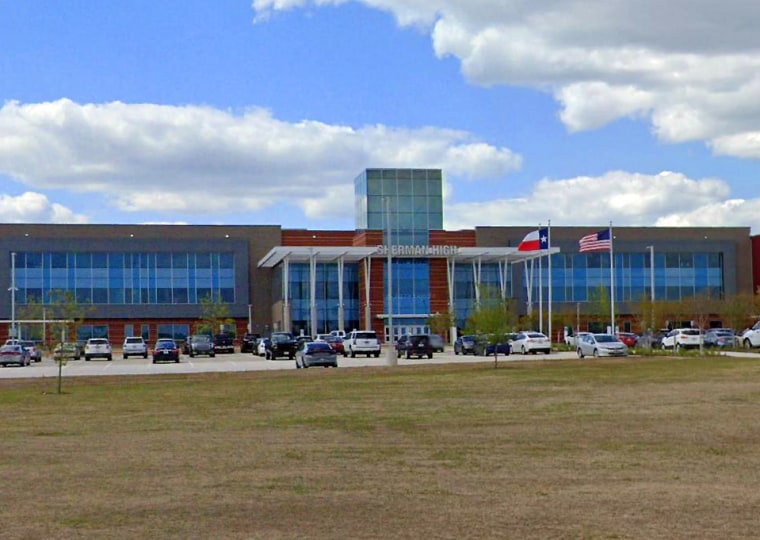 Max Hightower, a senior at Sherman High School, landed a starring male role in the musical this month. But soon afterward, the principal told Max and his family that the school had adopted a new policy for the "Oklahoma!" production that barred students from playing roles that didn't align with their assigned sexes at birth, Phillip Hightower, Max's father, told NBC Dallas-Fort Worth. The policy caused Max, a transgender boy, and other students who aren't trans but were playing characters of different genders to lose their roles.
The school later changed course and said in a statement that there wouldn't be a gendered casting rule but that the show would be edited down to be more "age appropriate."
Phillip Hightower told the board that the school's shortened version would have cut Max's solo. 
"This was the biggest role Max ever had. This was a solo," he said at the meeting, according to WFAA-TV of Dallas. "This would've been the culmination of his career."
Another person said the board should reinstate the original "Oklahoma!" and "let the students sing!" KTEN reported.
Max told WFAA before the board's vote that listening to people support him was "emotional and empowering" and that he hoped the board would reverse the school's decision and allow the original cast to do the full "Oklahoma!" production. 
"To know there is a big group out of people who want to help me and help everyone affected, it feels like we're on even sides now and can actually win this fight," he said. 
On Wednesday, after the board's vote, Phillip Hightower said parents who advocated for Max still have two goals. First, they want the school and board to apologize to the theater and choir directors. Second, they want the school board to adopt a policy that protects all student actors and mirrors the theater policy developed by the Texas University Interscholastic League, which oversees extracurricular activity competitions in the state. The league's policy allows students to play any role regardless of their birth gender.
Phillip Hightower said he didn't expect his family's fight to be successful in their conservative town.
"I've always told my kids, when it comes to good people versus bad people, I've always said there's more of us than there are them," he said. "But it wasn't until all this started that I kind of have proof now. Who would have thought, in nowhere Texas, in a deep red state, this much support would show up."
For more from NBC Out, sign up for our weekly newsletter.