KAMPALA, Uganda — Members of Uganda's LGBTQ community are in shock and fear being arrested after Parliament passed a measure that would make it a crime to identify as gay and impose tough sentences that include the death penalty in certain cases, an activist said Wednesday.
The "Anti-Homosexuality Bill, 2023" was passed with a near-unanimous majority by lawmakers in the east African country, where anti-gay sentiment runs deep.
U.S. Secretary of State Antony Blinken said Wednesday the measure would undermine fundamental human rights and "reverse gains in the fight against HIV/AIDS," and he urged authorities to reconsider implementing it.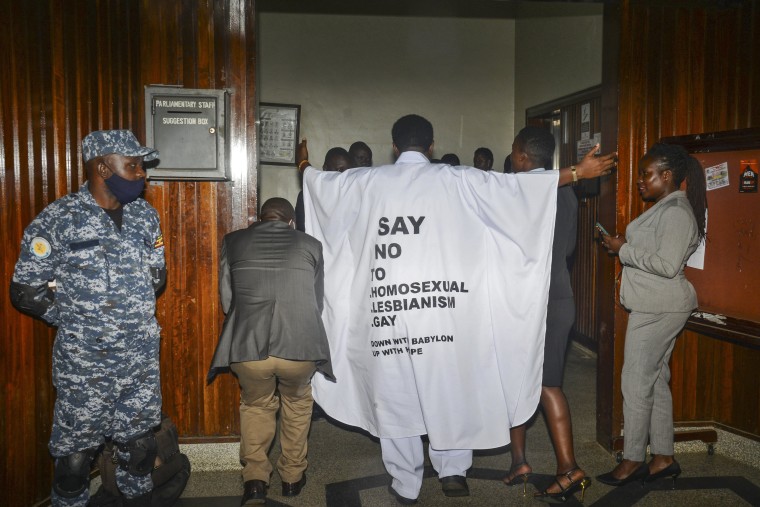 The legislation will next be sent to President Yoweri Museveni, who has repeatedly denounced homosexuality, to be signed into law.
Frank Mugisha, one of a few Ugandans who live openly as gay, told Reuters he was scared the measure would trigger "mass arrests of lesbian, gay, bisexual, transgender and queer persons and mob violence toward LGBTQ communities."
"LGBTQ persons are going to fear going to health centers for services. ... There's going to be a lot of trauma and cases of mental health that will lead to a lot of suicide," he said.
Same-sex relations were already illegal in Uganda, but supporters of the new law say it is needed to punish a broader array of LGBTQ activities, which they say threaten traditional values in the conservative and religious East African nation.
The measure includes steep sentences that include death for "aggravated homosexuality" and life in prison for same-sex relations. Aggravated homosexuality involves same-sex relations with people under age 18 or when the perpetrator is HIV-positive, among other categories, according to the legislation.
"It's a moment of shock for the LGBTQ community," said Mugisha, whose charity, which advocates for LGBTQ rights, was shut down last year.
Mugisha said he would challenge the measure in court on grounds that it was unconstitutional and violated various international treaties to which Uganda is a signatory. He did not say when he would file a case.
A case such as his would stand a good chance of striking down the legislation, said two Kampala-based lawyers contacted by Reuters.
"The law violates fundamental constitutional rights like privacy and free speech, so purely based on the law, I think it will be a strong case," said lawyer Adrian Jjuko.
Anti-gay legislation passed in 2013, which triggered cuts to aid and investment, was struck down by the court on procedural grounds.