New York Gov. Kathy Hochul signed a bill Sunday to protect access to transition-related medical care for transgender minors as an increasing number of states consider and pass restrictions on such care. 
The new measure bars state courts from enforcing the laws of other states that might authorize a child to be taken away if the parents provide gender-affirming medical care, including puberty blockers and hormone therapy. It also prohibits New York courts from considering transition-related care for minors as child abuse unless it would actually constitute abuse as defined under state law. And it bars state and local authorities from cooperating with out-of-state agencies regarding the provision of lawful gender-affirming care in New York.
Hochul, who signed the bill ahead of the annual New York City Pride March, said that the state's residents have "been on the forefront of the fight for equal rights," from GENDA, a law passed in 1945 that is considered the first human rights law in the country, to the 1969 Stonewall uprising, which is widely considered a major turning point in the modern gay rights movement.
"As the birthplace of the modern movement for LGBTQ+ rights, New York is proud to protect, defend and affirm our LGBTQ+ community," Hochul, a Democrat, said in a statement. "Now, as other states target LGBTQ+ people with bigotry and fearmongering, New York is fighting back. These new laws will enshrine our state as a beacon of hope, a safe haven for trans youth and their families, and ensure we continue to lead the nation on LGBTQ+ rights."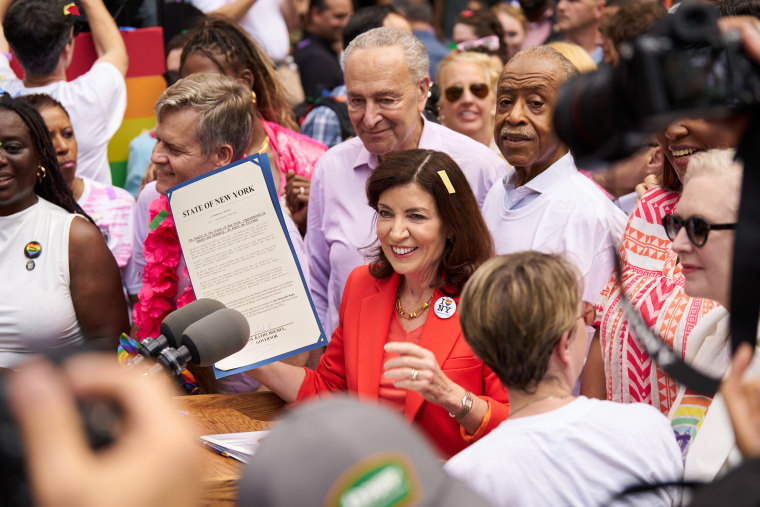 New York joins 11 other states and Washington, D.C., which have similar "safe haven" or "shield" laws on the books, according to the Movement Advancement Project, an LGBTQ think tank. 
In the last two years, 20 states have passed restrictions on transition-related medical care for trans minors and dozens more have considered such legislation. Supporters of the laws argue that puberty blockers and hormone therapy are experimental and that minors are too young to consent to the treatments. However, relevant major medical associations — including the American Academy of Pediatrics, the American Psychological Association and the American Medical Association — have opposed such restrictions.
Last week, a federal judge struck down Arkansas' ban on gender-affirming care for minors — the first such law in the nation — declaring it unconstitutional. Similar restrictions have taken effect in Arizona, Iowa, Mississippi, North Dakota and Utah, while courts have blocked laws in Alabama, Florida, Indiana and Oklahoma pending the outcome of litigation. Laws have yet to take effect in 10 states, according to the Movement Advancement Project.
In addition to the safe haven bill, Hochul signed four other pro-LGBTQ bills into law. One amends current state law to protect LGBTQ people from discrimination based on sexual orientation, gender identity and gender expression when they seek treatment and rehabilitation for addiction and substance use disorder. A second amends current law to remove an outdated definition of sexual orientation that suggested certain sexual conduct might be criminalized. Two others add gender neutral terminology to state laws and rules and state agency websites.