Hundreds of supporters of transgender people gathered at Oklahoma's capitol this week to protest a slate of proposed legislation that would bar certain gender-affirming medical care for trans minors and young adults in the state. 
Though local reports describe the protest as peaceful, some right-wing media personalities have been comparing it to the deadly attack on the U.S. Capitol on Jan. 6, 2021. 
The protestors gathered Monday on the fourth floor of the Capitol in Oklahoma City outside of the House chamber about an hour before Gov. Kevin Stitt, a Republican, delivered his State of the State address, according to NBC affiliate KFOR.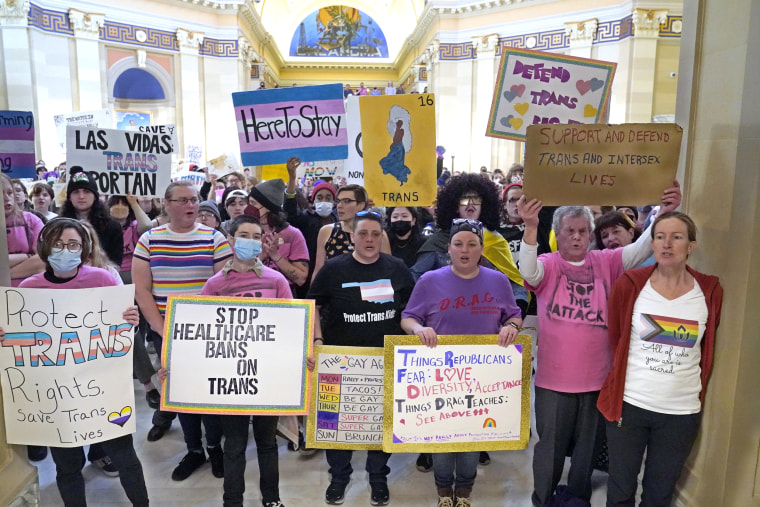 The group chanted "Trans lives matter" and "We are Oklahoma," KFOR reported. 
Some protesters held signs, according to a video shared on social media. One read, "We are not a threat, so stop making us a target" and said at the bottom that hormone replacement therapy "saves lives."
KFOR reported that law enforcement let the demonstrators into the Capitol, and each person had to walk through a metal detector. 
However, right-wing media commentators have been claiming on social media — and cable news — that the protest was not peaceful. One said that protesters had "stormed and occupied" the Capitol, while another said that "a mob of trans activists took over the Oklahoma capitol."
Fox News host Tucker Carlson, on his show Tuesday night, called it an "insurrection." 
"A group of so-called trans activists stormed the state Capitol. ... Their goal is to keep child mutilation legal," he said, according to a video of the segment shared by several people on social media. 
Local news outlets, including KFOR, reported that those characterizations were not accurate. 
Daniel Seitz, the communications director for the Oklahoma House Republican Caucus, also said in a statement on Twitter that none of the protesters had broken the law.
"The Oklahoma House will support and defend the First Amendment rights of all who come to have their voices heard," the statement read, in part. "Regarding Monday's protest, there were no reported incidents or unlawful behavior and any national narrative to the contrary is false."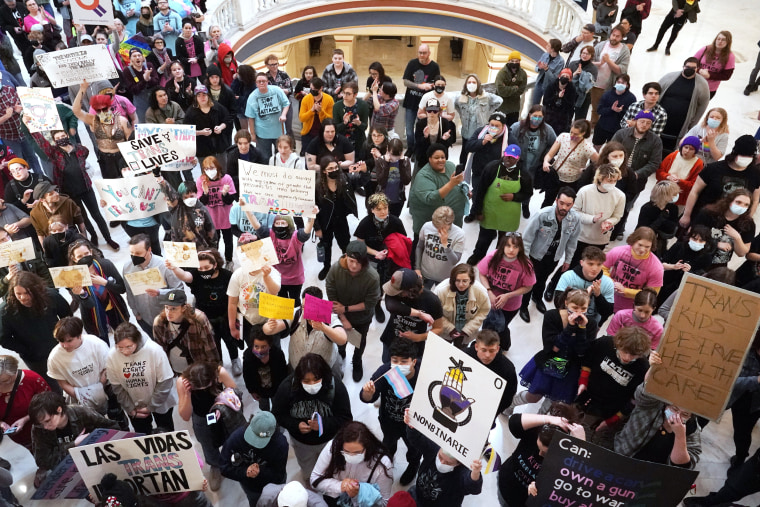 The protesters gathered to oppose a group of bills that target gender-affirming medical care. Some of the bills would completely bar minors from receiving transition-related care, including one that would prohibit such care for people up to 26 years old. Other bills would bar providers of gender-affirming care from receiving public funds. 
State lawmakers have introduced at least 30 bills targeting LGBTQ people so far this year, according to an NBC News analysis. At least half of these aim to restrict gender-affirming medical care.
During his State of the State address Monday, Stitt said he would sign a bill to ban transition-related surgery for minors, though doctors who provide such care say surgeries are rarely performed on minors.
"We shouldn't let a minor get a permanent gender altering surgery in Oklahoma," Stitt said in his address, KFOR reported.
Ramona Diaz, one of the protest organizers, told KWTV, a local CBS affiliate, that she is worried about the bill to bar gender-affirming care for people up to 26, because she is 23 and receives hormone therapy.
"I can purchase a firearm," she told 9News. "I can smoke marijuana. I can drink alcohol. I can go to war, but I can't choose what to do with my own body."