With Pride Month in full swing, some organizers are scrambling to make last-minute changes to their annual celebrations to comply with new legislation aimed at restricting drag performances.
As a result, some celebrations, particularly those in red states, may look different this year. 
Revelers attending the annual LGBTQ Pride celebration in Naples, Florida, this month will have to watch drag performances indoors. Pride spectators in Missoula, Montana, might notice an uptick in police and private security personnel. And in Knoxville, Tennessee, parade onlookers have been asked to trade in their festive posters for protest signs.
"Pride organizers have to do what they feel like they need to do in their local community to make sure they can hold an event and not create chaos for their attendees," said Ron deHarte, a co-president of the U.S. Association of Prides. "It's disappointing that we've seen some organizations modifying their plans and not having drag performances out of fear."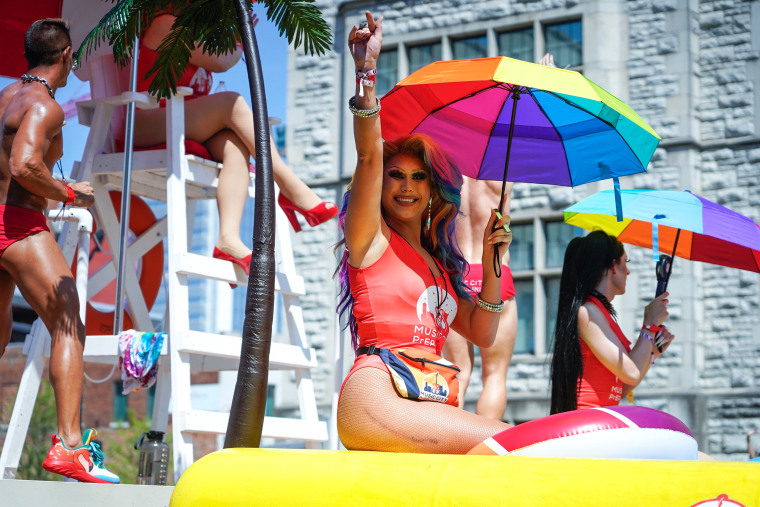 What was seen only last year as a far-off proposal by a handful of conservative lawmakers, the effort to limit drag — a centuries-old art form that has deep roots in the queer community — has gained significant traction in recent months. Republican legislators in at least 19 states have proposed measures this year to restrict where and in front of whom drag performances can take place, with governors in at least three states having signed such bills into law. 
The majority of the bills proposed this year aim to ban children from seeing drag performances, even though most drag shows take place at nightclubs and bars that already prohibit anyone under 21 from attending. 
Supporters say the legislation is necessary to safeguard children against exposure to inappropriate entertainment, while critics argue that the measures broadly paint drag as overtly sexual and unfairly target performers.
So far, only three states — Tennessee, Florida and Montana — have enacted the measures. 
Tennessee was the first, in March. Its law bans "adult cabaret entertainment" on public property or in locations where minors can view it. It calls for first-time offenders to be slapped with misdemeanors, and subsequent offenders could get prison sentences of up to six years.
A federal judge temporarily halted the law on March 31, hours before it was supposed to have taken effect. On Saturday, the same judge ruled the law unconstitutional. Organizers in the state are gearing up to comply with the new regulations, regardless.
Florida Gov. Ron DeSantis signed a measure into law last month — on International Day Against Homophobia, Biphobia and Transphobia — that would prohibit drag in the presence of minors. Though the bill doesn't cite "drag" or gender "impersonation," DeSantis said at the bill's signing ceremony that its purpose was to limit drag. 
Montana's law is unique in that it specifically "prohibits drag story hour in schools and libraries that receive public funding," in addition to prohibiting the art form in front of minors. 
'The hardest decision'
With what once started as heated protests, LGBTQ Pride Month celebrations have become, for the most part, family-friendly celebrations in recent decades. But in the face of the drag bills, that new and largely welcomed reality has become somewhat of a headache for Pride organizers this year.
Before the Florida law had even been signed, Pride organizers in Naples announced in March that they would move their drag performances to an indoor location for adults only. 
The Naples City Council approved a permit for the group to hold the city's festival in a public park in March, as it had done since 2017. But Callhan Soldavini, a board member of Naples Pride, said the City Council later used a procedural mechanism to revisit the issue, prompting organizers to limit drag performances to adults only and move the shows indoors. 
Soldavini said that the move was "the hardest decision" the group has ever made but that it wanted "to live to fight another day."  
"That did not come without its fair share of tears and passionate discussions over several hours that went on late into the night," Soldavini said. "It has been a very different year — to say the least — of planning Pride."
Meanwhile, about 100 miles east of Naples, the advocates who organize the annual Pride festival in Wilton Manors — an LGBTQ enclave just north of Fort Lauderdale — will require all parade participants to adhere to a "minimum dress code," said Jeffrey Sterling, the CEO of Wilton Manors Entertainment Group, the nonprofit organization that produces the city's annual Pride celebration.
Sterling said the group has not released its dress code yet but said it will require artificial breasts to be covered and a "male speedo amount of coverage" for male-presenting participants. Parade onlookers will not have to comply with the code.
"Is it true that you could wear less clothes to the beach? Absolutely," Sterling said. "But the problem is that we know what the governor's after."
Sterling added that while he does not expect the day to run smoothly, canceling the event has never been an option.
"What about all the people — their sense of security and safety — when people like us and the bars and the city aren't even willing to stand up for them?" Sterling asked. "What message are we telling all the gay people in Broward County about how they should feel about themselves when the state is doing a really good job of making them feel criminal for who they are?"
Not all activists agree. 
Organizers in St. Cloud, a small city about 30 minutes south of Orlando, announced last month that they were canceling their annual Pride celebration, saying hosting the celebration in the current political environment "would put our community at risk."
Several states and an entire time zone away, organizers in Knoxville also announced they were canceling their annual parade in response to the passage of Tennessee's drag law. Instead — and regardless that the law was struck down Saturday — activists will stage a protest.
"People should still be proud, but it's less celebratory," said Nathan Higdon, the chief financial officer of Knoxville Pride. "It will be a march. We're still fighting for our rights."
Alan Nelson, the CEO of the Western Montana LGBTQ+ Community Center, which hosts Missoula's annual Pride celebration, said that while the group's festival will not violate the new anti-drag law, he has concerns that it will attract emboldened protesters. 
Nelson said his group raised its security budget by about $20,000 in recent weeks. The group's security apparatus will include hired police officers and private security firms.
"I've lived in Montana my whole life, and I've never seen anything like this in my lifetime, quite frankly," Nelson said. 
A 200-mile drive away in Bozeman, Montana, a group of protesters reportedly disrupted the city's annual Pride event last month, carrying signs promoting white supremacy and condemning the LGBTQ community.
The wave of anti-drag laws has even had a chilling effect in states that do not have drag bans — or at least bans that explicitly restrict the art form. 
Northwest Arkansas Equality, the organizers of northwest Arkansas' annual Pride weekend in late June, announced last month that it would not hold events at the Walton Arts Center in Fayetteville as planned, because the center prohibited the group from having drag shows or drag storytelling events in front of minors. 
"No law or Walton Arts Center written policy prevents NWA Equality from hosting its full range of NWA Pride programming at this venue, including drag performances attended by youth," the group said in a statement at the time. "This decision is surprising, disappointing, and inconsistent."
While no Arkansas law restricts drag performances, Republican Gov. Sarah Huckabee Sanders signed a bill in February to restrict "adult-oriented" performances. The law, which will take effect in late July, originally targeted drag shows, but it was modified following complaints it discriminated against LGBTQ people. 
At Nellis Air Force Base in Nevada, a state where legislators have not proposed any bills seeking to restrict drag, Defense Department leaders canceled a drag show that had been scheduled last week in celebration of Pride Month. Conservative politicians and pundits argued that taxpayer dollars should not be spent on such performances. 
"Hosting these types of events in federally funded facilities is not a suitable use of DOD resources," Sabrina Singh, a Pentagon spokesperson, said in a statement last week. 
In addition to a wave of bills targeting drag performances, there has also been an uptick in protests and threats targeting the art form. From early 2022 to this March, more than 166 protests and significant threats were aimed at drag events across the U.S., according to a report by the LGBTQ media advocacy group GLAAD.