A record number of bills aimed at restricting the rights of LGBTQ people have become law in the past three years, but the majority of those that have faced legal challenges haven't held up in court, according to an NBC News analysis, legal experts and the American Civil Liberties Union, which has filed legal challenges against some of the laws.
Just this year, state representatives introduced 491 bills aimed at restricting LGBTQ rights, with 77 of them becoming law, according to the ACLU. The majority of bills proposed and passed focused on limiting the ability of transgender youth to receive gender-transition care and play school sports. In the past year, lawmakers in at least 16 states also introduced bills to restrict drag performances.
Over the past few years, about two dozen states have passed nearly 50 laws targeting transition-related care, transgender student athlete participation and drag performances. The majority of those measures have not yet faced litigation, but most of those that have were temporarily or permanently blocked by judges.
In a national first last month, a federal judge overturned Arkansas' ban on gender-transition medical care, including puberty blockers and hormone therapy, for minors in the state, declaring it unconstitutional.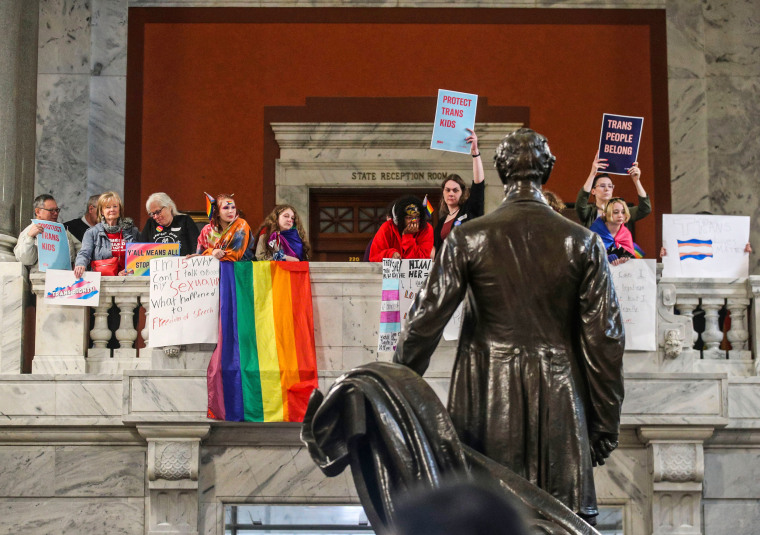 Of the 20 states that have passed into law restrictions on transition-related care for transgender minors, 11 have faced lawsuits. Five — Arkansas, Alabama, Indiana, Kentucky and Florida — have had their restrictions completely or partially blocked by federal judges who ruled they violated the 14th Amendment's equal protection clause. Oklahoma's has been iced by a legal agreement while litigation continues. 
Tennessee's care restriction was temporarily blocked by a federal court last month, but an appeals court lifted the injunction Friday, marking a rare loss in a series of legal victories for advocates fighting against transgender bans.
The four other lawsuits over similar restrictions in Georgia, Idaho, Montana and Nebraska are still pending, according to tracking by the Movement Advancement Project, an LGBTQ think tank, and nonprofit organizations in four more states have promised they will sue to stop the laws. 
"The elephant in the room should be noted at the outset. Gender identity is real. The record makes this clear," Judge Robert Hinkle wrote in a scathing order granting a preliminary injunction against Florida's ban on gender-transition treatment for minors. Hinkle, whose narrow ruling applies only to the three plaintiffs who sued, added that the state admitted "that pushing individuals away from their transgender identity is not a legitimate state interest."
"Any proponent of the challenged statute and rules should put up or shut up: do you acknowledge that there are individuals with actual gender identities opposite their natal sex, or do you not? Dog whistles ought not be tolerated," Hinkle wrote in his order.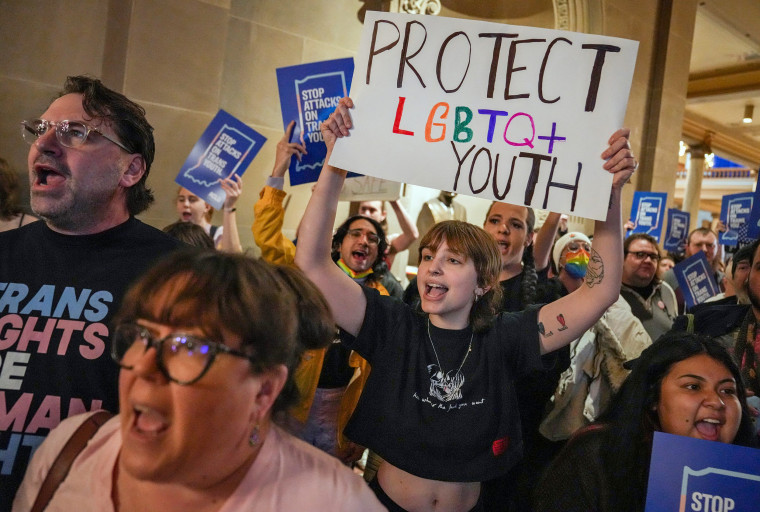 The legal losses for states that have attempted to limit LGBTQ rights extend beyond restrictions on transgender health care. 
Twenty-two states have passed laws that bar transgender student athletes from participating on school sports teams that align with their gender identities, and judges last year temporarily blocked three of those in Idaho, West Virginia and Utah pending the outcome of litigation, according to the Movement Advancement Project. A federal judge in Montana also permanently struck down the state's ban on transgender women playing on collegiate sports teams in September.
Laws that explicitly restrict drag shows have been passed in two states, Montana and Tennessee, though an additional four states — Arkansas, Florida, North Dakota and Texas — passed laws that regulate "adult" performances, which LGBTQ advocates say could be used to target drag performers. Last month, federal judges declared Tennessee's restriction unconstitutional and temporarily blocked Florida's. Three Montanans sued the state Friday over its drag-restriction law.
Paul Smith, who successfully argued the 2003 landmark Supreme Court case Lawrence v. Texas, which found the U.S.'s remaining sodomy laws unconstitutional, said the repeated victories for LGBTQ people and advocates are "a sign that these laws are mostly being thought up based on their appeal to a certain frenzied group of people in the country who were very excited about picking on LGBTQ people right now, not based on their legal merits and sustainability.
"Take a law that says, you can't have a drag show. It's hard to imagine an easier First Amendment case to win, because it's just plain content censorship," he said. "And there's not going to be any evidence that is harmful to somebody." 
Smith, a professor at Georgetown Law, said the cases regarding restrictions on transition-related care are more complicated, but the wins still make sense, because in those cases the care is supported by the adolescents, their parents and doctors, and by expert testimony.
The Alliance Defending Freedom, a conservative Christian legal advocacy group involved in many of the statutory battles defending state laws that restrict LGBTQ rights, isn't fazed by the recent setbacks.
Matt Sharp, a top lawyer at ADF who drafts model legislation on the group's behalf, said he expects issues dealing with transgender athletes and medical care to reach the Supreme Court. In an interview, Sharp compared judges ruling in favor of allowing gender-affirming care for transgender minors to courts upholding forced sterilization for disabled individuals a century ago.
"I think it's always worth stepping back and remembering the courts get it wrong sometimes," Sharp said. "It was about 100 years ago that the Supreme Court upheld forced sterilization for individuals with mental disabilities. It was a wrong decision. And thankfully, both the courts and the medical community recognized the damage that they were doing to a vulnerable population and corrected that mistake. Similar here, these are courts that are struggling now."
Most of the LGBTQ advocates' recent legal wins are not yet done deals, and legal experts expect some of them to reach the Supreme Court. 
Smith mentioned Arkansas' restriction on transition care for minors as a high court possibility. The state's attorney general, Tim Griffin, has already appealed the recent decision overturning the law. A Supreme Court showdown, however, would be years away, as the case would need to go through appellate courts first.
But the lower court victories matter greatly, according to Brian Owsley, a University of North Texas law professor and a former Justice Department trial attorney and U.S. magistrate judge. He said a favorable ruling at the district court level "tailors or narrows" what appellate courts can consider.
"Winning first is huge," Owsley said. "What happens on appeal is based on the record at the trial level. If you have a ruling that is favorable at the trial level, there's probably been the development or the creation of a record that's very strong or favorable to the individuals challenging whatever ordinance or rule is at issue."
The judge who overturned Arkansas' ban on gender-transition care for minors noted that the law banned only puberty blockers and hormone therapy as treatment for gender dysphoria — but not for the treatment of other health conditions minors might face, such as early puberty and some genetic conditions. He also compared the scientific evidence presented by both sides and found that restricting care would harm young people.
"The testimony of well-credentialed experts, doctors who provide gender-affirming medical care in Arkansas, and families that rely on that care directly refutes any claim by the State that the Act advances an interest in protecting children," U.S. District Judge James Moody Jr. of the Eastern District of Arkansas wrote in his opinion.
Erin Reed, an advocate and legislative researcher on transgender rights, said it's been fascinating to watch judges repeatedly block state restrictions on transition-related care, particularly after she watched Republican supermajorities pass the restrictions based largely on misinformation.
"The environment of a courtroom is a bit different, where you have to establish these facts and you have to rule on the facts of the case in and of itself," Reed said. "The judges — be they appointed by conservative presidents or liberal presidents — they overwhelmingly find the facts in favor of those providing gender-affirming care."
While LGBTQ advocates have been accumulating legal wins, there have also been a handful of losses on other types of policies.
Two days before the new year, the 11th U.S. Circuit Court of Appeals upheld a Florida school district's ban on transgender students using bathrooms that correspond with their gender identities. And last month a federal judge dismissed a lawsuit challenging a 1977 Tennessee law that bars transgender people from changing the sex marker on their birth certificates. A judge also tossed a lawsuit against Florida's Parental Rights in Education law — dubbed the "Don't Say Gay" law by critics, which prohibits "classroom instruction by school personnel or third parties on sexual orientation or gender identity" in kindergarten through eighth grade, "or in a manner that is not age-appropriate or developmentally appropriate for students in accordance with state standards." 
The decision in Arkansas is the first final ruling on the merits of a restriction on transition-related care for minors, and Regina Hillman, a clinical assistant professor of law at the University of Memphis, said the other cases in which judges have issued temporary injunctions or blocks on the laws could result in similar rulings.
Hillman said judges have four criteria they evaluate when deciding whether to grant a preliminary injunction, and one of them is the likelihood that the challenge against the law will succeed on its merits. 
"So each judge is saying we think the youth or the parents or whoever the suit is filed by … has the likelihood of succeeding on the merits at the full trial," Hillman said.
The legal experts interviewed by NBC News were split on which of the cases could make it to the Supreme Court, but most of them agreed that drag restrictions would be the least likely to hold up, and that it would be harder to predict how the court would rule on transition-related care restrictions.
Craig Konnoth, a University of Virginia law professor who previously served as a deputy solicitor general with the California Department of Justice, said the drag ban cases in particular have "a pretty good chance of continuing to win, even if it goes up to the Supreme Court."
"I think that with respect to health care decisions, after Dobbs, I am hesitant to say anything about the right of individuals to be able to access health care," he said, referring to the Supreme Court's decision in Dobbs v. Jackson Women's Health Organization, which overturned Roe v. Wade and eliminated the constitutional right to abortion.
But legal victories can provide only so much protection to LGBTQ people. The wave of legislation has correlated with increased hate speech online, prompted teens to re-evaluate where they go to college based on the rights and protections available to them, led hospitals to cease providing transition-related care to new patients and frightened families into moving to other states to escape restrictions on transgender children.
"The laws do so much damage when they're passed that I think it's difficult to see even the court victories as a good thing on balance," said Ryan Thoreson, a University of Cincinnati law professor and former researcher for Human Rights Watch. "The sheer number of these laws has been significantly disruptive to the care that transgender children are receiving. They've had a chilling effect on providers who are now much more cautious about providing some of these services to kids and their families."