The new dramatic series "The Power" embraces a jolting metaphorical premise: that young girls have developed the ability to radiate electricity as a means of self-preservation. Despite this sci-fi plot, the show is set in the very near future, in a world that's plagued by all too familiar issues, from fights over bodily autonomy to the rise of alt-right personalities and oppressive authoritarian regimes. Through five distinct storylines that take place around the globe, it imagines how that world would erupt if women suddenly held all the power.
"It's like a bomb exploding," Daniela Vega, one of the series' stars, told NBC News about the force of the show, which she described as science fiction meets vindication — rather than revenge — plot.  
"The Power," adapted from Naomi Alderman's 2016 bestseller, debuted Friday on Amazon Prime Video.
Vega, best known for her starring role in the Oscar-winning film "A Fantastic Woman," plays against type as the soft-spoken Sister Maria Ignacia, whose fate is intertwined with Allie's (Halle Bush), the central character in a storyline centered on religion and set in the rural American South.
Along with other members of a rebellious sect of nuns, Sister Maria runs a convent independent from the Catholic Church that takes in runaway girls who possess "the power." When Allie, who is on the run after fighting back against her abusive foster parents, shows up to the convent, the two women's lives are changed forever.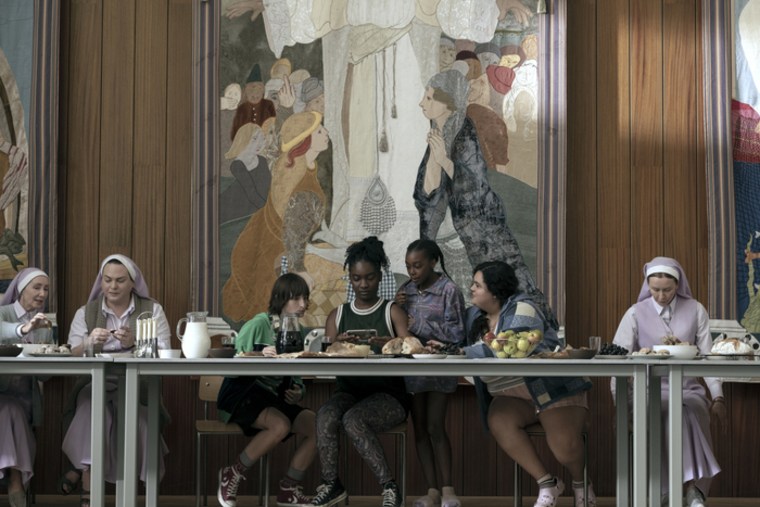 Going by the heavily symbolic name of Eve, Allie begins to earn a following among the girls after using her power in miraculous ways — including the most biblical of acts, healing the sick. These miracles, as the girls begin to call them, put her at odds with the head mother, Sister Veronica (Emily Kuroda), who views the power as an expression of evil and the girls' use of it as sacrilege. But Sister Maria, on the other hand, sees the potential for revolution in it and in Allie.
For Sister Maria, Vega said, Allie is "a blessing." 
"She believes in her, and she can see what nobody can see," she said. "It's not a crisis of faith; it's more than that. It's an act of faith — faith as hope, maybe."
She added, "In this feminine world, faith as hope, I think, is a beautiful message."
Referring to a "crisis of faith," Vega echoed a phrase her character uses in a poignant monologue just after Allie's arrival at the convent. In the scene, Sister Maria explains that each of the nuns at the convent has been cast out of society for what they stand for. For her part, she was rejected by her family after coming out as a transgender woman, which led her to Sister Veronica, who was excommunicated for taking her in. But, she explained, the power represents change that even seasoned rebels fear the consequences of.
The scene lays the groundwork for a bond between the two women that shapes Allie's trajectory as she emerges as a kind of saint, or prophet, preaching that God is a woman who has imbued girls with the power. Like the other storylines in the series — which follow Margot (Toni Collette), Tunde (Toheeb Jimoh), Roxy (Ria Zmitrowicz) and Tatiana (Zrinka Cvitešić) — Allie's growing influence exposes her to the potentially corrupting nature of power. And at times — even in what is just the beginning of the narrative laid out in Alderman's book — Allie seems ready to give into temptation. But Sister Maria never loses faith in the young prophet or hope that a better world will be born out of her power.
"To see the light, you need darkness," as Vega put it.
Vega grew up in Chile, which she described as a "very, very religious country," and was raised in a Catholic home. While some weaponize religion to discriminate against LGBTQ people, Vega said that was not the case in her family, which was hugely supportive of her, including when she transitioned at the age of 17. This environment, both religious and accepting, allowed her to embrace with relative ease a character whose faith she doesn't share, she said.
"This character was very interesting to me, because she's a believer and I'm not. She is the opposite of me on the point of faith," Vega said. "For [Sister Maria], every single day is a new day, and a new day is a new challenge. So it's like a chain; it's like a chain of actions and faith, actions and faith."
In the past, Vega, who first appeared on screen in Mauricio López Fernández's 2014 film "The Guest," has taken much more secular-leaning roles, playing women who have to fight against the more conservative elements of society just to exist. But she said she was intrigued by the idea of inhabiting the body of someone who was so different from her and the characters that she's played in the past — something she said she'll always make herself available for.
Talking to Vega, it's clear that she loves a challenge, whether it's playing a completely different kind of character or starring in a sprawling English-language series. While she's worked on English-language productions in the past, including the 2019 reboot of "Tales of the City," "The Power" is her biggest undertaking yet. 
"I love to perform, and the language is a new challenge. Maybe it's something that I want to do because I love challenges," Vega said. "English and Spanish are the languages that I talk more, but if you give me three months, I can learn any language that you want."
A command of language isn't Vega's only valuable skill outside of acting. She is also a trained opera singer, who began singing when she was 8, inspired by her grandmother's love of music. Her mezzo-soprano voice served her well in Sebastián Lelio's "A Fantastic Woman," in which she plays a grief-stricken aspiring singer who is met with transphobia after the sudden death of her older boyfriend. And in "The Power," she uses music as a way to enrich her portrayal of Sister Maria.
"When the character sings, it's something natural," Vega said, describing music as an intrinsic part of the nun's work. "It's very nice to create this naturality in this body, this musical body, this body with different layers."