From start to finish, Tuesday's 80th annual Golden Globe Awards was a very queer affair.
Viewers were guided through the evening by the year's breakout gay comedian, Jerrod Carmichael ("Rothaniel"), who hosted. Some of the evening's big winners included LGBTQ-inclusive films and shows like "The White Lotus," "Everything Everywhere All at Once" and "Tár." And gay TV writer, producer and director Ryan Murphy — best known for co-creating "Glee," "Pose" and the "American Horror Story" franchise — was honored with a lifetime achievement award.
Here are some of the evening's queerest (and gay Twitter meme-worthy) moments.
Jerrod Carmichael apologizes to Jennifer Coolidge 'on behalf of all the gays'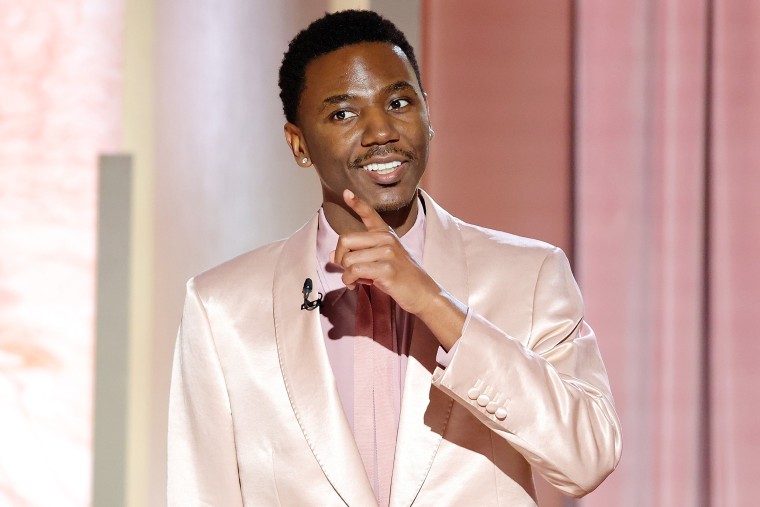 As Carmichael introduced "The White Lotus" actor and gay icon, who was set to present one of the best supporting acting awards, he shared a message.
"As a gay man, I want to apologize to her on behalf of all of the gays for what we did to her on that boat," he jokingly said.
Coolidge's character in HBO's "The White Lotus," which won several awards Tuesday, was the target of an unsuccessful hit job by a group of evil "high-end" gays with ties to the Italian mafia.
Michelle Yeoh gives a shoutout to Jamie Lee Curtis in her acceptance speech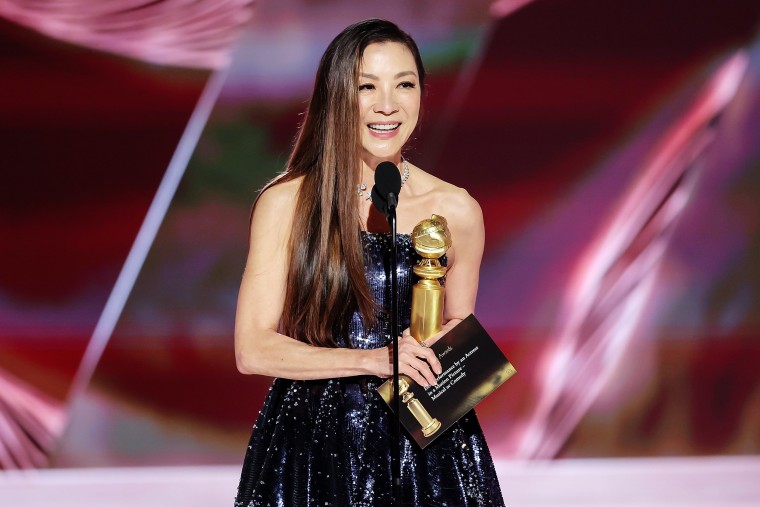 Michelle Yeoh won the Golden Globe for best actress in a motion picture, musical or comedy, for her role in the sci-fi dramedy "Everything Everywhere All at Once."
During her acceptance speech, Yeoh thanked Jamie Lee Curtis, who played her partner in the critically acclaimed film, calling Curtis her "hot dog lover," a reference to their characters' hot-dog-like fingers in the film.
'Euphoria' star Zendaya wins her first Golden Globe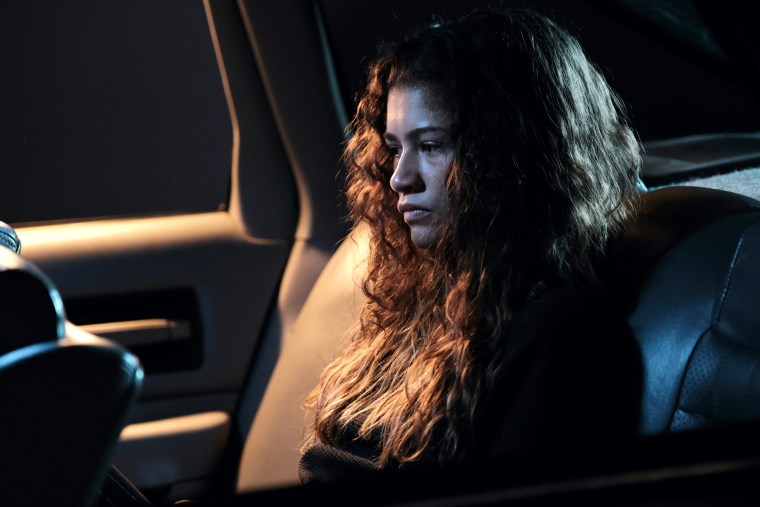 Actor and singer Zendaya won her first Golden Globe, nabbing the award for actress in a TV drama series for her role as troubled queer teen Rue Bennett in HBO's hit show "Euphoria."
The 26-year-old actor, who already has two Emmy awards for the same role, was not present to accept her Golden Globe.
Billy Porter introduces Ryan Murphy with a passionate speech and fierce fuchsia dress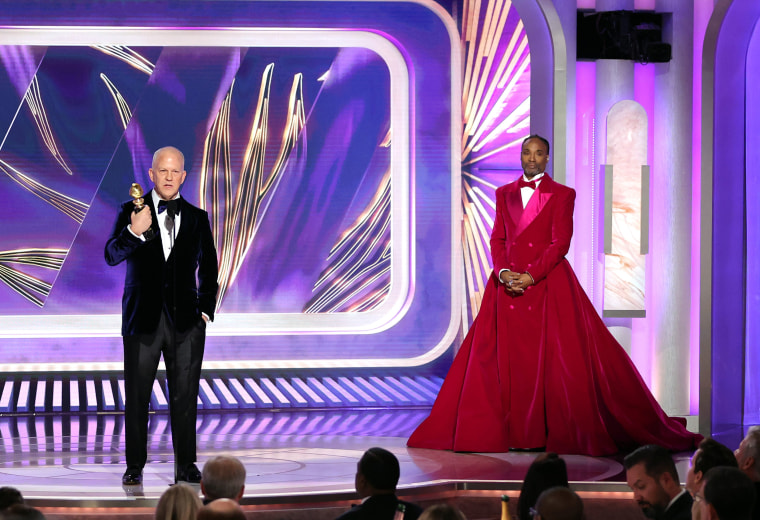 Actor Billy Porter stepped out to present TV writer, producer and director Ryan Murphy with the Carol Burnett Award dressed in a fierce fuchsia dress, befitting the "Pose" star's larger-than-life red carpet looks.
"There aren't enough words in the English language for me to convey what you mean to me," Porter told Murphy, with whom he's worked on several projects, including "Pose" and "American Horror Story."
"In the early aughts, when my Black gay a-- decided to come out to Hollywood and try my luck at this film and television thing for the first time, I discovered on Day One that Hollywood wasn't having all this Black boy joy, yet," Porter, 53, said. "And as I spent many a year teetering on the precipice of obscurity, it was you, Ryan, and your fearless art that spoke to me, comforted me and let me know that if I could just hold a little while longer, my time would come."
Porter concluded by saying: "I'm humbled to know that I'm up here standing in proxy for a myriad of artisans both in front of the camera, behind the scenes and beyond whose lives you have touched and changed for the better."
Ryan Murphy accepts the Carol Burnett Award
Television mega-producer Ryan Murphy accepted the Carol Burnett Award and dedicated much of his acceptance speech to LGBTQ actors in the audience with whom he's worked over the years.
At the start of his speech, Murphy, who is gay, asked the audience to give a standing ovation to "Pose" star Michaela Jaé Rodriguez, who last year became the first transgender actor to win a Golden Globe. He also lauded Porter; Niecy Nash, who was nominated for a supporting actress award for her role in Murphy's "Monster: The Jeffrey Dahmer Story"; Jeremy Pope, who was nominated for a best actor award for his role in "The Inspection"; and Matt Bomer, with whom Murphy has worked with on several projects.
"I've dedicated most of my lifetime achievement speech here tonight to these actors I've worked with to make a point of hope and progress," Murphy said. "When I was a young person at home in the '70s watching 'The Carol Burnett Show,' I never, ever saw a person like me getting an award or even being a character on a TV show."
Murphy, 57, added that he hopes the LGBTQ actors and characters in his work have been "examples of possibility" for queer youths watching at home.
"For 25 years that's all I've ever tried to do here in Hollywood," he said. "My mission was to take the invisible, the unloved and make them the heroes I longed to see but never did in pop culture."
The Carol Burnett Award is the Globes' television equivalent of the Cecil B. DeMille Award, given for lifetime achievement in film. The Burnett award was started in 2019, with its namesake, comedian Carol Burnett, being its first honoree. The honoree in 2020 was Ellen DeGeneres, and Norman Lear won 2021 (there was no honoree last year).
Cate Blanchett awarded for her portrayal of a fictional lesbian conductor in 'Tár'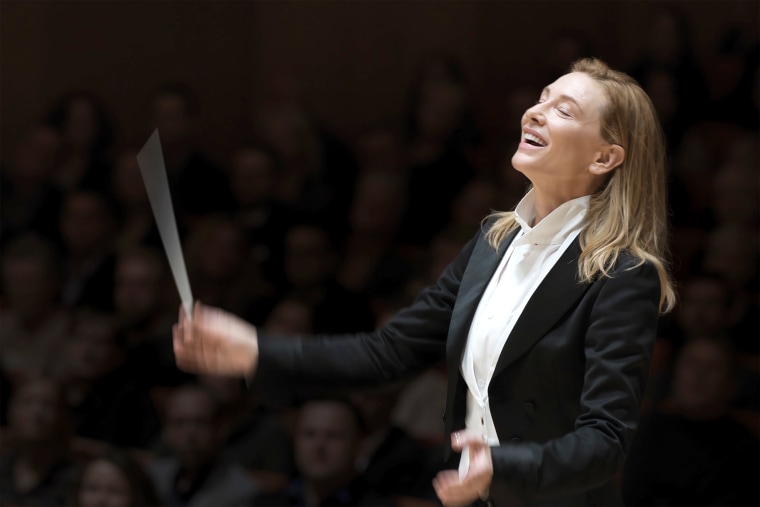 Cate Blanchett won her fourth Golden Globe for her role as a world famous lesbian conductor, Lydia Tár, in the psychological thriller "Tár."
Blanchett, who also has two Oscars to her name, was not present to accept the award.
While "Tár" has been a film critic favorite, it struck a nerve with the world's most famous real-life female conductor: Marin Alsop. Alsop, who, like her fictional counterpart, is also a lesbian, slammed the film in an interview published earlier this week, saying it offended her "as a woman ... as a conductor ... as a lesbian."
Gay icon Jennifer Coolidge wins for her role in 'The White Lotus'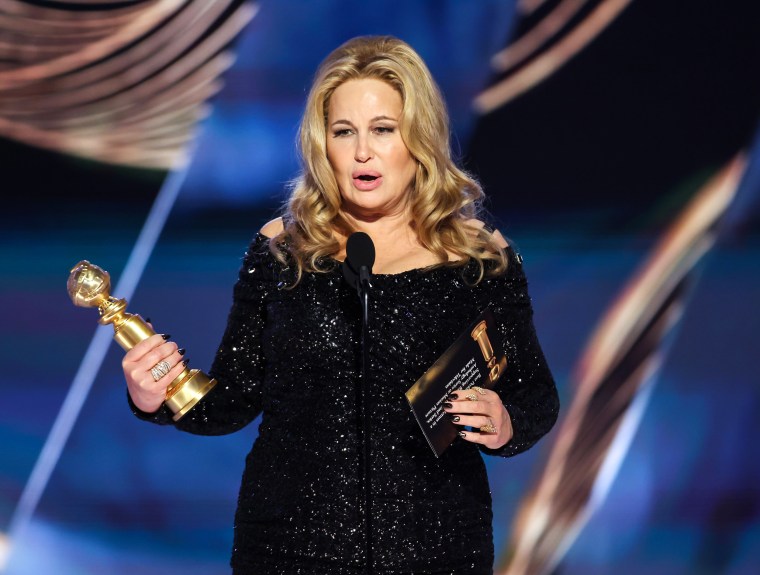 Gay icon Jennifer Coolidge won her first Golden Globe, for best supporting actress, for her role as a ditzy and glamorous heiress in the second season of "The White Lotus."
The Emmy-winning actor thanked the hit show's creator, Mike White, who was visibly emotional throughout Coolidge's speech.
"Even if this is the end, because you did kill me off, you changed my life," Coolidge said, referring to her character's death at the end of show's second season.
Coolidge also joked about how her social life has improved following the success of the HBO limited series.
"My neighbors are speaking to me," she said. "I was never invited to one party, and now everyone is inviting me!"
Evan Peters awarded for his portrayal of gay serial killer Jeffrey Dahmer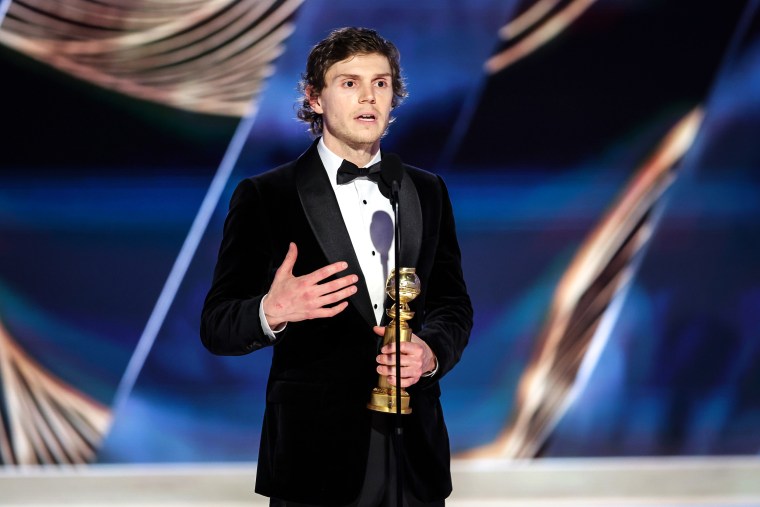 Actor Evan Peters took home the Golden Globe for best actor for his role as Jeffrey Dahmer — the infamous gay serial killer who murdered 17 people from 1978 to 1991 — in the Netflix series "Dahmer — Monster: The Jeffrey Dahmer Story."
"And last but most importantly, I want to thank everyone out there who watched the show," Peters said. "It was a difficult one to make, a difficult one to watch, but I sincerely hope some good came out of it."
Mike White accepts Golden Globe for "The White Lotus"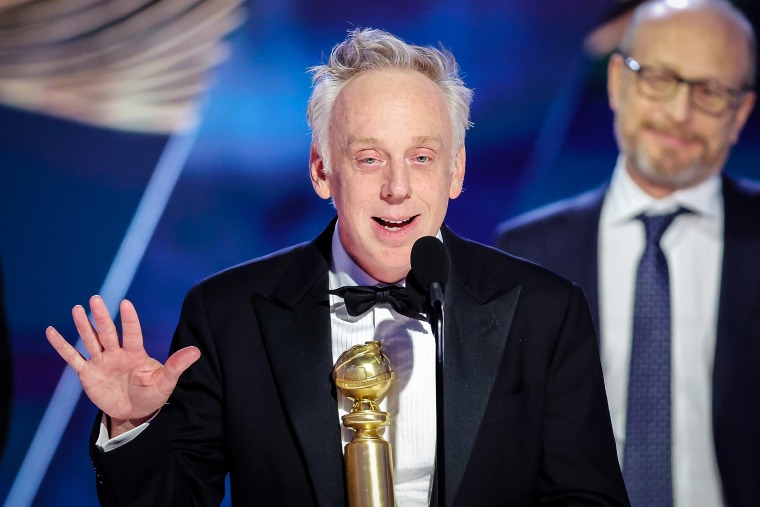 "The White Lotus" creator Mike White, who is bisexual, accepted the Golden Globe after his hit show won for best limited series, anthology series or made-for-TV movie, beating out "Black Bird," "Monster: The Jeffrey Dahmer Story," "The Dropout" and "Pam & Tommy."
After confessing that he had "drunk too much because there was no food," White thanked his cast.
"I would take a bullet for you guys," he said. "Not on the heart but maybe on the foot."
He added, "It's very gratifying to have this moment."