After winning audiences over with her first feature, 2020's "Shiva Baby," director Emma Seligman returns with another film about young queer women in crisis. Co-written with "Shiva Baby" lead Rachel Sennott, who also stars in the new film, "Bottoms" follows two awkward best friends who form a fight club for the girls at their high school — with the prime objective of winning over their cheerleader crushes and losing their virginity. As PJ (Sennott) and Josie (Ayo Edebiri) dig themselves deeper into the scheme, the bloody, gender-swapped take on teen films from the late 1990s doesn't pull any punches, forcing its characters to grapple with both the ethics of lying to get laid — and one another.
"We wanted to portray horny, flawed, selfish, hormonal teenagers, who happen to be queer and female, and the idea of them manipulating feminism to get what they wanted felt like the worst, juiciest version of that," Seligman, 28, told NBC News. 
Six years ago, when Seligman and Sennott began writing their film about morally questionable teens, their aim was to write a high school sex comedy featuring queer characters. But, under Seligman's influence, the project took a turn into the action realm, drawing on inspirations like "Scott Pilgrim vs. the World," "Kick-Ass" and "Attack the Block." As a result, the finished product is a violent, sapphic update on the "nerd gets the girl" flick, a genre that birthed 1999's "10 Things I Hate About You" and "Drive Me Crazy" — and many more films, before and after. 
"That's where it started: wanting to see a version of myself, or myself in high school, in that [genre]," Seligman said of paying homage to the teen sex comedy. "So that meant switching the identities and letting it be as horny as possible."
"Bottoms," which opens in U.S. theaters Friday, starts with Edebiri's Josie and Sennott's PJ entering their senior year at Rockbridge Falls High — an Anytown, USA, type of place — as self-described "gay, untalented and ugly" virgins. Despite Josie's more apathetic attitude toward their social lives, PJ is set on the pair improving their prospects before graduation, which includes wooing their longtime crushes Isabel (Havana Rose Liu) and Brittany (Kaia Gerber). But, in order to do that, Josie has to get Isabel's focus off of her nauseating football-star boyfriend, played by "Red, White & Royal Blue" star Nicholas Galitzine, and PJ has to get Brittany to register her existence at all.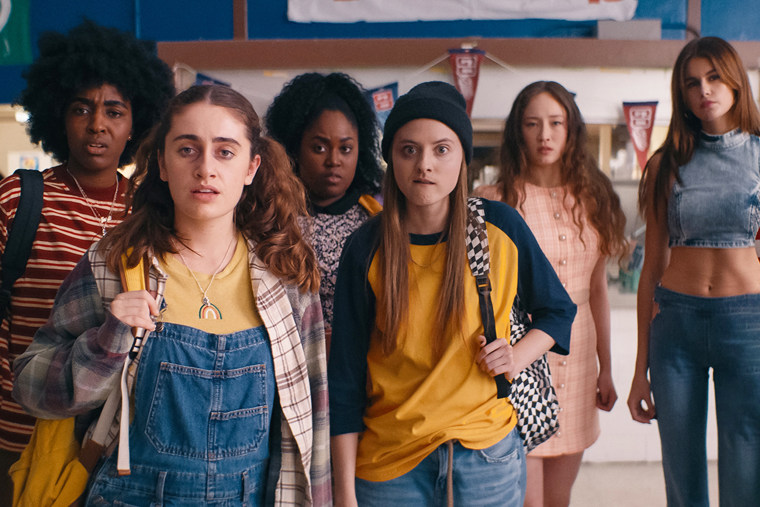 As luck would have it, an opportunity to turn heads arises when an offhand joke about spending the summer in a juvenile detention center — and the looming threat of a football game against the school's longtime rivals — lands the best friends at the head of an after-school self-defense class that quickly devolves into a fight club. Under the guidance of their checked-out club sponsor, played by a hilarious Marshawn Lynch, members of Rockbridge's female student body learn how to hold their own in bare-knuckle matches reminiscent of the ones in David Fincher's 1999 classic, "Fight Club." And the instantly popular scheme catches the eyes of Isabel and Brittany, prompting Josie and PJ to further bend the truth in order to prop up their bad girl image and have sex, despite espousing a feminist agenda.
While this is all written for laughs — and the punchlines land one after the other — the satiric teen world of "Bottoms" perhaps inadvertently highlights just how brutal the teenage experience can be. And while it's not just the unrivaled degree of girl-on-girl violence on screen, the bloody noses and knockouts are a surprisingly effective part of it.
"A lot of people outside the movie didn't think we were actually going to — even though it was about a fight club — have it be that bloody or gory. We didn't get any pushback in the making of it. But I think people were certainly shocked when watching it," Seligman said, adding that there was also plenty of surprise on set when they got to filming the fight scenes.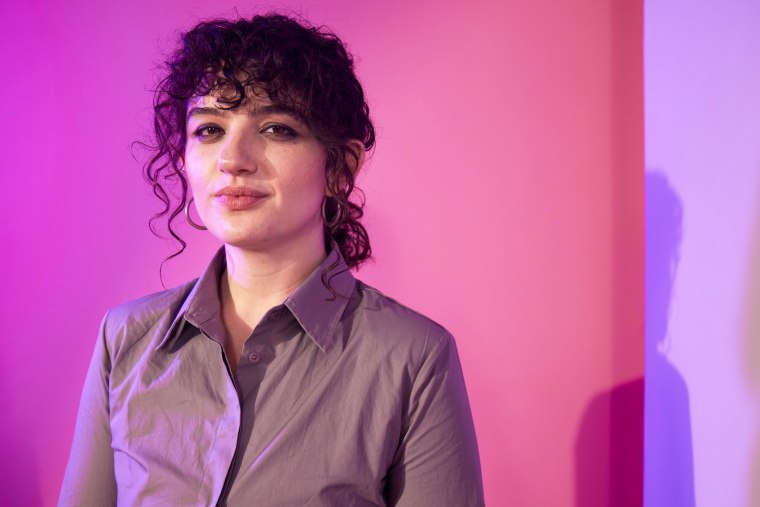 Executing the combat sequences, or what Seligman describes as the "superhero element" of the film, demanded a lot from the young director and from the cast, who did a stunt bootcamp before shooting to hone their fighting skills. But the effort certainly paid off. Even the scenes featuring the most brutality — like an epic battle royal at the end and a midway face-off between enthusiastic club member Hazel (Ruby Cruz) and a monstrous high school wrestler — deliver a fresh, even empowered, take on the teen film. 
Similarly, the film's queer antiheroes bring something unique to the genre, elevating the '90s cinematic nerd with deadpan humor, amoral attitudes and sapphic sensibilities. Sennott, whose most recent role was in Sam Levinson's "The Idol," and Edebiri, who has been booking films left and right since her breakout role in "The Bear," began collaborating while they were students at New York University. That fruitful relationship is evident in their ability to expertly play off of each other and bring their exaggerated and socially inept characters to life.
"They already had this inherent, baked-in chemistry," Seligman said of Sennott and Edebiri's long working relationship. "They both have elements of their characters: Ayo's so good at physical comedy, and she's so, at least in her stand-up, awkward and adorable — and very nerdy — and Rachel is eccentric and over-the-top and quite blunt in her comedic persona."
Comedy, "the most important part," according to Seligman, was definitely top of mind as the director and her expertly timed stars brought the film to life. In fact, when asked about the larger message behind "Bottoms," Seligman is quick to say that her and Sennott's vision was fairly straightforward: to make a funny, entertaining and sometimes uncomfortable film about horny teens. But, she admits, some deeper meaning may have inadvertently worked its way in.
"Rachel and I joke about how frustrated we get when female friendships, particularly young female friendships, are always portrayed as so overly positive and so overly supportive, in a way that feels unrealistic, and I think, maybe, that seeped its way in," Seligman said.
Of unconsciously interrogating notions about female friendships and the best friends at the heart of her film, she added, "Putting them in a raunchy, teen sex comedy felt appropriate — to, sort of, challenge those ideas of how horny women and queer people are allowed to be on screen."