A lion attacked and killed an American woman on Monday as a tour guide drove her around a South African animal enclosure, police and park officials said.
"The lioness approached from the passenger side and bit the lady through the window," said Scott Simpson, the assistant operations manager at Lion Park, an open-air facility north of Johannesburg.
The tour guide was in serious condition at a hospital, police said. Park officials said he sustained arm injuries fighting the lion off.
Simpson said witnesses told park officials that the windows were down.
The woman was not immediately identified, but police said she was 22 and died before authorities got to the scene. The U.S. Embassy said it had no information but would follow up to provide help.
The park's website guarantees "super close-up views" and boasts that guests can "get closer to a pride of lions and other animals and still be completely safe."
Police said they were investigating it as an accident. Simpson said the park would also investigate.
"When you drive through into the lion enclosure, which is separate from the rest of the park, you get handed a slip of paper at the gates reminding you to keep your windows closed at all times," Simpson said. "You also have extensive signage absolutely everywhere warning people to keep them shut."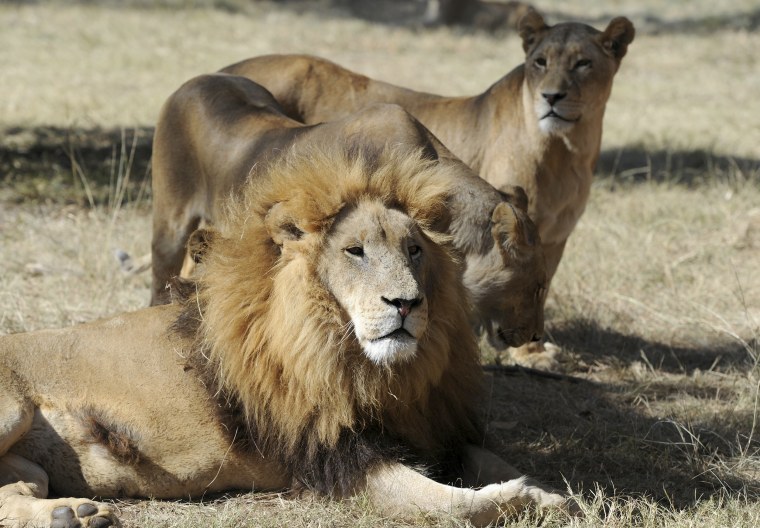 Kevin Richardson, a South African animal behaviorist who is known as "The Lion Whisperer," could not comment on the attack. But he told NBC News that lion parks "are dangerous places as the lions become so used to people that they lose their natural fear of humans."
"People visiting lion parks should be particularly careful and adhere to the rules such as making sure their windows are not rolled down too far," he said. "Wild lions fear people and vehicles. That is why you can view them safely in open top vehicles."
NBC News' Marc Smith contributed to this report.