The Trump administration is paving the way for lethal strikes against terrorists in Niger as the U.S. military pushes forward with a plan to arm the Reaper drones that fly over that country, multiple U.S. officials told NBC News.
France has already decided to arm its drones in the region, U.S. documents show, and the move to arm U.S. Reapers has been under consideration for some time — long before this month's ambush of a Green Beret unit that resulted in the deaths of four American soldiers. But that incident, details of which are still coming to light, is fueling an urgency within the Trump administration to take more aggressive steps against the terrorist groups that are operating in North and West Africa, according to intelligence and military officials.
In the wake of the attack, the U.S. has been pressing the government of Niger to allow armed drones at the U.S. bases in that country, three U.S. officials said.
Beset by poverty, weak governance and insurgent movements, the African region that includes Niger and neighboring Mali is considered by U.S. officials to be a fertile recruiting ground for Al Qaeda and ISIS. U.S. officials believe the militants who ambushed the Green Berets belong to a group that has pledged allegiance to ISIS. President Barack Obama declined to allow armed drones to fly over the region, but the military has been pressing for some time to reverse that decision, officials said.
A move to expand U.S. drone strikes to Niger would amount to a significant escalation in American counterterrorism operations. There have been occasional U.S. drone strikes reported in Libya and Somalia, but most of Africa has not been part of the U.S. drone war, which has focused on Pakistan, Afghanistan, Yemen, Iraq and Syria.
"It demonstrates that the U.S. is expanding its use of lethal force … in the war on terror," said Juan Zarate, a former Bush administration counterterrorism adviser and NBC News analyst. "It also demonstrates that the war on terror is migrating."
Gen. Joseph Dunford, the chairman of the Joint Chiefs of Staff, did not address the issue of armed drones when he discussed the Niger attack with reporters Thursday.
He said he had learned new information about the ambush, but he declined to share it until it is verified.
"I'll be honest with you, I am very frustrated by the drip, drip, drip of information on this," Dunford said.
"I want the families to hear the whole story and the facts as we know it from the investigating officer and the team that will be sent out to their home."
The investigating officer is Maj. Gen. Roger Cloutier, chief of staff at AFRICOM, which oversees military operations in Africa, Dunford said.
The Green Berets who were ambushed were on a counterterrorism mission, multiple U.S. officials told NBC News — a mission more complex than previously understood. The Green Berets had been tracking a militant in support of a second, more secretive American special operations team operating in the area, intelligence and military officials said.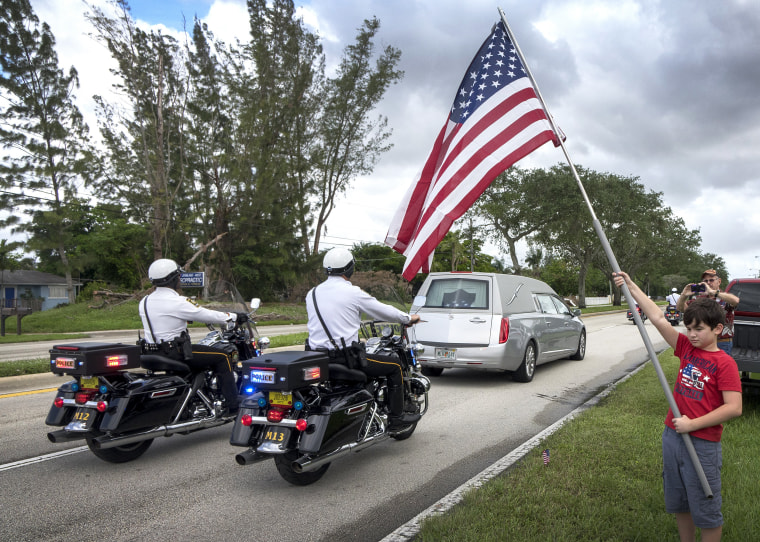 The second team was described by the officials as a joint U.S.-French intelligence collection unit, working with Nigerien forces, that had been gathering information on terrorist organizations in Niger. That team had been using an unarmed Reaper drone, which was rushed to the site of the Oct. 4 ambush within minutes of the first team's call for help, according to multiple officials.
The officials said the second team, which included both military and civilian personnel, did not send soldiers to help repel the attack on the first team. It's unclear why.
The presence of a second team underscores the multilayered nature of the Niger mission, and may explain the difficulty the Pentagon still has in answering basic questions about what went wrong three weeks after the incident.
The team of Green Berets and other Army soldiers were operating openly, as part of a mission to advise and assist Nigerien forces who are battling Islamic extremists who have murky affiliations — some to Al Qaeda, some to ISIS.
The second team was a clandestine unit of the Joint Special Operations Command, and was operating in both Niger and Mali, where the French have a major presence, officials said.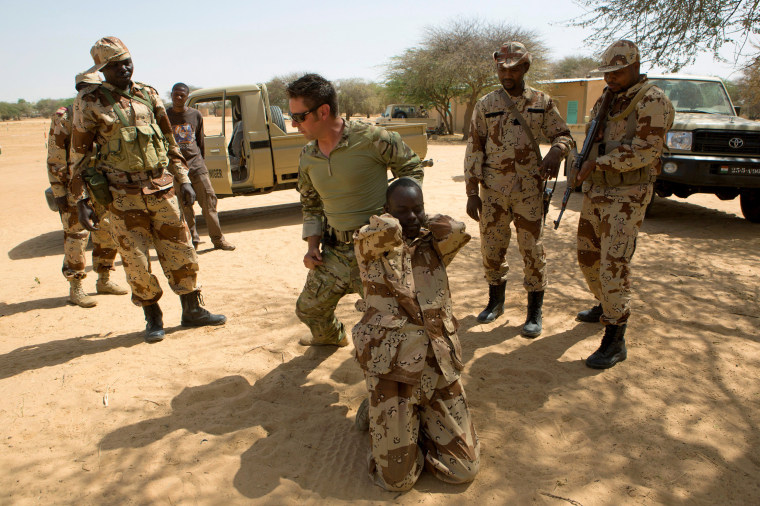 Military and intelligence officials confirmed to NBC News that one role of the joint intelligence-gathering mission is to prepare for lethal operations, which could begin with President Donald Trump's authorization once the U.S. and French Reapers in Niger are armed. At the moment, none of the drones in Niger are.
Pentagon officials say U.S. forces in Niger do not currently have a combat role.
Dunford told reporters earlier this week that the Green Berets who were ambushed had been on a reconnaissance mission. But a U.S. military official with first-hand knowledge of the investigation told NBC News the team's mission changed at some point, and that it was asked to track a specific militant, described as a recruiter with ties to Al Qaeda and ISIS. Another source said the Americans were tracking his cellphone.
After patrolling overnight, the Green Beret team stopped in the village of Tongo Tongo, and — as NBC News reported Monday — military investigators say they suspect village residents tipped off extremists about the location of the Americans. The 12-person team was ambushed shortly after leaving the village on its way back to the Nigerien capital of Niamey, Dunford said.
During the ambush — which unfolded at two separate locations as the Americans fought back and maneuvered — Sgt. La David Johnson became separated from the unit, and was not evacuated with rest of the team.
The Pentagon sent in elite units to try to rescue him, officials said.
"They moved heaven and earth," one U.S. intelligence official said. "They brought assets in from everywhere, including stateside (Special Forces) elements."
Speaking Thursday, Dunford said he has reviewed the original documents that launched the patrol and said it was a reconnaissance mission "to find information about the local area."
"It was not targeted or focused on any specific Islamic State leader or location. Because that would have made the mission and enemy contact more likely," he said. "The estimate was at the time the enemy contact not likely."
"This was the source document I read," he added. "What I don't know and what the investigation will find out is: Did they have a change in mission that...didn't get reported; if so, how did they get that change of mission?
There are some 800 U.S. troops in Niger, and while Congress has been notified in writing about their various missions, many lawmakers have complained that they have not been given a full, plain-language understanding of what the U.S. objectives are in the country, and in that part of Africa in general.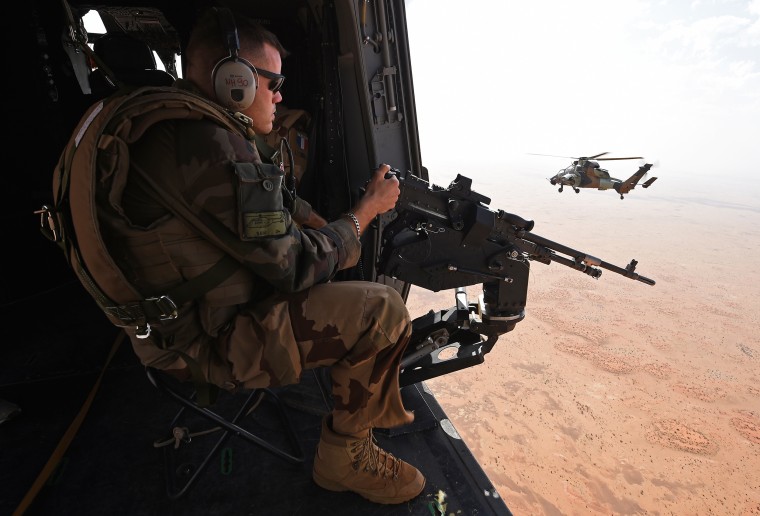 Among the targets of intelligence collection around Tongo Tongo, NBC News reported Tuesday, was the immediate circle of leadership surrounding a militant named Adnan Abu Walid al-Sahraoui, a veteran insurgent originally from Laayoune in Western Sahara, according to two U.S. military officials.
"We can't discuss specific targeting details for operational security reasons," an official from Special Operations Command Africa told NBC News.
Al-Sahraoui is affiliated with the insurgent group Al-Mourabitoun, which was led for many years by Mokhtar Belmokhtar, aka the "Marlboro Man." Belmokhtar has been reported killed numerous times, most recently in Libya in June 2015 from a U.S. airstrike.
"These groups in West Africa have been brutal in their campaigns, not just in their attacks against security forces, but also against hotels, against civilian sites," Zarate said. "I think the concern in the U.S. is that this is another jihadi playground where if they are not contained early, if they are not fought off, this this is a problem that can metastasize and grow more regionally and more globally in terms of the threat."