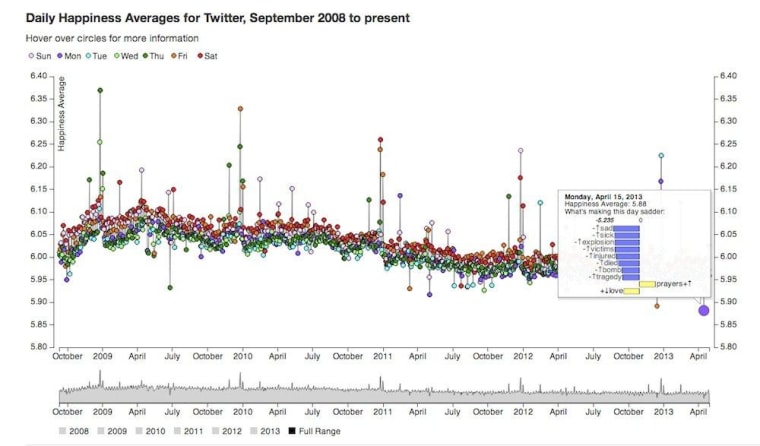 By Stephanie Pappas, LiveScience
April 15, 2013, the date of the Boston Marathon bombings, was the saddest recorded day in five years, according to a measure of global happiness created by using Twitter data.
As reflected by English-language users' posts, the date saw a leap in the use of negative words, such as "sad," "victims" and "tragedy," and a decline in positive phrases, such as "hahaha." The finding comes as researchers launch a new public website, hedonometer.org, that shows daily global mood swings as expressed via Twitter.
"We're trying to develop a complementary measure of well-being for society," said Chris Danforth, a mathematician at the University of Vermont who developed the site along with his fellow University of Vermont mathematician Peter Dodds. Policymakers use gross domestic product, consumer confidence and polls to measure the happiness of large groups of people, Danforth told LiveScience. Twitter provides another, faster, way. [7 Things That Will Make You Happy]
"We're trying to take advantage of people's expressions online and measure something that is really important," Danforth said.
Mass moods
The researchers use Twitter's Gardenhose feed to create their "hedonometer," which roughly translates to "happiness meter." This feed is a random sample of about 50 million tweets per day, which represents about a tenth of the messages posted on the site.
The common words in these tweets have been previously rated as sad or happy on a scale of 1 to 9 in earlier experiments. Twitter users are only a fraction of the globe — about 15 percent of American adults use the service, Danforth said — but they are becoming both more common and more representative. As of December 2012, the social media site claimed more than 200 million active monthly users, and that group has become increasingly diverse as the site's popularity broadens, Danforth said.
"It's becoming more and more reflective of what's going on for people," he said.
Ups and downs
What's going on turns out to be rather predictable, with a few major exceptions. People are sadder on Mondays and happier on weekends, Danforth and his colleagues have found. Napa, Calif., appears to be the happiest city (and no wonder, given all those wine-soaked tweeters passing through), while Beaumont, Texas, is the least happy.
The hedonometer tool also lets researchers track happiness through time. Especially happy days tend to be predictable, Danforth said. People share their positive feelings on holidays, when they're off of work and with family.
Unhappy days, though, happen in response to unexpected events.
"We very rarely see a big uptick in happiness in response to some event that is unexpected," Danforth said. "Most of the downward ticks are unexpected events," such as the death of a celebrity or a natural disaster.
Even the death of Osama bin Laden brought a swirl of negativity, likely because "a very negatively viewed character met a very negative end," the researchers write.
The saddest day of them all was the date of the Boston Marathon bombings, with a happiness score of 5.88 on a scale of 1 to 9. But even though it had less-sad score, Dec. 14, 2012, the date of the mass shooting at a Newtown, Conn., elementary school, may have actually been sadder, Danforth said.
That's because the Newtown shooting happened on a Friday, a generally happy day when people otherwise would be tweeting positive vibes, he said. The Boston bombings happened on a Monday, when unrelated grouchy tweets about returning to work would have driven the average happiness down.
So far, the hedonometer measures English-language tweets only, but Danforth and his colleagues are working to expand the number of languages as well as sources. They hope to add other online indicators, such as Google Trends. So far, however, the Twitter data alone has matched up well with more controlled measures of happiness such as Gallup polls, Danforth said.  
Before the flood of Twitter and other social media data online, a tool like the hedonometer would have been available only to large corporations or the most well-funded of labs, said Scott Golder, a doctoral candidate in sociology at Cornell University and a staff sociologist for the data analytics company Context Relevant who was not involved in the research.  
"Whether what this tool is measuring is actually personal or collective happiness is open to interpretation, but I think that this is a very interesting tool for visualizing the conversations that are taking place in public life," Golder told LiveScience.
Follow Stephanie Pappas on Twitter and Google+. Follow us @livescience, Facebook & Google+. Original article on LiveScience.com.
Copyright 2013 LiveScience, a TechMediaNetwork company. All rights reserved. This material may not be published, broadcast, rewritten or redistributed.