The White House still plans to boot CNN reporter Jim Acosta, despite a court order that reinstated the journalist — and the network is once again asking the courts to get involved.
A judge temporarily restored Acosta's press pass last week and told both sides to reach a settlement, one the White House said it has no interest in reaching.
In a letter from the White House to Acosta, the administration reasserted its belief it can ban Acosta, accusing him of poor behavior including asking multiple questions and not yielding the floor to other reporters.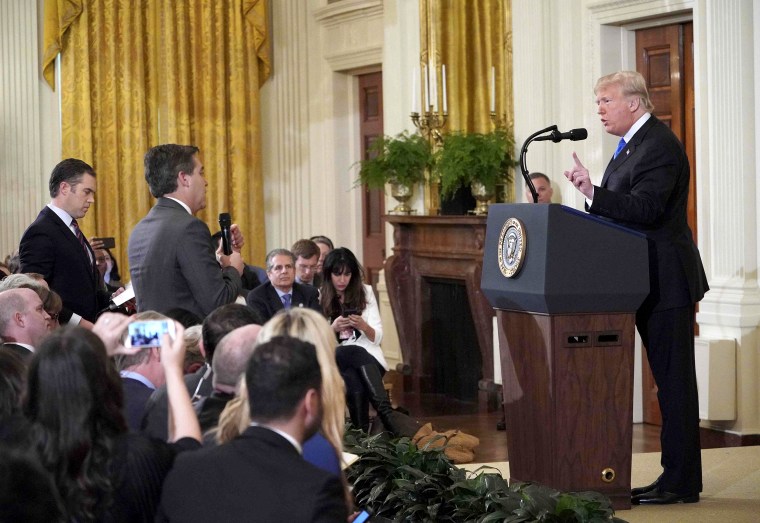 CNN has asked a federal court judge for an emergency hearing on "November 26, 2018, or as soon thereafter as possible."The White House, in its letter, told Acosta it would make a final decision on his status at 3 p.m. ET on Monday.
It wasn't immediately clear what CNN would do if the White House strips Acosta's press pass on Monday afternoon, a week before the requested hearing.
The administration fired off the letter on Friday night, telling Acosta and CNN they had until 5 p.m Sunday to respond, which they did.
The network, in its reply, accused the White House of retroactively enforcing unwritten rules covering press conferences. And the White House, in its own letter, admitted that it "does not have a written code of conduct for journalists participating in presidential press conferences."
The White House has long resented Acosta's work and that reached a boiling point on Nov. 7 when the administration sent an intern to swipe the microphone from him.
The White House revoked Acosta's press pass and CNN went to court.
"Your behavior at the November 7 press conference violated the basic standards governing such events, and is, in our preliminary judgment, sufficient factual basis to revoke your hard pass," according to the letter co-signed by White House press secretary Sarah Sanders and deputy chief of staff Bill Shine.
"While this is our preliminary decision, we would be pleased to consider any material you would like to submit in response to it," according to the letter, which praised President Donald Trump and claimed the White House bends over backward to be open.
"As you know, President Trump has provided an extraordinary amount of access to journalists to ask questions, while operating an extremely open and transparent White House," according to Sanders and Shine, a former Fox News executive.
CNN said in a statement on Monday that the White House stance is an attack of basic freedom of expression.
"The @WhiteHouse is continuing to violate the First and Fifth amendments of the Constitution," the network tweeted.
"These actions threaten all journalists and news organizations. @Acosta and CNN will continue to report the news about the White House and @realDonaldTrump."
CORRECTION (Nov. 19, 2018, 11:19 a.m. ET): An earlier version of this article misstated the day CNN has requested for an emergency court hearing on press credentials, which the White House has said will be revoked by 3 p.m. ET on Monday. CNN has asked for hearing on Monday, Nov. 26, or shortly after, not Monday, Nov. 19.