Norbert Koll, a vacation-rental owner in Ahrweiler, Germany, said that record-breaking floods that struck the area last July "hit him like a brick."
The flood filled homes with mud, destroyed roads and killed more than 200 people across Germany and Belgium, including an elderly couple staying in one of Koll's rentals in Ahrweiler, about 100 miles west of Frankfurt.
Koll and his wife saw that a storm was coming when they checked radar maps earlier that week, but the magnitude of the flooding caught him by surprise.
"We didn't expect the worst," Koll said.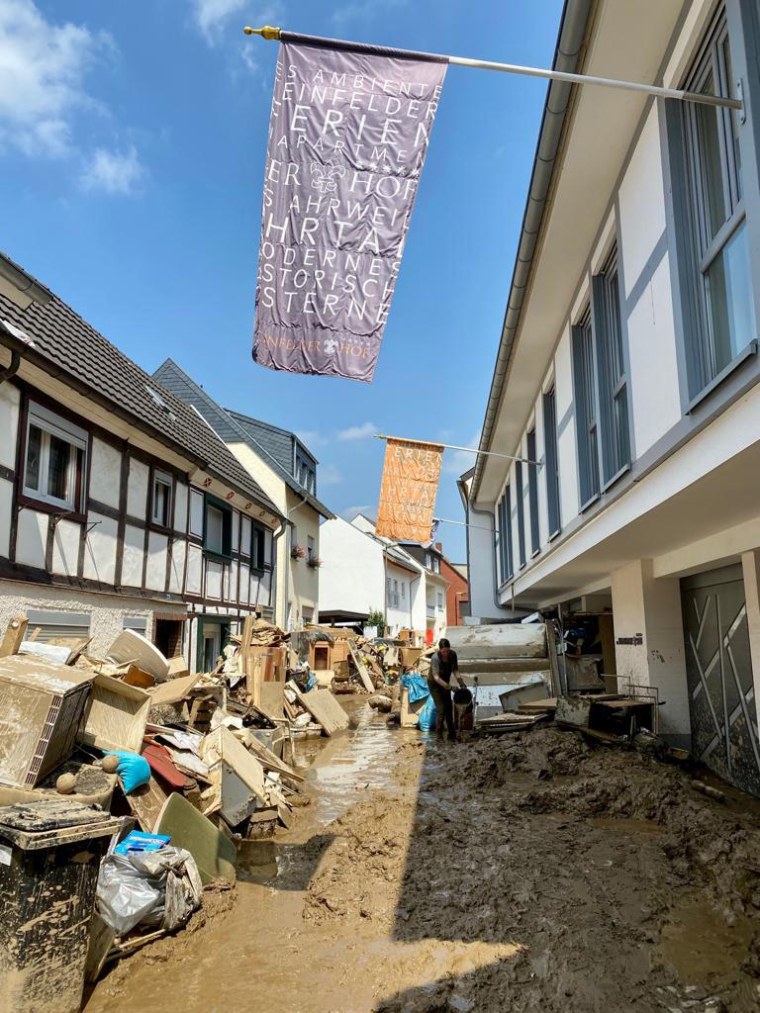 In Portland, Oregon, where multiple temperature records were smashed in late June in an extended heat wave that stretched across the Pacific Northwest, Laura Golino de Lovato said such extremes also came unexpectedly.
"Nobody really believed it was going to happen and nobody was prepared," she said.
Leading scientists say events like these that have surprised so many across the world are more likely in a warming climate. And they say the pattern will only grow.
Each January, the National Oceanic and Atmospheric Administration, NASA and the European Union Earth observation agency Copernicus publish reports on the previous year's temperature data. Copernicus ranked 2021 as the fifth-hottest year since 1850, while NOAA and NASA ranked it as the sixth-hottest since 1880.
An NBC News analysis of global weather stations with data going back for at least 30 years found that 691 weather stations out of 8,892 recorded their highest temperature ever in 2021.
To distinguish unprecedented heat from everyday weather, scientists measure whether a region's temperature during a particular time period is above or below the region's historical temperature for the same time period.
Friederike Otto, senior lecturer in climate science at the Grantham Institute for Climate Change and the Environment in London, said that measuring these temperature anomalies helps scientists tell the difference between day-to-day weather and longer-term climate changes.
"It shows us the direct effects of global warming," Otto said.
In 2021, as Europe recorded its hottest summer, June's weather anomalies in North America were so significant that the continent recorded its hottest June in 171 years, according to the January Copernicus report.
The record-breaking heat was even more notable, scientists say, given that 2021 was a La Niña year, in which climate patterns in the Pacific Ocean produce cooler temperatures across the globe.
An August 2021 United Nations International Panel on Climate Change report concluded that climate change caused by humans "is already affecting many weather and climate extremes in every region across the globe."
Otto, who helped write the report, said that last year's weather events proved 2021 was "a year that made the evidence unavoidable."
Scientists say damaging spring frosts – such as the one that destroyed winemakers' crops in France last April – are an example of a weather event that is more likely in a warming world.
Denis Lesgourgues, co-owner of Château Haut Selve, a vineyard in southwest France, lost 60 percent of his crop during last year's spring freeze. Warmer winters have caused grapevine buds to grow earlier in the year, leaving them vulnerable to previously harmless early spring frosts. Lesgourgues said that now if the buds are out when the frosts hit, they die and are unable to grow grapes.
"When I was growing up, I remember that the buds were starting to open by April or May," said Lesgourgues, "but now it starts happening in March and even the end of February."
In other parts of the world, the increased heat can become a matter of life or death. In Portland, the June heat wave sent temperatures up to 116 degrees, shattering heat records by as much as 9 degrees Fahrenheit (5 degrees Celsius) and killing hundreds of people in the region.
"There was a feeling that, we're in the Pacific Northwest — it never gets really cold, it never gets really hot," said Golino de Lovato, the executive director of the Northwest Pilot Project, a housing-relief organization for seniors headquartered in Portland. "We don't have to worry about being ready to respond to extreme weather, because it's never going to hit us."
Heat waves are especially dangerous for vulnerable populations, including people without air conditioning or homes.
Jennifer Coon experienced that firsthand. Coon, from Portland, said she remembers not being able to find relief or to even lay down during heat waves in her time living on the street.
"Inside of a tent oftentimes it's even warmer because of the way the layers of the plastic and tarps trap heat," said Coon, who is now a peer support specialist at Blanchet House in Portland, an organization that helps the city's homeless population.
The malnutrition and substance abuse prevalent in the homeless community, she added, makes people more susceptible to becoming dehydrated in high heat.
Robert Vautard, director of the French climate research group Institut Pierre-Simon Laplace, said that aggressive, record-breaking heat waves are more likely in a warming world.
"You expect records to be broken by one degree [Celsius], and exceptionally, by two degrees, but five is absolutely amazing from a meteorological standpoint," Vautard, another author of the August U.N. climate study, said. "This event would have been absolutely or extremely unlikely without climate change."
Heat waves can be dangerous, particularly for people with underlying chronic health issues or whose work and living situation expose them to relentless high temperatures.
Brittney Le Blanc, who lives in Edmonton, Alberta, said her chronic migraines – exacerbated by weather changes and high temperatures – were so bad at the height of the heat wave that she retreated to an air-conditioned hotel room to wait it out.
"It got to a point where even taking showers multiple times a day and trying to drink cold things was not really doing anything," said Le Blanc. "You had to get out of it."
Oregon farmworker Sebastian Franscisco Perez didn't get the opportunity to escape last summer's heat. Perez was one of at least five people in Oregon who died at work, said Ira Cuello, climate policy manager at Pineros Y Campesinos Unidos del Noroeste, a union for farmworkers and Latino families in Oregon.
"Farmworkers continue to harvest in those conditions because one, they recognize the work needs to get done and, two, their income levels are so low they can't afford to miss out on work," Cuello said.
Even conditions indoors can be dangerous when temperatures spike as high as they did last June.
"Heat waves are by far the deadliest type of extreme event," Otto, from the Grantham Institute, said. "It's not like tornadoes where people basically drop dead in the street. They die quietly in their poorly insulated houses. And so you don't see it. But the numbers are there."
Tony Evans was one of these people. Evans, 71, had struggled with drugs and alcohol and lived in a small storage building with no air conditioning behind his landlord's garage in Vernon, British Columbia. During the Pacific Northwest heat wave, temperatures in British Columbia reached 110 degrees on consecutive days.
Evans' sister, Esmé Comfort, said that the people who usually checked up on him were preoccupied with the heat themselves.
He was found dead on July 1. The cause of death was dehydration, the medical examiner concluded.
"As the climate continues to deteriorate, the first people to go are going to be the poor and the disadvantaged, and that's so wrong," Comfort said.
But the tragedy of heat-related death extends beyond high temperatures. Vautard, from Institut Pierre-Simon Laplace, said heavy precipitation, which caused the deadly July flooding in Germany, is more likely in a hotter environment because warmer air holds more water.
"I always say in my lectures that extreme heat and extreme precipitation are two sides of the same thing," Vautard said.
With temperatures projected to keep increasing, scientists say more extreme weather like these communities experienced is most likely on the horizon.
"What we're seeing now in terms of extremes is just a little bit of the future," Vautard said. "Societies should be prepared for much bigger."