In a nation that has sometimes become numb to mass shootings, people are shaken.
Weekend massacres in El Paso, Texas, and Dayton, Ohio, have many looking for ways to stop the carnage, whether through stricter gun control laws, better mental health services or shutting down certain social media platforms.
As research suggests that violence, particularly gun carnage, can be contagious, some experts are calling for an end to blanket media coverage of mass shootings, saying it can provide potential shooters with a chance of fame, scorecards with which to compare one another and even blueprints for carrying out attacks.
"We see some forms of violence peak when society becomes fascinated," said Jillian Peterson, a psychologist and professor of criminology and criminal justice at Hamline University in St. Paul, Minnesota. "We know that mass shootings are socially contagious and tend to occur in clusters."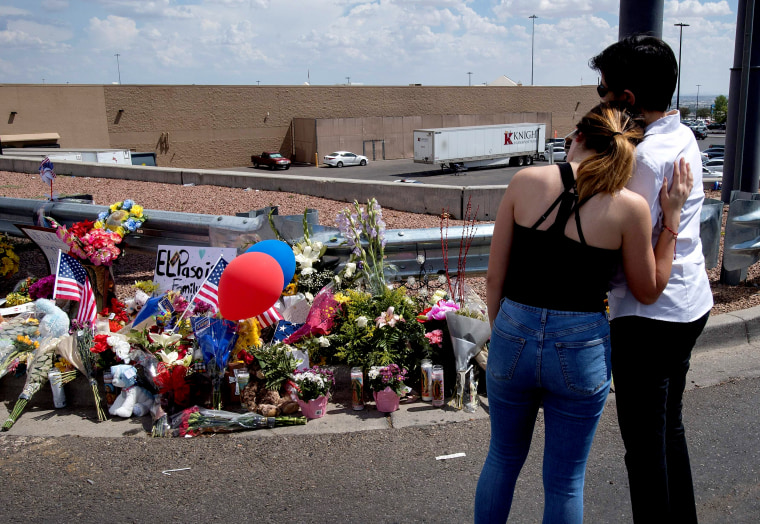 Peterson, who has examined every mass shooting in the U.S. since 1966, says the media can play a role in stemming the bloodshed.
She and co-researcher James Densley of the Violence Project, a nonpartisan think tank dedicated to reducing violence, found that among the things mass shooters have in common is that they had studied past killers.
"Societal fear and fascination with mass shootings partly drives the motivation to commit them," Peterson and Densley wrote Sunday in The Los Angeles Times. "Hence, as we have seen in the last week, mass shootings tend to come in clusters. They are socially contagious."
A 2018 study published by the German research organization IZA, or the Institute of Labor Economics, split few hairs.
"Our findings consistently suggest that media coverage systematically causes future mass shootings," the research group wrote in "The Effect of Media Coverage on Mass Shootings."
Adam Lankford, a criminology professor at the University of Alabama, has come to similar conclusions in his own research. He said the news media contributes to mass shootings by offering suspects fame, perversely rewarding higher casualty counts with splashier coverage and inadvertently inspiring copycats.
"We also have a number of clear cases of direct influence from one perpetrator to another," Lankford said.
Some experts say that when news organizations report casualty figures in boldface, attackers try to one-up one another.
"I call it 'cascading terrorism,'" Clint Watts, a senior fellow at the Foreign Policy Research Institute, said Saturday on MSNBC.
The suspect in the El Paso attack cited the New Zealand mosque shooter, a white supremacist, in a screed, and the suspect in an April shooting at a synagogue in Poway, California, mimicked the New Zealand terrorist's screed.
Some say the media should take a page from its own playbook on writing about suicides as a guide to how to handle mass shootings with a sensitivity to the contagion effect.
"Suicide prevention experts believe, based on experience and some studies, that the less said in the media about the methods of suicide, the less likelihood that a death will prompt at-risk people from taking their lives by that same method in the days immediately after," The Associated Press Stylebook states in its entry on suicide.
Gabriel Kahn, a professor at the University of Southern California's Annenberg School for Communication and Journalism, said suicides are often private incidents that do not receive media attention, but news organizations have an obligation to cover massacres that affect readers and viewers.
Coverage of mass shootings, however, can be "wall-to-wall" and often "adds to the allure for people who have been contemplating these acts of terror," he said.
Lankford said journalists can turn to their own code of ethics, which includes "minimize harm." He said not publishing suspects' names and photos would be a start.
"I don't think anyone's ever looked at a photo of a mass shooter and said, 'Because I see their face, I can prevent the next mass shooting with higher likelihood,'" he said.
Peterson, of Hamline University, suggested "not making manifestos public, not running images 24/7, focusing on the victims rather than the perpetrator, telling deeper stories about the impact and aftermath of these tragedies."
In the competitive, deadline-every-minute world of today's news business, it will not happen overnight, Kahn said, but if there is a lull in the violence, the media should seriously consider reforming the way it covers mass shootings and domestic terror.
"It's not like you can have a blackout," he said. "But I do think we need to have a pause for some reflection about a different way of framing these incidents."