SANTA CRUZ, Calif. — Wildlife officials were trying to capture a wayward sea otter Thursday that has been wrestling surfboards away from surfers and aggressively approaching kayakers off the coast of Santa Cruz, California.
The 5-year-old female otter has shown aggression toward people for several weeks and poses a public safety risk, the U.S. Fish and Wildlife Service said in a statement.
Video and photographs shared on social media show the marine mammal getting on top of different surfboards — on at least one occasion biting and tearing chunks off a board — and aggressively approaching surfers.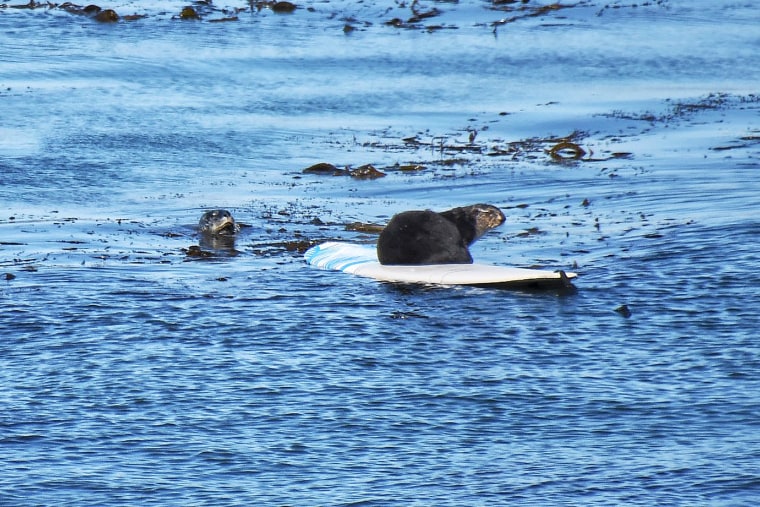 A team of wildlife experts with the California Department of Fish and Wildlife and the nearby Monterey Bay Aquarium were working to capture and rehome the animal, the service said.
"While there have been no confirmed reports of injury, due to the highly unusual behavior of this otter, kayakers, surfers, and others recreating in the area should not approach the otter or encourage the otter's interactions," the USFWS said.
Federal wildlife officials said the otter's behavior is highly unusual and the exact cause for such behavior is unknown. Once captured, the otter will be evaluated by aquarium vets.
"Aggressive behavior in female southern sea otters may be associated with hormonal surges or due to being fed by humans," federal officials said.
They said it is not the first time the otter, which was born in captivity and later released to the wild, has shown aggressiveness toward humans. The sea otter was observed with a pup after returning to the Santa Cruz area in May 2022 and four months later exhibited similar aggressive behavior.
In September, a team of California wildlife officials and Monterey Bay Aquarium staff successfully hazed the otter, preventing further incidents through the winter, the USFWS said.
Southern sea otters are listed as federally threatened under the Endangered Species Act and are protected under the Marine Mammal Act and California state law.