Afghanistan's powerful vice president died on Sunday, only weeks before Afghanistan goes to the polls to elect a new president.
Marshal Mohammad Qasim Fahim, who has served as vice president since 2009, had been a top commander in the Northern Alliance, a group of anti-Taliban militia leaders, during the civil war. A government spokesman said Fahim died from natural causes.
"[President Hamid] Karzai, Fahim and the Americans have been the three key powers in Afghanistan since 2001," said Kate Clarke of the Kabul-based think tank Afghanistan Analysts Network. "He was one of the key people to win over because he carries a lot of influence within ... one of the big political-military parties."
Fahim, a former defense minister, was a staunch backer of president Karzai and commanded great loyalty from former fighters of the Northern Alliance, which he headed after the death of famous militia leader Ahmad Shah Masoud in 2001.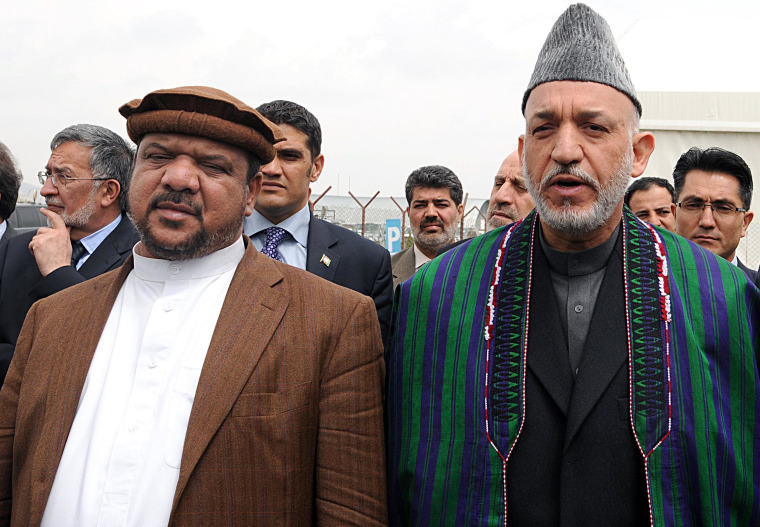 "Marshal M.Q. Fahim has passed away. May his soul rest in peace," presidential spokesman Aimal Faizi wrote in a tweet.
His loyalties in the presidential election had swung between different candidates, said Davood Moradian, the head of the Kabul-based Afghan Institute for Strategic Studies.
Fahim had links with the both president's brother, who dropped out of the race last week in favor of Zalmay Rassoul, another candidate close to the president, and Abdullah Abdullah, a former aide to Masoud, he said.
The polls are due to take place April 5. If they proceed normally, they will mark the first time in Afghanistan's history that power has been handed from one democratically elected government to another.
- Reuters