BEIJING - Thursday's bombings in a busy market in China's Xinjiang that killed some 31 people were the latest in a string of attacks in the restive region, betraying growing tensions between native Turkic Muslim Uighurs and the majority Han Chinese and a shift in tactics.
NEWS ANALYSIS
Last month, two suspected suicide bombers detonated explosives at Urumqi's train station in Xinjiang, killing themselves and another person. Eight knife-wielding people also attacked passengers, injuring nearly 80.
And in March, a group of men and women slashed crowds at the railway station in the city of Kunming in Yunnan, killing 29.
One of the deadliest incidents came in July 2009, when clashes between police and Uighurs in Xinjiang's Urumqi left 197 people dead, most of them Han Chinese.
While these attacks have ramped up in the last eight years, they are based on long-standing economic and social divisions.
They stem partly from a long-held Uighur belief that mass migration of Han Chinese into Xinjiang since 1950 has concentrated wealth and opportunities in the Han Chinese community. Meanwhile, many Han feel the Uighur community is ungrateful for billions invested in Xinjiang, albeit much of it in mining and oil contracts.
Cultural differences deepen these divisions.
Beijing's policies in Xinjiang push Mandarin as the region's dominant language, for example, and stereotypical depictions of Uighur culture in Chinese popular culture anger many in the Muslim group. Uighurs, however, are also often seen as being reluctant to engage with Chinese culture.
Related
China's Terror Problem Worsens: Uighurs Stage First Suicide Bombing
Still, the violence has come as far as China's capital, Beijing. Last October, a car carrying a Uighur family jumped a curb and slammed into a crowd of tourists before exploding in front of Tiananmen Gate.
The 2009 riots were some of the worst multi-ethnic violence China has witnessed since the Cultural Revolution, and set the stage for Thursday's violence. China's ruling Communist Party has been quick to label attacks since 2009 as isolated incidents of "Uighur terrorism," but the frequency and severity of such attacks call into questions these claims.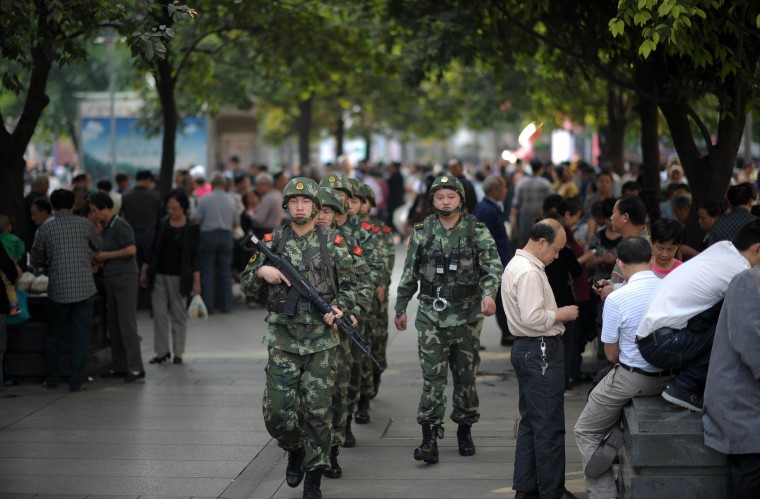 It is not clear who is behind Thursday and other recent attacks. What is clear, though, is that there has been a shift from attacking police and paramilitary stations to softer targets like train stations, markets and other public spaces.
Because information is very tightly controlled by both the Xinjiang provincial and central government, the shift could represent a desire on the part of attackers to ensure their message gets out. After all, in these days of ubiquitous social media, it is much harder to hide a mass attack as opposed to an isolated attack against a police station.
China's reaction to the violence has been two-pronged.
The heavy-handed stance has relied on increased paramilitary forces –including the famed Snow Leopard Commando Unit - along with renewed regulation of the Internet and heavy surveillance across restive areas of Xinjiang.
On the other hand, the Chinese media has attempted to project a racially harmonious image of Xinjiang, and a local party leadership that provides great social outreach. Many Uighurs would contend, however, that the Han "social workers" sent out to help them are actually there to provide surveillance and to control them.
So far this year we've had around 10 attacks by so-called Uighur Terrorists. The apparent growing frequency of attacks may be a reflection that more "soft targets" are being hit, and it is harder to suppress reporting on these. Nevertheless, they represent a shift in approach.
So whether we are seeing a series of copycat attacks, or a burgeoning coordinated insurgency, the government's portrayal of Xinjiang as a place of peaceful harmony is starting to crumble.
The Associated Press contributed to this report.