Ancient Buddhist murals in northwestern China are under "direct threat" as a result of unprecedented levels of rainfall brought about by climate change, researchers said this week.
Extreme rainfall in Dunhuang and Zhangye in China's Gansu province has put UNESCO-listed world heritage sites at risk, with cave monasteries dating to the 4th century already damaged, environmental group Greenpeace said Monday.
Rainwater leaks and rising humidity have damaged ancient cave paintings, including those in the famous Mogao grottoes, it said, and some caves have even collapsed.
"Spikes in humidity, flash floods, and cave-ins are already happening," said Li Zhao, a senior researcher in Greenpeace East Asia's Beijing office.
Greenpeace said that while total precipitation has increased in Gansu since 2000, the number of rainy days has actually fallen, meaning that individual bouts of rainfall have become more intense. Temperatures in the province have also risen faster than the global average.
China is conducting a nationwide cultural heritage survey, but Li warned that some of the country's treasures could already be gone by the time it is completed.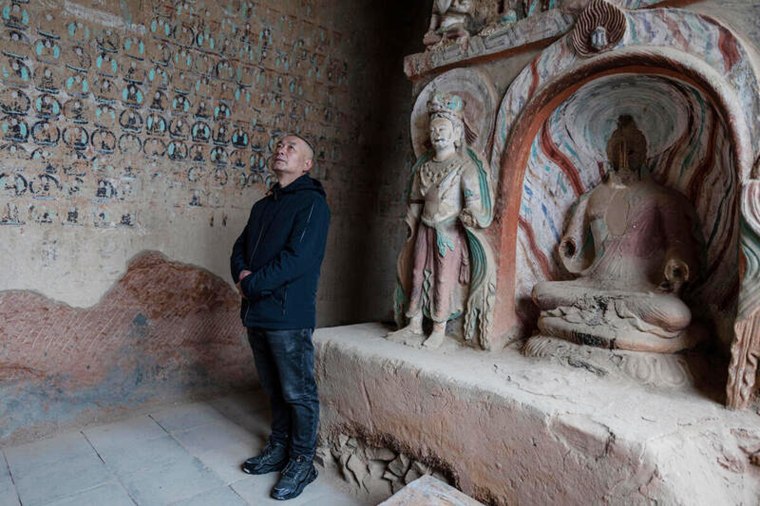 "The sites we looked at include some of the most well-funded, best-staffed cultural heritage sites in China," Li said. "There are hundreds of less-funded, less-studied sites all around China that are facing these same risks."
Gansu is not the only region at risk.
Higher levels of rainfall in the normally arid northern province of Shanxi have also taken their toll on ancient buildings, some of which are more than 1,000 years old, Friends of Nature, a Beijing environmental group, said last month.
The Jinci Temple and Tianlongshan grottoes, both national heritage sites in Shanxi, have collapsed, and old towers and walls in the province have suffered damage due to unusually heavy rain, it said.