On Wednesday afternoon, as New York City residents attempted to make sense of the orange haze that blanketed the area, a Chinese delivery worker who services restaurants in south Brooklyn carried on despite the dangerous air conditions, dropping off orders over the course of his 10-hour shift. 
"If you're out for long periods of time, you feel your breathing become more difficult. It starts to hurt," the delivery worker, who requested anonymity for fear of retaliation, said in Mandarin, through an NBC News translation. "It's like cigarette smoke. The more you're out, the more your throat hurts."
The Brooklyn-based worker, 38, is one of countless delivery people who continued to brave the conditions outside despite the city's air quality being the worst in the world during a period of time Wednesday, due to the persistent smoke caused by more than 400 wildfires burning in Canada. Despite advisories across all five boroughs, many delivery workers said they couldn't afford to miss a day of work, particularly since there is currently no minimum wage requirement for many who operate as independent contractors. 
The poor air conditions continued Thursday, with officials advising all vulnerable people to stay indoors, close windows and doors, and use air purifiers. Residents were also advised to limit outdoor time and wear N95 or KN95 masks.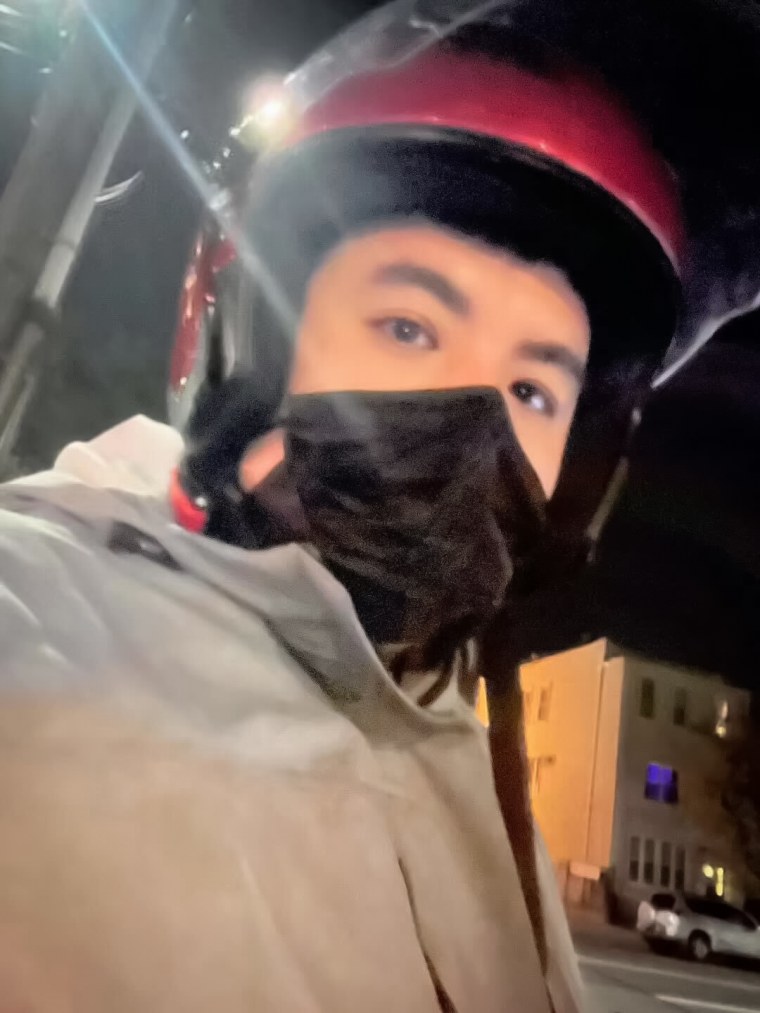 But workers continued to make deliveries on bikes, motorcycles, scooters and other vehicles that made them susceptible to the open air. Antonio Solis, 36, an app-based delivery worker who is part of the Los Deliveristas Unidos collective, said that for many others like him, taking days off  work means being unable to pay rent and bills on time and risking not having money to send back to their families in their countries of origin. 
 "We don't have that choice," Solis told NBC News in Spanish.
And business only continued to boom, the workers said. They pointed out they rely on tips, which often spike during inclement weather, from people who didn't want to venture outside themselves and reward the drivers accordingly. Solis said that it usually takes extremely bad weather for that level of generosity to emerge.  
"What I have realized in all this time is that we must deal with bad weather so that there are more orders or more tips," Solis said. "We only get good tips when there's rain, snow or any other kind of bad weather."
Popular apps Uber and DoorDash did not return NBC News' request for comment. A Grubhub spokesperson said in a statement that during this air quality crisis in the New York City area, the company will not be penalizing those who do not feel safe and opt out of deliveries.. GrubHub, which also owns Seamless, another delivery app, noted that employees can order free PPE kits through the company's website. DoorDash provides free masks through its website as well. And Uber reimburses their drivers for masks, sanitizers and disinfectants in a one-time payout.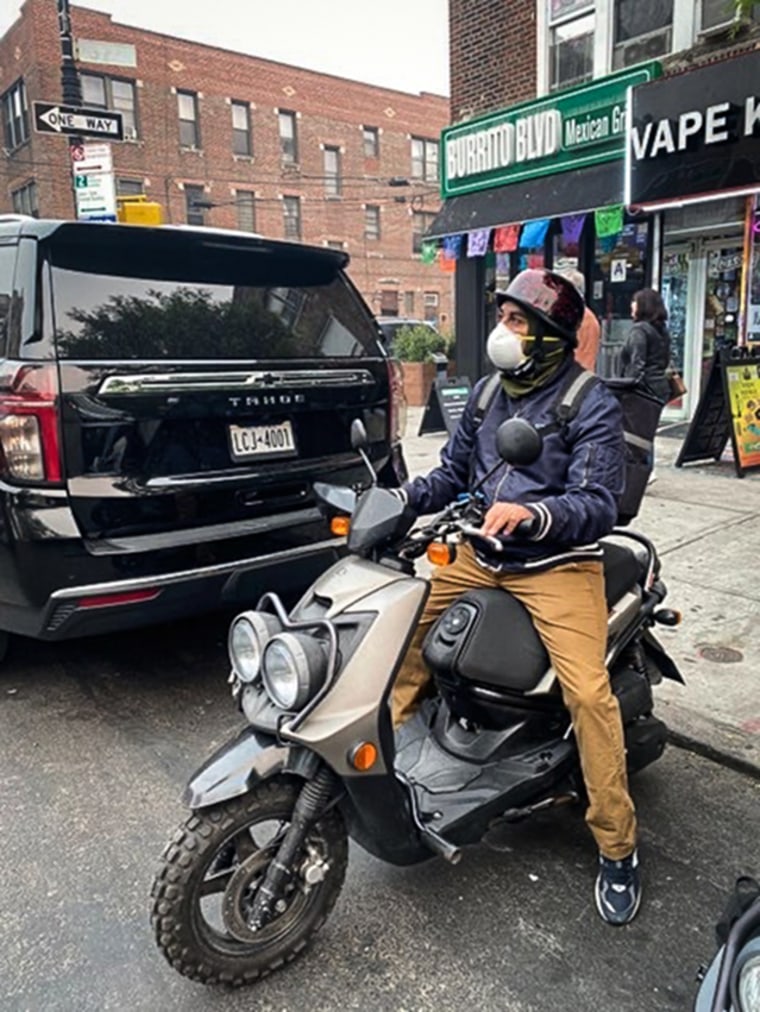 "Deliveristas are on the front lines," Ligia Guallpa, director of the Workers Justice Project, an organization that advocates for better working conditions for low-wage immigrant workers. "They're responding to an emergency by being the people who are delivering not only food, but also delivering masks, delivering medicine, delivering essentials to keep New Yorkers at their homes safely, while they risk their lives."
Guallpa explained that the majority of some 65,000 app-based delivery workers in the city are immigrants from South and East Asia, Latin America and Africa who end up in delivery jobs due to easy accessibility. But because delivery workers are considered independent contractors, they are excluded from labor protections and exempt from minimum wage requirements.
Workers earn an average of $14.18 per hour before expenses, split equally between payments from apps and tips, according to the NYC Department of Consumer and Worker Protection. While many delivery workers celebrated the city's passage of protections for delivery workers in 2021, Guallpa said Mayor Eric Adams' administration missed the deadline to implement the rule in January. The city has put forth new proposals, but there remains no minimum pay requirement to this day. 
"The Adams administration is in the process of finalizing a rule that will ensure delivery workers are paid a fair rate. We look forward to announcing that rule in the near future," a City Hall spokesperson said.
"We see a city who has actually disregarded the urgency and the need to implement the minimum pay. By now it's been six months," Guallpa said. "Because this is the slowest season, people are being forced to actually be on the streets in the hopes of getting more deliveries for more tips." 
Huang Mu Wang, who makes deliveries in Brooklyn through apps, said he also sees delivery workers as a critical part of the city's ecosystem. And as long as others are working, there's a necessity for delivery people to be on the roads, he said, as "people need to eat." 
But health concerns have been hard for anyone to ignore, Huang said. As the sky grew dark and took on an orange hue Wednesday afternoon, his eyes became irritated and the roads were increasingly harder to navigate. A few others, he said, had concerns over potential accidents from the low visibility and uncomfortable conditions. 
"Of course I was scared," Huang said in Mandarin. "All of New York was fearful and barely anyone was on the street."
However, the workers who spoke to NBC News said they were not given masks or any other protective equipment by their app delivery companies. Most had to buy their own masks or rely on their pandemic stash, they said. Health guidance has also been scarce. The unnamed deliveryman from Brooklyn mentioned that he was told he could rest indoors between orders. 
Solis and other delivery workers took it upon themselves to give away free N95 masks to delivery workers in Astoria, Queens. They will be going out again on Thursday to give away some more masks. Other delivery workers have additionally opted for eye goggles. 
"As independent contractors, many of them are responsible not only for doing this work at their own risk, but also responsible to find their own equipment to do this work and that includes their health and safety," Guallpa said. "If they get sick, they wouldn't be able to have access to health insurance or hold their company responsible. If they refuse to work those hours they're scheduled, they most likely will be deactivated, which is a retaliation."
An Uber spokesperson previously said in a statement to NBC News that representatives conduct a thorough evaluation before deactivations.
"We know that drivers rely on Uber to earn, so the decision to deactivate a driver's account is one that we do not take lightly," the spokesperson said. "Unless there is a serious emergency or safety threat, we provide multiple warnings to drivers before permanently deactivating their account. And we provide drivers with the option to appeal eligible deactivations, including by submitting additional photo or video evidence."
With poor conditions continuing throughout the week, Solis said he is hopeful others will better understand their plight. 
"We hope people see what we go through to be able to deliver hot meals and medicines to them," Solis said. "Sometimes we put in an extraordinary effort."