LOS ANGELES — A 103-year-old Cambodian woman who survived starvation, suffering and war in her native land beamed and waved a tiny American flag on Tuesday as she became a United States citizen.
Hong Inh was the oldest of more than 10,000 people who took the oath of allegiance in a cavernous room of the downtown Convention Center in Los Angeles.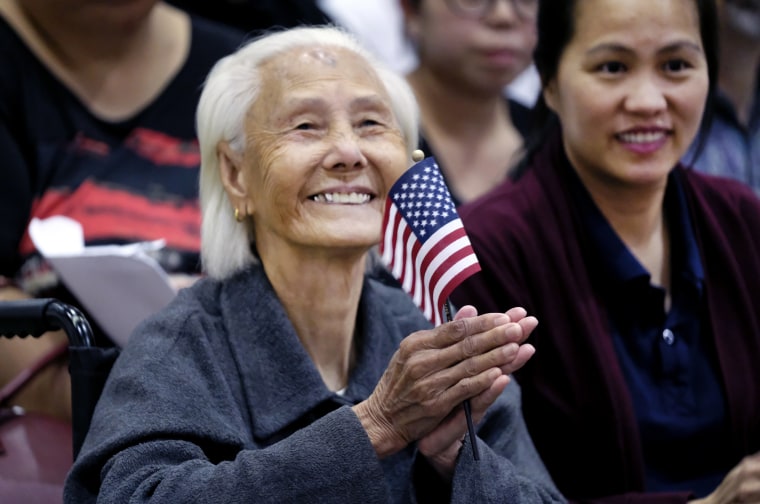 She came to the United States when she was about 97 years old to join a daughter and other relatives.
Three generations of her family, from her 80-year-old daughter Hieng Meng to 13-year-old great-granddaughter Melissa Tea were on hand for the ceremonies.
She has 30 grandchildren and great-grandchildren living in the U.S. and Cambodia.
Her relatives helped Hong Inh up from a wheelchair and she stood with a flag in her raised hand to receive the oath. Her grandson spoke the words but she joined in the roar of applause at its conclusion.
"She says she's so excited and happy," said her granddaughter, Siv Taing, 40, of Orange.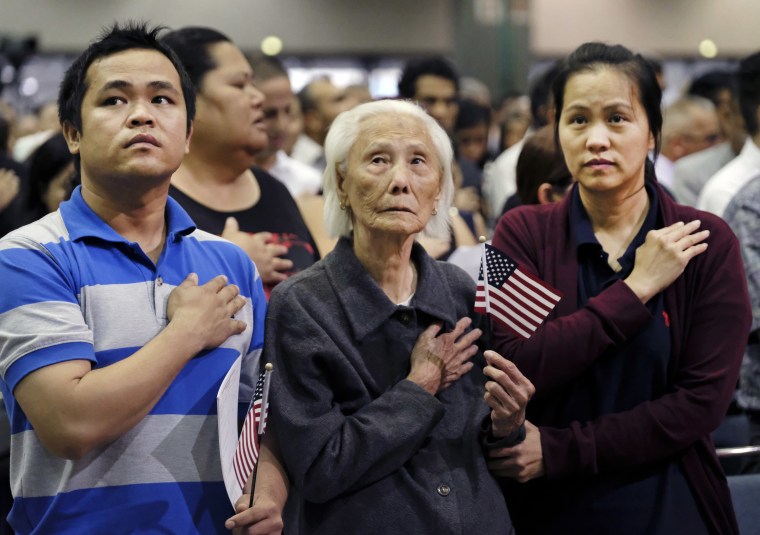 Later, Hong Inh stood again, with her hand over her heart, for the Pledge of Allegiance and a singer's rendition of "The Star-Spangled Banner"
Hong Inh survived years of war and violence under the genocidal Khmer Rouge regime of the 1970s.
"During that time she was so suffering. They didn't have anything to eat," her granddaughter said.
She always wanted to come to America.
It was "just a dream because she wished to live in a peaceful country," said her grandson, Kim Ngoun Taing, 36.
Relatives were able to bring her to the U.S. 5 1/2 years ago. She had to be a legal permanent resident for at least five years to apply for citizenship.
"Our family is so proud and amazed. It's so unbelievable that my great-grandma achieved one of her dreams," 15-year-old Melissa Tea said.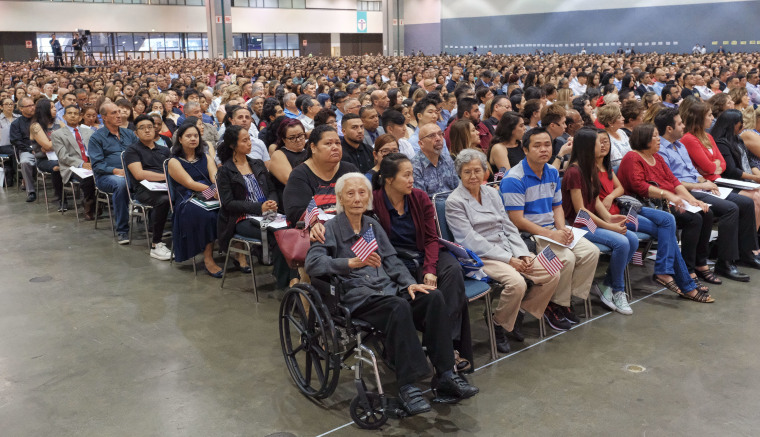 "She really likes it," she said. "She likes how she can do a lot of things freely. ... She can watch Chinese dramas by herself.'"
Hong Inh was presented with her naturalization certificate by Donna Campagnolo, director of the Los Angeles district office of the U.S. Citizenship and Immigration Services.
"She's just an absolute joy," Campagnolo said. "I think the glow and the smile on her face are just inspirational, really."
Hong Inh is not the oldest person to become a U.S. citizen. Manik Bokchalian, a Turkish immigrant who lived in Los Angeles, was 117 when she took the oath in 1997.
Follow NBC Asian America on Facebook, Twitter, Instagram and Tumblr.