For a second year in a row, jazz pianist Joey Alexander is going to the Grammy Awards as a nominee. Now 13, he's come a long way since teaching himself how to play jazz growing up in Indonesia.
"I hope that they will feel the joy because this music is so joyful and it touches peoples hearts."
Last year, Alexander made waves when his debut album, "My Favorite Things," garnered two Grammy nominations for "Best Jazz Instrumental Album" and "Best Jazz Improvised Solo" at the age of 12, making him the youngest jazz artist to be nominated for a Grammy, according to his record label, Motema Music.
"He's the youngest jazz artist for that to ever happen to," Jason Olaine, a Grammy Award-winning producer who also produced both of Alexander's albums, told NBC News.
In 2016, Alexander also performed with his trio at the pre-telecast ceremony and played solo on the Grammy Awards broadcast. "For a jazz artist to get any kind of TV time on the Grammys is a rarity," Olaine said.
Even though Alexander didn't take home a Grammy last year, he was thrilled just to be nominated. "I was very surprised, but also very thankful for all this," Alexander told NBC News. "I still could not believe I had two nominations."
This year, Alexander received his third Grammy nomination for "Best Improvised Jazz Solo" for "Countdown," a tune by the legendary John Coltrane and the title track of his second album.
"Over the last year, Joey has grown by leaps and bounds as a composer, as an improviser and as a bandleader," Olaine said, noting that his new album showcases that. "You can find some beauty and inspired playing, and very moving arrangements throughout the album, whether it's his original tunes or standards."
RELATED: 13-Year-Old Jazz Pianist Joey Alexander Nominated for 2017 Grammy
Alexander and his father, Denny Sila, worked out all the arrangements on his latest album, which pays tribute to several jazz masters that have inspired Alexander, including Herbie Hancock. On Hancock's "Maiden Voyage," Alexander stretches out a bit with Chris Potter on saxophone, the first recording he's ever made with a horn player.
Alexander also plays solo piano on a song he likes, Charles Chaplin's "Smile."
Born in Bali, Indonesia, Alexander was six years old when his father gave him an electric keyboard. "My dad played a little piano and guitar, but not professionally," Alexander said, who recalled he was drawn to music when he saw his father play.
While he had a few piano lessons, Alexander learned to play jazz by ear by doing jam sessions with older musicians, and by listening and playing along with the jazz greats in his father's record collection.
"Duke Ellington, Billy Strayhorn, Thelonius Monk, Coltrane and Bill Evans. I heard all these amazing musicians," recalled Alexander.
Before long, Alexander's family moved to Jakarta, so he could play with some of Indonesia's best jazz artists. When he was 10, Wynton Marsalis, reknowned jazz trumpeter and the artistic director at Jazz at Lincoln Center, discovered Alexander on YouTube, and invited him to perform at the center's annual gala in New York City in 2014.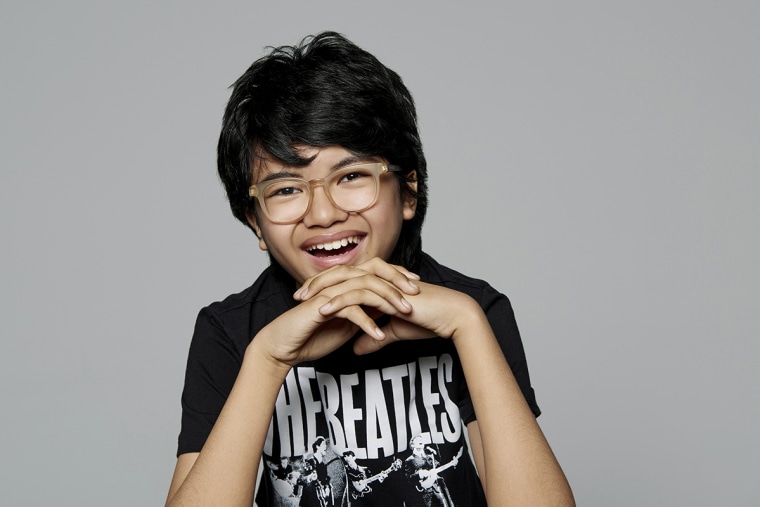 Alexander's producer Olaine, who also serves as Jazz at Lincoln Center's director of programming, remembers the reactions from other musicians when Alexander performed a Thelonius Monk tune at the gala's rehearsal.
"Everybody's like…jaws dropped, like looking at Joey and looking at each other… and they're laughing, like this can't possibly be what we're hearing," Olaine said. "He took another take afterwards, it was a completely different arrangement.…You kind of shrug your shoulders, look at each other, scratch your head, and just go, 'OK, all right, I've never seen this before."
Eventually, Alexander's family moved to New York so he could pursue his passion for music, and early on, several major media outlets took notice of the new kid in town — including NBC News. Alexander still remembers what it was like at 11 years old to jam with NBC Nightly News anchor Lester Holt for a segment featured on the TODAY Show. "He's a very calm and fun guy to talk with, and he's a pretty good bass player," Alexander said.
Since his career has taken off, Alexander has been performing at major jazz festivals in the U.S., such as the Newport Jazz Festival and the Monterey Jazz Festival, as well as touring around the globe. Last year, he also performed at the International Jazz Day All-Star Global Concert at the White House.
"I was very surprised, but also very thankful for all this."
"It was also a learning experience for me, not only meeting the president [Barack Obama], but also playing with Wayne Shorter and Esperanza Spalding. I think that was a huge blessing for me, to play with them, and to have the chance to play with Wayne Shorter," Alexander said.
So how does Alexander balance the demands of touring around the world as a professional bandleader and musician and making time for school, family and friends, and just being a teenager?
"I always have time away from my piano for doing my school work, " he said. "I play video games, watch movies and swim and do a little boxing with my dad. My dad's good at boxing. I think you've heard that the philosophy of boxing is like jazz. Being tough. Having the endurance."
Alexander's parents are also a vital part of his management team and travel with him whenever he's on the road. "My family values that my parents taught me, and respect to others, and my faith in Christ, help keep me grounded," Alexander said.
Wherever he performs, Alexander likes to share his experiences with people of all ages. He also enjoys going into schools, to play for kids his own age.
Despite all of the attention, Olaine says Alexander remains grounded.
"As a person, he's just one of the sweetest … and has a generous spirit. And for him to be so young and be that kind of developed is inspiring and remarkable," Olaine said.
He added, "It's pretty unprecedented. To achieve the kind of fame and recognition on a national and global scale that he has, is something most artists work a lifetime to achieve. And he's only been out here for two years or less."
For Alexander, as he continues to explore the musical landscape, he says the best part of the journey is playing music and playing music with his friends.
"I love it. I love playing for people. I hope that they will feel the joy because this music is so joyful and it touches peoples hearts," Alexander said. "And I always hope people will be joyful in their lives and to have hope."
Follow NBC Asian America on Facebook, Twitter, Instagram and Tumblr.