A 19-year-old who will officially hold a Ph.D. in biomedical engineering next week began taking classes at a local community college at 7 years old, while he was still in high school.
Tanishq Mathew Abraham, who earned his doctorate degree in May, was admitted at 12 years old into the University of California, Davis, to pursue his undergraduate degree.
Now, after successfully defending his dissertation, Abraham will receive his Ph.D. credentials on June 15. He shared his excitement on Twitter, thanking advisers and family.
"Wouldn't have done it without the love and support of my family. Mom, who gave up her PhD to homeschool us. Dad, who juggled hectic days of work for me to achieve my dreams. Sis, who made the stressful days less stressful with her jokes," he tweeted.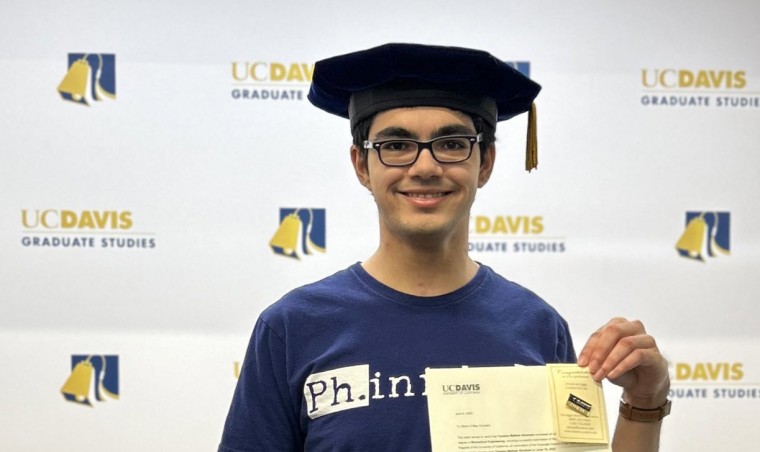 His focus was research on using artificial intelligence in microscopy techniques for digital pathology at the UC Davis Department of Pathology and Laboratory Medicine, according to his website.
The UC Davis College of Engineering, where Abraham received his bachelor's of science and now Ph.D., congratulated the Sacramento native for his achievements.
After completing his dissertation, Abraham rang the bell, a tradition at UC Davis signifying the completion of a student's Ph.D.
Abraham graduated from high school at 10 years old and, at 11, obtained three associate degrees. At 14, he graduated from UC Davis summa cum laude, he said on his LinkedIn. 
He was just 4 when he joined the high-IQ society Mensa, which requires each member to test within the upper 2% of the general population on an approved test.
"We tested him and discovered that he was pretty smart," dad Bijou Abraham previously told NBC News. "We were surprised when we started giving him advanced stuff and he was picking it up really fast."