Noodles are one of the most flexible ingredients in cooking. From Japanese soba to Vietnamese bun rieu and pho, here are five noodle dishes that you can make for the fall.
Mutsuko Soma, Chef at the Kamonegi Pop-Up in Seattle
"Kamonegi is named after a sacred Japanese culinary pairing of duck (kamo) and green onions (negi) so naturally, the kamo seiro has become my signature dish." Soma told NBC News. "Seiro is a way of enjoying soba, and it means having cold noodles and a hot dipping sauce on the sauce. I'm a big fan of this dish for autumn. Duck and green onions have their own harmony, but they also pair perfectly with the warm, nutty aroma of buckwheat. I prefer to serve this with my fresh buckwheat noodles, but many people purchase soba noodles from their local Asian market, and that works fine too."
Kamo Seiro Soba
Ingredients
1 duck breast
1 bunch of green onions
3 to 4 servings of fresh soba of fresh or dried soba noodles
For Dashi
1 medium to large dry shiitake mushroom
1 piece of konbu kelp, approximately two inches by two inches
.5 ounce dry bonito flakes, can substitute with a pre-mixed dashi pack or dashi powder
1 ounce mirin
3 ounces soy sauce
1 tablespoon sugar
Optional Garnish
mitsuba leaf for brightness
sichimi pepper (Japanese seven spice) for a kick
Method
Dashi and Dipping Broth
Add dry shiitake and konbu in 4 cups of cold water and bring it to a boil.
Once boiling, remove the konbu, add bonito, and simmer for 10 minutes on low heat. Then, remove from the heat.
If you're using a pre-mix dashi pack, add the pack and follow the instructions on the package.
Once completed, reserve 3 cups of this dashi water for use.
Preparing the Duck
Grab a sautee pan, do not add oil.
Clean any silver skin or debris off the duck breast and, using a pairing knife, create a small crosshatch grid on the fat side the duck.
Sear the duck breast fat side down on low heat for 5 minutes to render the fat, then flip and sear the breast side until the meat changes color but the center should remain rare, about 1 minute (the rare duck will cook a little more when added to the hot dipping sauce). Let the duck breast rest for at least 20 minutes before slicing.
Slice green onions, both the green and white parts, on a bias and sauté in the same pan as the duck breast with the residual duck fat.
Finishing the Dipping Sauce
In a separate pot, add 3 cups of the dashi water to 3 ounces of soy sauce, 1 ounce of mirin, 1 tablespoon of sugar and bring to a boil. Then, remove from heat.
Cooking Soba
Follow the instructions on the soba noodle package. Once the noodles are finished cooking, rinse the noodles under cold running water and shock them in an ice bath. Use a sieve to separate the noodles from the ice. Dry the noodles thoroughly by repeatedly patting the underside of the sieve.
Reserve some of the hot cooking water for later.
To Plate
Slice duck breast in into thin, bite size slices. If the slices become too long towards the middle, cut it in half. For ease of slicing, you can place the cooked duck breast in the freezer or the refrigerator for a short time so that it becomes more firm.
Pour the hot dipping sauce into a bowl or cup, add desired amount of duck breast slices and sautéed green onions. Optional: garnish with mitsuba leaf and a sprinkle of sichimi pepper powder.
Take cold, rinsed and dried soba noodles and place in a neat pile on a plate, preferably with a bamboo mat between the soba noodles and plate.
To Eat
Dip the noodles in the dipping sauce and enjoy! Once noodles are completed, it is a traditional practice to use the "soba yu" or soba cooking water to dilute the salty dipping sauce for a warm, rejuvenating soup to finish the meal.
Hop Phan, Chef at Dos Chinos in Orange County, California
"Bun Rieu was one of my Grandmother's favorite dishes and every time I make it or eat it, it reminds me of her," Phan told NBC News.
Bun Rieu
Broth
3 pounds of pork neck bones
8 quarts of water
1 yellow onion, peeled
10 cloves of garlic
1 tablespoon of kosher salt
1 tablespoon of Three Crabs brand fish sauce
2 pounds of super ripe tomatoes, quartered
4 sprigs of scallions cut in 1 inch pieces
5 cloves garlic, minced
5 shallots, sliced
1 tablespoon oil
Rieu "Crab Cake"
2 eggs
1 pound ground shrimp
.5 pound ground pork
1 pound crab meat
6 ounce jar of crab paste (Pantai Norasingh Brand)
1 teaspoon black pepper
1 teaspoon kosher salt
1 teaspoon fish sauce
Method
My grandmother always taught me to boil-wash any pork bones for at least 10 mins before I use them in any recipe.
Add "cleaned" neck bones to 8 quarts of boiling water (I was also taught to only add the pork bones in hard boiling water to keep the stock from getting murky). Skim off any scum or fat that rises to the top. You can use used spare ribs, back bones, baby back ribs, pork shank bones. Some people even add chicken wings to the stock pot for additional savory sweetness. Add the garlic cloves, yellow onion, kosher salt, and fish sauce and leave on medium boil for 1 hour.
In a hot pan under medium heat, add oil and scallions. Blacken the scallions and add scallions to the stock pot. Then fry shallots until golden, add garlic until fragrant, and add tomatoes and stir fry until tomatoes are slightly broken. Add everything to the stock pot.
In a mixing bowl, add the ground shrimp, ground pork, crab meat, crab paste, black pepper, kosher salt, fish sauce, and 2 eggs to mix and combine thoroughly. Spoon out mixture into stock pot a little at a time to create little crab cakes in the soup. Cook for at least 15 minutes in the boiling soup when you have finished adding all of the mixture.
Cook your favorite brand of vermicelli rice noodles, following their instructions.
Ladle soup with some neck bones, tomatoes, crab cakes over cooked vermicelli noodles. Finish with cilantro, scallions, bean sprouts, shredded cabbage, perilla, mint, chilies, cherry tomatoes, fried tofu, lime, sambal, and shrimp paste to taste. You can finish your bowl with almost any seafood whether its fried fish cakes, poached lobster, shellfish, fish fillets, or whole crab.
Mrs. Nguyen of Cooking with Mrs. Nguyen
Pho Bo
Ingredients
4 beef hind shanks
1 chicken
1 beef steak or round eye
9 tablespoons of fish sauce
4 to 5 tablespoons of sea salt
1 to 2 bags of pho noodles
6 to 7 pieces of shallot
1 nub of ginger
1 nugget of rock sugar
6 star anise
1 cinnamon stick
2 dried cardamom pods
Thai basil
bean sprouts
cilantro
scallions
sriracha
hoisin sauce
Boil 4.5 quarts of water in a stock pot. In the sink, rinse the beef shank with boiling water. Add the shank to the stock pot. Skim any foam that rises. Toast the star anise, cardamom pods, and cinnamon for 30 seconds. Rinse them, and then add them to the stock pot. Char the ginger and shallots. Add the charred ginger to the pot. Set the shallots to the side. Add four tablespoons of fish sauce and two tablespoons of sea salt. Let the pot simmer for 30 minutes. Add the chicken, and continuing simmering for an hour and a half.
While the pot is simmering, wash and prepare the garnish.
Once the beef is tender, remove it from the pot and set aside. Then, smash the charred shallots and add them to the pot. Add the rock sugar and then let simmer for 30 minutes. Add additional salt to taste.
Slice the beef. Par cook the pho noodles, and add them to a bowl. Place the beef on the noodles, and cover with the soup. Serve with garnish and sriracha and hoisin sauce.
Robin Ha, Writer and Illustrator of 'Cook Korean!'
Hand-Pulled Dough Soup with Potatoes (Gamja Sujebi)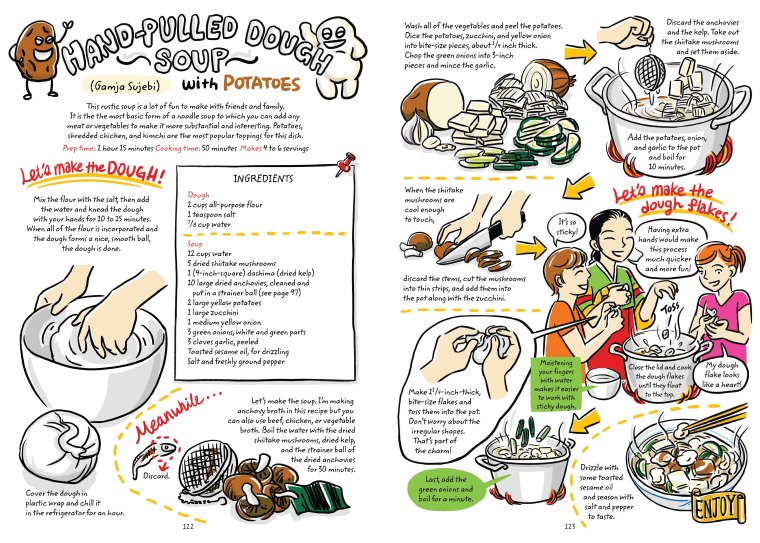 RELATED: Robin Ha Is the Comic Book Superhero of Korean Cuisine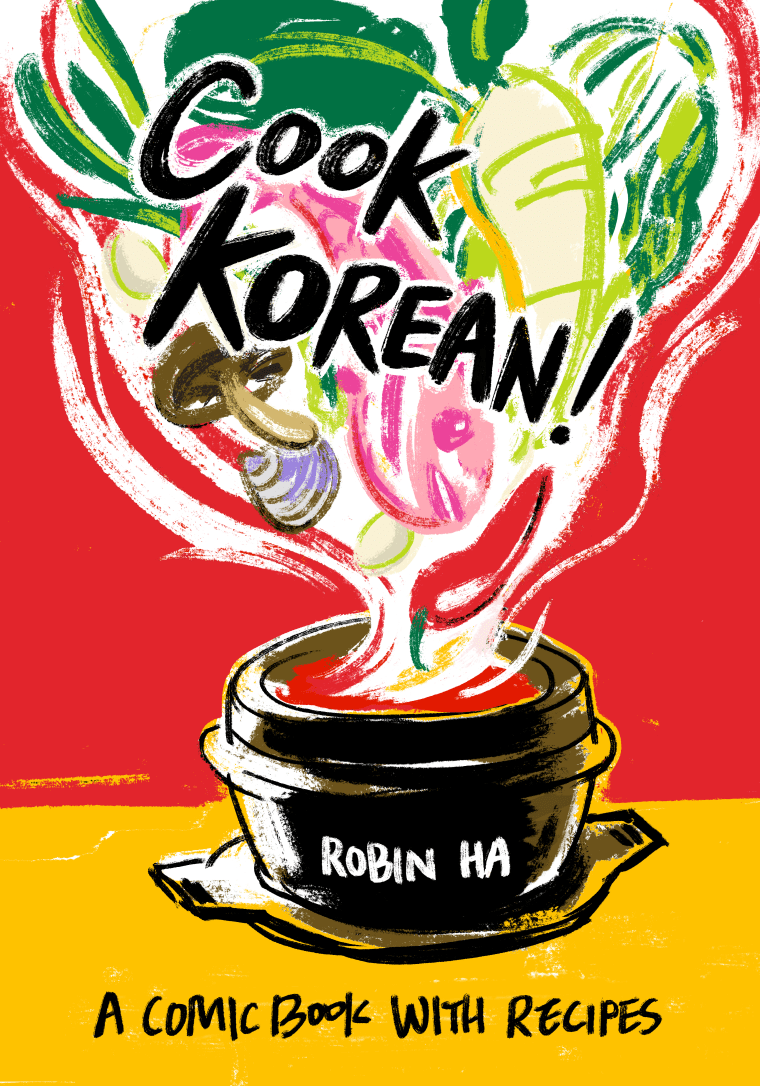 "Cook Korean!," Robin Ha's illustrated cookbook, was created after Ha began publishing weekly cooking comics on her blog in 2014 featuring recipes she learned after moving to Brooklyn with the help of phone calls from her mother.
"I haven't been educated in culinary school or in a kitchen," Ha told NBC News in July. "So I thought about writing in a way that's more beneficial to people who are not really cooks themselves."
Within a few months of starting her blog series, an editor from Berkeley, California-based Ten Speed Press got in touch, asking Ha if she'd expand it into a full-length cookbook.
"Before that email I never thought about turning it into a cookbook," she said. "I had absolutely no clue what it takes to make a cookbook, but I was loving making these comics, so I said yes."
Geeta Bansal, Chef at Clay Oven in Irvine, California
"Chinese cuisine is the second most popular cuisine in India and noodles are also a popular street food," Bansal told NBC News. "This version of Indian spiced noodles is made with rice noodles accented with curry leaves. Growing up we referred to them as hawa hawa noodles since they are light as air and it was a popular snack with tea. This is a vegan, gluten free vegetarian recipe that takes minutes from the pan to the plate."
Serves approximately four
Ingredients
300 grams thin rice noodles or vermicelli (available in Indian and Asian grocery stores)
1 cup sprouted mung beans or bean sprouts (to sprout mung beans, soak them overnight in water, drain, and lay flat in a tray covered with a damp cloth to germinate. It may take 24 to 48 hours)
I tablespoon of finely minced ginger
10 fresh curry leaves (available in Asian grocery stores)
2 serrano chilies, de-seeded and chopped finely
2 dry chilies (bird chilies) (optional)
1 teaspoon black mustard seeds
1 teaspoon cumin seeds
1 teaspoon chana dal (lentils)
1 teaspoon urad dal (you can substitute one for both)
1 teaspoon turmeric
1 teaspoon coriander powder
2 tablespoon oil
1 cup shredded carrots
1 large green bell pepper, seeds removed and julienned
.5 cup shredded coconut (fresh or frozen)
1 cup finely sliced Savoy cabbage (or shaved Brussels Sprouts)
2 tablespoons golden raisins
1 tablespoon of soy sauce
Salt to taste
Hot water to soak the noodles
Chopped coriander leaves for garnish
Soak the noodles in hot water for 2 minutes and then drain and put aside.
Heat oil in a wok or wide frying pan, add the mustard seeds and stand back as they tend to crackle and pop. Add the lentils, the dry chilies, cumin seeds and fry until they are golden brown. Immediately add the ginger, curry leaves, chopped serrano and sauté until the curry leaves release their fragrance.
Add the cabbage, carrots, sprouted mung or bean sprouts, bell pepper and cook the vegetables for 2 minutes, keeping them slightly underdone and crunchy. Add the coconut, soy sauce, coriander powder, raisins, and the noodles and mix well and salt. Garnish with the chopped coriander.
Follow NBC Asian America on Facebook, Twitter, Instagram, and Tumblr.
RELATED