On Feb. 19, 1942, President Franklin Delano Roosevelt signed Executive Order 9066, which paved the way for the World War II incarcerations of Japanese Americans. Over the next five years, more than 120,000 people, two-thirds of whom were native-born United States citizens, were forced to leave their homes and livelihoods for quickly-built camps in some of the country's most unforgiving climates.
During the intervening years, Japanese Americans fought bravely in the United States military, with the Army's 442nd Infantry Regiment, made up of second-generation nisei soldiers, being the most decorated unit in U.S. military history. Japanese Americans have also fought for justice at home, winning redress and an apology from Congress in the Civil Liberties Act of 1988.
"[Congress] recognizes that a grave injustice was done to both citizens and resident aliens of Japanese ancestry," the law reads. "On behalf of the Nation, the Congress apologizes."
RELATED: Remembering Executive Order 9066, the 'Single Act' that Began Internment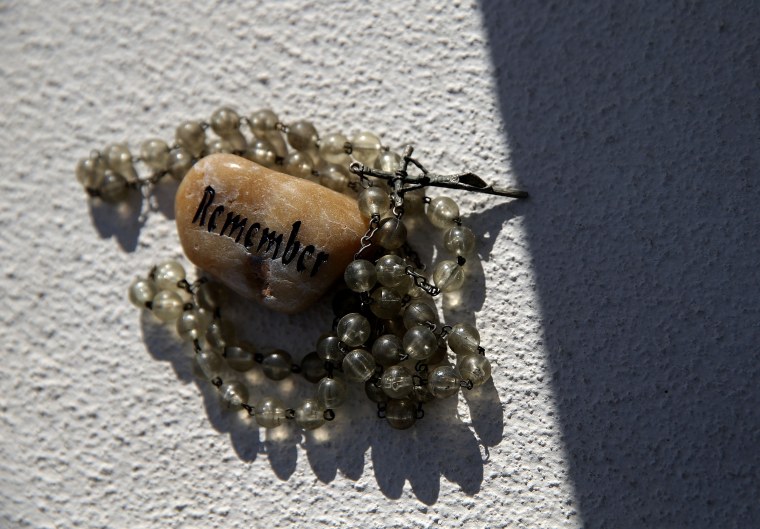 Seventy-five years later, the lessons from this period in time continue to resonate with many. Below are some of the stories of survivors of incarceration and the advocates that are keeping their histories alive that NBC Asian America has reported.
---
Behind Barbed Wire: Remembering America's Largest Internment Camp
Last year, NBC Asian America spoke with five Americans who recounted the years of their lives spent behind the barbed wire of the Tule Lake Segregation Center, a maximum-security prison camp for those labeled as "disloyal" to the government.

Through audio, photos, and text, Satsuki Ina, Hiroshi Kashiwagi, Jim Tanimoto, George Nakano, and Jimi Yamaichi described what it was like to wake up one day and have their entire lives changed. The five also share their first impressions of Tule Lake, the ways in which their community fought back, and how — years later — they continue to find healing through collective memory.
Seventy Years After Manzanar, the Stories of Incarceration Live On
Three survivors of Manzanar, the most widely-known of the 10 camps, spoke with NBC Asian America about their experiences during the war, and how they learned to tell their stories.
"We never talked about it, or if we did it was just joking," Jeanne Wakatsuki Houston, author of "Farewell to Manzanar," told NBC. "I was married 13 or 14 years before my husband knew [about Manzanar]. Somehow he asked me about it. I began to tell him and I became hysterical. It was shameful for three years to be living in this prison camp."
The Parallel Between Trump's Immigration Ban and Past U.S. Anti-Asian Policies
"In particular, this climate of fear and racism and hatred that is going on parallels a lot with what we saw happen during World War II."
A Lookback at the Decades-Long Embargoed Incarceration Camp Photos
The federal government, reportedly from seeing these photographs as potentially damaging press, embargoed them for 30 years.
75 Years After Start of Internment, Archaeologists Excavate Hawaii's Largest Camp
"When I was in elementary school I never even heard that this had occurred. We never studied this in history or talked about it," William Belcher, an archaeology professor at the University of Hawaiʻi - West Oʻahu, told NBC Asian America.
Four decades out of elementary school, that's changed.
From Internment to Advocacy, One Family's Journey
"Here, my family lived behind barbed wire. Here, they fought to stay together. And here, their lives – like hundreds of thousands of Japanese Americans at the time – were forever changed."
Digital Project Aims to Preserve Stories of Incarcerated Japanese Americans
"I do think sometimes it's an uphill battle because most Americans view Asians as model minority and that's used against other groups. I think we have to somehow break through and show it in a clear light. We have to show that we're all struggling. It's not just one versus the other. We all have to make things better."
Follow NBC Asian America on Facebook, Twitter, Instagram and Tumblr.