Chopping through the overgrowth with machetes to clear a way through terrain, William Belcher's students know there's American history beneath dirt that's settled for seven decades.
The land is stained.
"When I was in elementary school I never even heard that this had occurred. We never studied this in history or talked about it," Belcher, an archaeology professor at the University of Hawaiʻi - West Oʻahu, told NBC News.
Four decades out of elementary school, that's changed.
Belcher, now in his 50s, does archaeological work on the site of the Honouliuli National Monument, the site of an incarceration camp where some of Hawaii's Japanese-American residents were held during World War II.
Seventy-five years after President Franklin Delano Roosevelt signed Executive Order 9066 and set in motion the incarceration of 120,000 Japanese Americans, Belcher's archaeology students have been cutting through grass and bushes, getting dirt on their hands, and laboring atop soil that veils history where Hawaii's largest incarceration camp stood.
Their work at the site, which was designated a national monument by then-President Barack Obama in 2015, is part of an effort to preserve it and map its features.
"It's interesting to watch the students all of a sudden get a personal connection to this piece of land. It's just part of the landscape of UH-West Oʻahu — just up the hill from the campus," Belcher said.
For now, the field school students are among the few who can set foot there. Rebecca Rinas, a planner for National Park Service, told NBC News it could be many years before Honouliuli is open to visitors. Funding isn't guaranteed and the two-year-old national monument is still landlocked by private land.
There are no public roads in or out of the site, Rinas said of the gulch in central Oahu that receives little airflow. Those conditions, Belcher noted, have made working on the site a challenge.
"The gulch gets to about 90 degrees — in excess of 90 degrees most of the time when we were there," Belcher said. "The basic technology is to walk in a systematic fashion across the entire landscape."
But the grass gets in the way.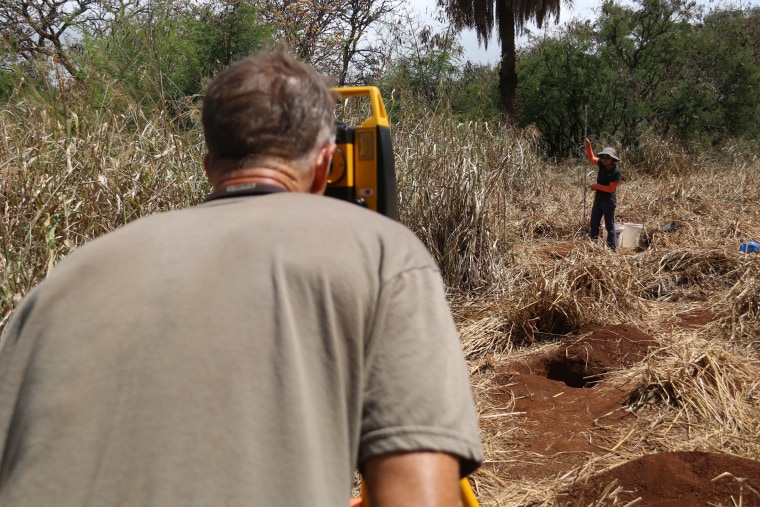 "It's very thick and very heavy and you're trying to see what's on the ground. Your visibility is very low. It's very difficult to do," he said, adding that the group spends a lot of time clearing the area with machetes.
Belcher said students also mapped roads, fence lines, concrete structures, and rocks with handheld GPS units.
"It's interesting to watch the students all of a sudden get a personal connection to this piece of land. It's just part of the landscape of UH-West Oʻahu — just up the hill from the campus."
Buried in the dirt are concrete slabs, one of which stands a meter below the surface. Belcher, who's led about a dozen students over the last two summers into the gulch, said the slabs were foundations for buildings.
UH-West Oʻahu anthropology student Tracy Dixon was one of the 16 who worked the site over the past summer for credit. He said the group started excavating to look for a slab which was believed to be where a mess hall stood.
"Everybody who worked and was in that field school had a great time, bonded doing the hard work, and had an amazing experience," Dixon told NBC News. He said that the group did locate a corner of the slab they were looking for after digging deep.
Of the more than dozen sites designated as incarceration camps and detention facilities in the U.S., Honouliuli was built for "prolonged detention." It detained local Japanese leaders and businessmen, clergymen, and those with influence. (In addition to serving as an incarceration camp for Japanese Americans, several thousand prisoners of war, including Italians and Koreans, were also detained — even after the war ended.)
RELATED: The Untold Story: Japanese-Americans' WWII Internment in Hawaii
According to Belcher, unlike on the West Coast, territorial Hawaii's Japanese weren't kept in total exclusion. Forty percent of Hawaii was Japanese. Many were immigrants who crossed the Pacific Ocean on ships to work on plantations.
"Hawaii had a plantation economy that would've collapsed. It was dependent on the Japanese culture," Belcher said. "They only interred a small percentage of the people on the island."
In fact, before it became the site of Hawaii's longest-operating incarceration camp, Honouliuli was plantation land.
"With that came a lot of importation of labor which increased the ethnic diversity and changed the landscape into intense agriculture," Belcher said.
Reaching further back in time, archaeologists can examine ancient Hawaiian sustainability. Belcher said he's interested in the gulch's place in the ahupua'a system. After the buildings were demolished in 1946, the site was used for ranching. Belcher explained that digs have uncovered horse bones from the 1950s through mid-2000s.
Along with connecting the dots of the site's past, Belcher also said that he sees parallels in the Honouliuli site to today's post-9/11 policies.
"Many saw that as an erosion of constitutional rights," Belcher said. "Taking the other and picking that person as the enemy even if they're productive American citizens."
For Dixon, the student who worked the site over the summer, the monument is about an important time in American history. He said he plans to enroll again next summer.
"It was a very worthwhile project," he said.
Follow NBC Asian America on Facebook, Twitter, Instagram and Tumblr.