Growing up in Hawaii, Kamala Saxton regularly ate Spam as a comfort food, whether as a part of a mixed plate with rice and eggs, in a "musubi" dressed with seaweed, or in her grandmother's kimchi stew.
But when she started her food truck, Marination, with business partner Roz Edison in 2009, the Seattle-based restaurateur found that diners on the mainland — and some of her staff — were apprehensive about the dishes featuring the canned meat.
"We coined a term at Marination called 'Spamprehensive,'" Saxton told NBC News. "One of our first order takers on the food truck never had Spam. She said, 'Oh my god, we're serving Spam. I can't believe we're serving Spam."
"I made her try one of our Spam sliders," Saxton continued. "She fell in love."
Spam — the canned luncheon meat that can be served hot or cold, on a bed of rice, sandwiched in bread, and in stews, fried rice, or sushi — turns 80 Wednesday.
Over its eight decades, the meat has found prominence with Hawaiian, Pacific Islander, and Asian-American eaters and chefs due in part to its ubiquity during World War II. According to Hormel Foods, Guam residents consume on average 16 cans of the meat per year, and Hawaii is home to one of the world's largest festivals celebrating the food.
"In my opinion, I think it's perfect in the texture and the flavor profile and the simplicity. There's very few ingredients in it."
"In Hawaii, Spam — it's literally all around you," Ravi Kapur, chef at the James Beard Award-nominated restaurant Liholiho Yacht Club in San Francisco, told NBC News. "When Spam was on sale, there'd be a limit — limit 10 per person. You'd say, 'What, 10 cans?,' but people would stockpile it."
Saxton praised Spam for being "the perfect luncheon meat."
"It's salty, a little sweet. However you want to service it, it's durable," she said. "In the Pacific Northwest, you can put it in your backpack when you go hiking in the morning, and it's still good by the time you want lunch."
On Marination's menu, Spam appears in a slider seared with a teriyaki glaze and dressed with a Korean chili paste-based "Nunya" sauce and a pickled ginger slaw as well as in the form of a self-contained "musubi" with rice and seaweed.
Kapur makes his own in-house version of the luncheon meat at Liholiho, which is served with rice in a nod to musubi as well as in a fried rice and as the pigs in a pigs in a blanket. While making his version of the meat, Kapur strove to get as close as possible to the classic while also controlling the sourcing of his product.
"My goal wasn't to make it better," he said. "In my opinion, I think it's perfect in the texture and the flavor profile and the simplicity. There's very few ingredients in it."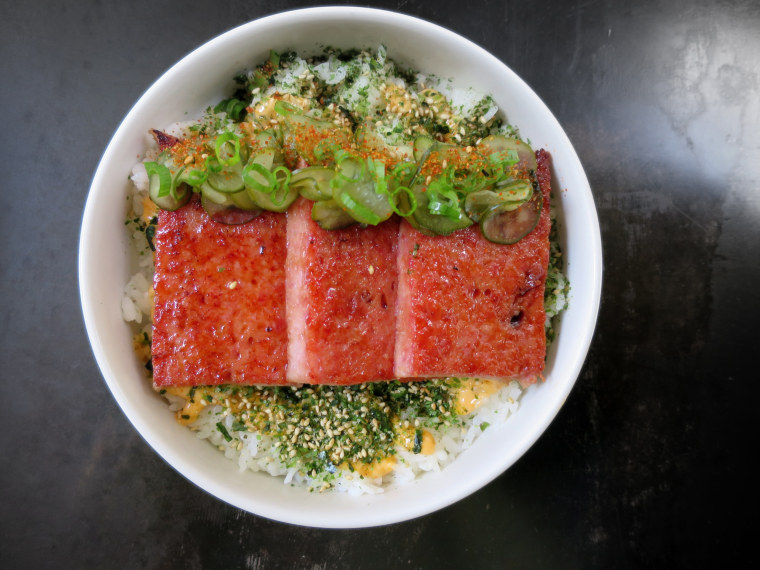 Roy Choi, whose Kogi BBQ food truck inspired Saxton to start her own, once partnered with the brand and included a recipe for a Spam banh mi Vietnamese sandwich in his cookbook, "L.A. Son: My Life, My City, My Food."
For Filipino-American chef Dale Talde, author of cookbook "Asian-American: Proudly Inauthentic Recipes from the Philippines to Brooklyn," Spam was a regular pantry item growing up, and he still uses it at home, most often as one of the ingredients in his kimchi fried rice.
"There's a socioeconomic connotation to it that's not right. If you look at a lot of the world's cuisine, most of it came from necessity. Some of the best food came from necessity."
"For me, it's like gefilte fish," Talde — who operates restaurants in New York, New Jersey, and Miami — told NBC News. "I didn't grow up eating it, but some people like it."
While he said there can be some negative connotation connected to Spam, he feels critics overlook the ways it can be transformed.
"There's a socioeconomic connotation to it that's not right," Talde said. "If you look at a lot of the world's cuisine, most of it came from necessity. Some of the best food came from necessity."
While some of Kapur's diners come into his restaurant without an idea of what Spam even is, he said that much of his diverse clientele is used to the product and treats it like any other protein.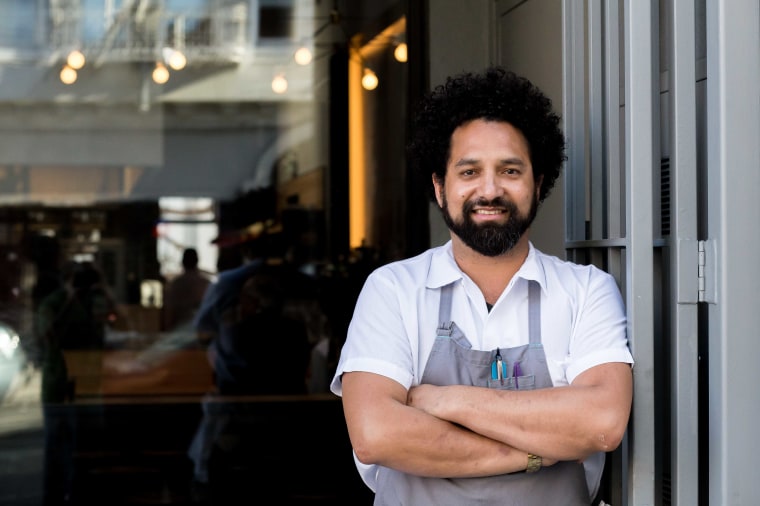 Saxton agrees. While Marination's Spam sliders were among the worst sellers when the food truck first debuted, it's now one of its best, she said.
"When we opened, people were 'Spamprehensive' but now we sell thousand and thousands of musubi," she said. "I think we're going to see it on the menu a whole lot more in the mainland before Spam hits their 100th anniversary."
Follow NBC Asian America on Facebook, Twitter, Instagram and Tumblr.
In addition to speaking with NBC Asian America, chef Talde also shared his recipe for spam and kimchi fried rice, printed below:
Spam and Kimchi Fried Rice
Recipe by Dale Talde
Serves 4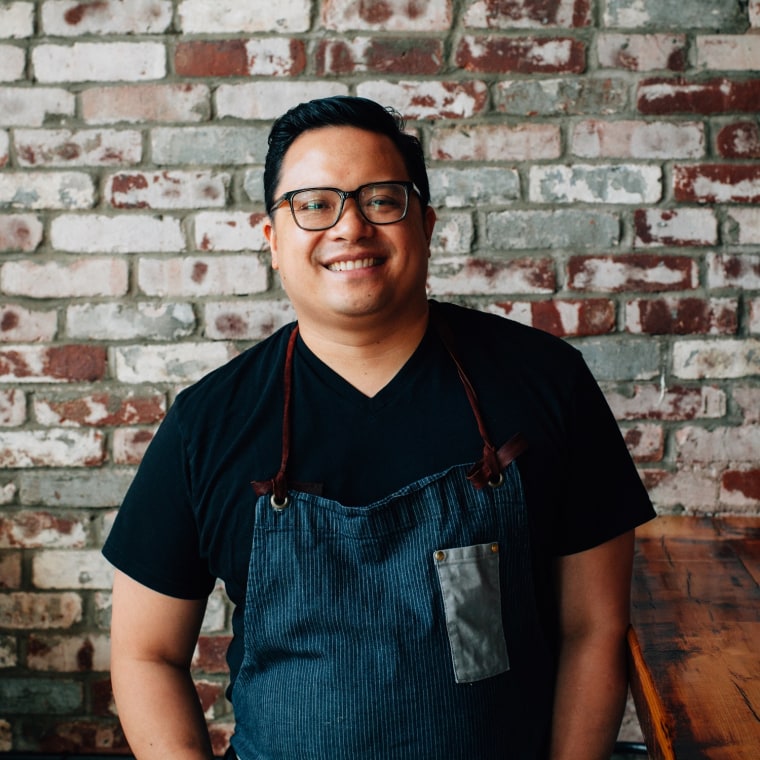 Ingredients
For the fried rice:
1 1/2 cups white jasmine rice, uncooked
3 tablespoons canola oil, divided
2 eggs
1 12-ounce container Spam, diced in 1/2-inch cubes
1 medium yellow onion, diced in 1/4-inch cubes
2 cloves garlic, minced
3/4 cup Kimchi, strained, thinly sliced, liquid reserved
1 tablespoon unsalted butter
1 bunch scallions, sliced in 1/4-inch pieces
1/2 teaspoon Korean chili flakes (red pepper flakes can be substituted)
1 teaspoon sesame oil
2 tablespoons fish sauce (optional)
For the fried eggs:
1 tablespoon butter
4 eggs
kosher salt and freshly ground pepper
Method
For the fried rice:
To make the rice: First, rinse the rice by pouring it into a medium pot or bowl, covering it with cold water, then draining it in a fine mesh strainer, shaking the rice to get as much water off as possible. Then, in a medium sauce pot, combine the 2 cups of rice with 2 cups of cold water. Bring the mixture to a boil over high heat, then turn the heat all the way down to low, cover, and let the rice cook, covered, for 23 minutes. Then, turn the heat off but DO NOT UNCOVER THE RICE. Let it sit, covered, for 10 minutes. After 10 minutes, uncover it, fluff it with a fork, and set it aside in the pot while you prepare the other fried rice ingredients.
Heat 2 tablespoons canola oil in a large cast iron skillet over medium high heat. While the oil heats, crack the 2 eggs into a medium bowl and beat them together with a fork until the yolk and white are thoroughly combined. Add the beaten egg to the hot skillet all at once, then use a spoon or spatula to constantly move the egg around the skillet, When the egg is fully cooked but not browned, about 30 seconds, slide it out of the skillet and onto a plate, and set it aside.
Return the skillet to medium-high heat, then add the remaining tablespoon of canola oil and the cubed Spam. Cook the Spam, stirring occasionally, until it's golden brown on all sides, about 3 minutes.
Add the diced onion and minced garlic, stir everything together, and continue to cook over medium high heat just until the onion has started to soften, about 2 minutes more. Make sure to stir often, so that the garlic doesn't burn.
Add the chili flakes, sesame oil, kimchi, and butter, then stir everything together and cook for about a minute, just to heat the kimchi. By now, the mixture may have started to stick to the skillet. Add the reserved kimchi liquid (about 1/3 cup) and stir to deglaze the skillet (the liquid will release all the stuff that's stuck to the bottom).
Add the cooked rice, stir, then add the cooked egg, sliced scallions, and fish sauce (optional). Stir thoroughly so that the egg is in bite-sized pieces and everything is evenly distributed throughout the rice. Turn the heat to low to keep the rice warm while you fry the eggs, stirring every minute or so to keep the rice from sticking.
For the fried eggs:
Melt butter in a large nonstick skillet over medium-low heat. (If you don't have a large nonstick skillet, use a small nonstick skillet and work in two batches.) When the butter is melted, crack the eggs into the skillet. Try to keep them separate but if the whites touch, that's OK.
Season with salt and pepper, then let the eggs cook over medium-low heat until the whites are set but the yolks are still runny, 3-4 minutes.
To serve:
Divide the fried rice evenly among four plates or bowls, then top each portion with a fried egg. Serve immediately.