The Academy of Motion Picture Arts and Sciences announced Wednesday it extended membership invitations to 683 filmmakers, artists, and executives in the film community — 41 percent of whom are people of color, according to the Academy.
"This class continues our long-term commitment to welcoming extraordinary talent reflective of those working in film today," Academy President Cheryl Boone Isaacs wrote in a statement with the announcement. "We encourage the larger creative community to open its doors wider, and create opportunities for anyone interested in working in this incredible and storied industry."
Among the new members are actors Idris Elba, Michael B. Jordan, and America Ferrera, and "Beasts of No Nation" director Cary Fukunaga and "La Bamba" director Luis Valdez.
According to the Academy, with the addition of the new members, the total percentage of people of color in the Academy will rise from 8 percent to 11 percent. The Academy also notes that 46 percent of the new members are women, bringing the total percentage of women represented in the Academy from 25 percent to 27 percent.
The Academy has been widely criticized for its lack of diversity among its more than 6,000 voting members. Boone Isaacs, in January, announced the Academy would implement new rules to double the number of women and minority members by 2020.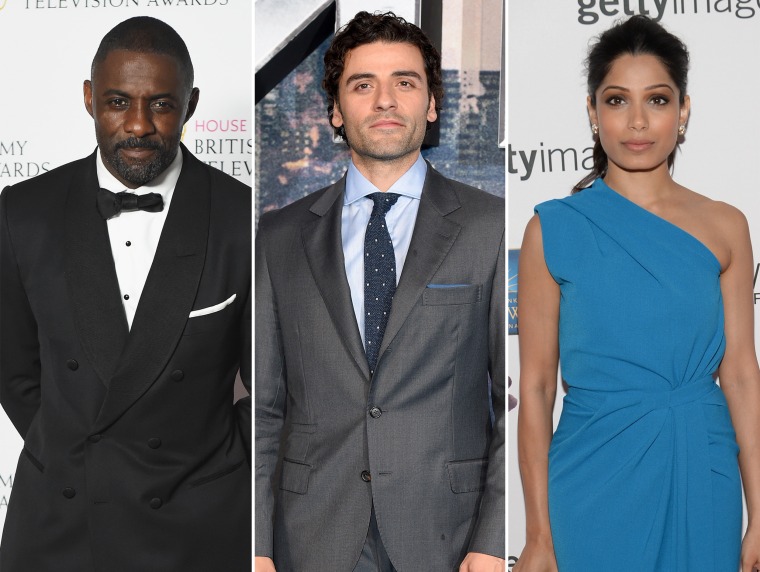 Below are all of the new members in the Academy's acting branch:
Mahershala Ali – "The Hunger Games: Mockingjay (Parts 1 and 2)"
Anthony Anderson – "The Departed," "Hustle & Flow"
Adam Beach – "Suicide Squad," "Flags of Our Fathers"
Kate Beckinsale – "Love & Friendship," "The Aviator"
Chadwick Boseman – "Captain America: Civil War," "Get on Up"
John Boyega – "Star Wars: The Force Awakens," "Attack the Block"
Betty Buckley – "Wyatt Earp," "Carrie"
Rose Byrne – "X-Men: First Class," "Bridesmaids"
Julie Carmen – "The Milagro Beanfield War," "Gloria"
Enrique Castillo – "Déjà Vu," "Bound by Honor"
Morris Chestnut – "G.I. Jane," "Boyz N the Hood"
Cliff Curtis – "Live Free or Die Hard," "Training Day"
Loretta Devine – "Crash," "I Am Sam"
Carmen Ejogo – "Selma," "Sparkle"
Idris Elba – "Beasts of No Nation," "Pacific Rim"
America Ferrera – "Cesar Chavez," "End of Watch"
Vivica A. Fox – "Kill Bill," "Independence Day"
Andrew Garfield – "99 Homes," "The Amazing Spider-Man"
Greta Gerwig – "Frances Ha," "To Rome with Love"
Jesse D. Goins – "The Ugly Truth," "Patriot Games"
Bruce Greenwood – "Flight," "Star Trek"
Carla Gugino – "Watchmen," "Night at the Museum"
Luis Guzmán – "Punch-Drunk Love," "Carlito's Way"
Dennis Haysbert – "Dear White People," "Wreck-It Ralph"
Tom Hiddleston – "Crimson Peak," "Marvel's The Avengers"
James Hong – "Safe," "Mulan"
Oscar Isaac – "Ex Machina," "A Most Violent Year"
O'Shea "Ice Cube" Jackson* – "Ride Along," "Friday"
Dakota Johnson – "Black Mass," "Fifty Shades of Grey"
Cherry Jones – "Whiskey Tango Foxtrot," "Signs"
Michael B. Jordan – "Creed," "Fruitvale Station"
Daniel Dae Kim – "The Divergent Series: Insurgent," "Crash"
Regina King – "Ray," "Jerry Maguire"
Brie Larson – "Room," "Trainwreck"
Byung-Hun Lee – "Terminator Genisys," "G.I. Joe: The Rise of Cobra"
Nia Long – "Keanu," "Boyz N the Hood"
Sal Lopez – "The Astronaut Farmer," "Full Metal Jacket"
Ignacio López Tarso – "Under the Volcano," "Nazarin"
Patti LuPone – "Parker," "Driving Miss Daisy"
Peter Mackenzie – "Trumbo," "42"
Rachel McAdams – "Spotlight," "Midnight in Paris"
Eva Mendes – "The Place beyond the Pines," "Hitch"
Tatsuya Nakadai – "Ran," "Kagemusha"
Adepero Oduye – "The Big Short," "12 Years a Slave"
Marisa Paredes – "The Skin I Live In," "All about My Mother"
Nate Parker – "Beyond the Lights," "Red Tails"
Harold Perrineau – "Zero Dark Thirty," "28 Weeks Later"
Jorge Perugorría – "Che," "Strawberry and Chocolate"
Silvia Pinal – "Vintage Model," "The Exterminating Angel"
Freida Pinto – "Immortals," "Slumdog Millionaire"
Michelle Rodriguez – "Avatar," "Girlfight"
Anika Noni Rose – "For Colored Girls," "Dreamgirls"
Cecilia Roth – "Lucia Lucia," "All about My Mother"
Mark Rylance – "Bridge of Spies," "The Other Boleyn Girl"
Pepe Serna – "The Black Dahlia," "The Ballad of Gregorio Cortez"
Martin Starr – "I'll See You in My Dreams," "Adventureland"
Elizabeth Sung – "Memoirs of a Geisha," "The Joy Luck Club"
Sharmila Tagore – "Dhadkan," "The World of Apu"
Tessa Thompson – "Creed," "Dear White People"
Lorraine Toussaint – "Selma," "Middle of Nowhere"
Glynn Turman – "Super 8," "Men of Honor"
Gabrielle Union – "Top Five," "Bad Boys II"
Jacob Vargas – "The 33," "Jarhead"
Alicia Vikander – "The Danish Girl," "Ex Machina"
Emma Watson – "The Bling Ring," "The Perks of Being a Wallflower"
Damon Wayans, Jr. – "Big Hero 6," "Let's Be Cops"
Marlon Wayans – "The Heat," "Requiem for a Dream"
Rita Wilson – "It's Complicated," "Runaway Bride"
Daphne Zuniga – "Staying Together," "Spaceballs"
To see the new members of all branches, visit the Academy's website.
Follow NBC Asian America on Facebook, Twitter, Instagram, and Tumblr.
RELATED: