Not many college lecturers wear blue lipstick, but Achinta S. McDaniel is not the typical instructor.
A professional dancer, choreographer, dance teacher, and soon-to-be lecturer at University of Southern California's Glorya Kaufman School of Dance, McDaniel has had a lifelong fascination with the color.
"I've been obsessed since birth, basically. That's what my mom tells me," McDaniel told NBC News.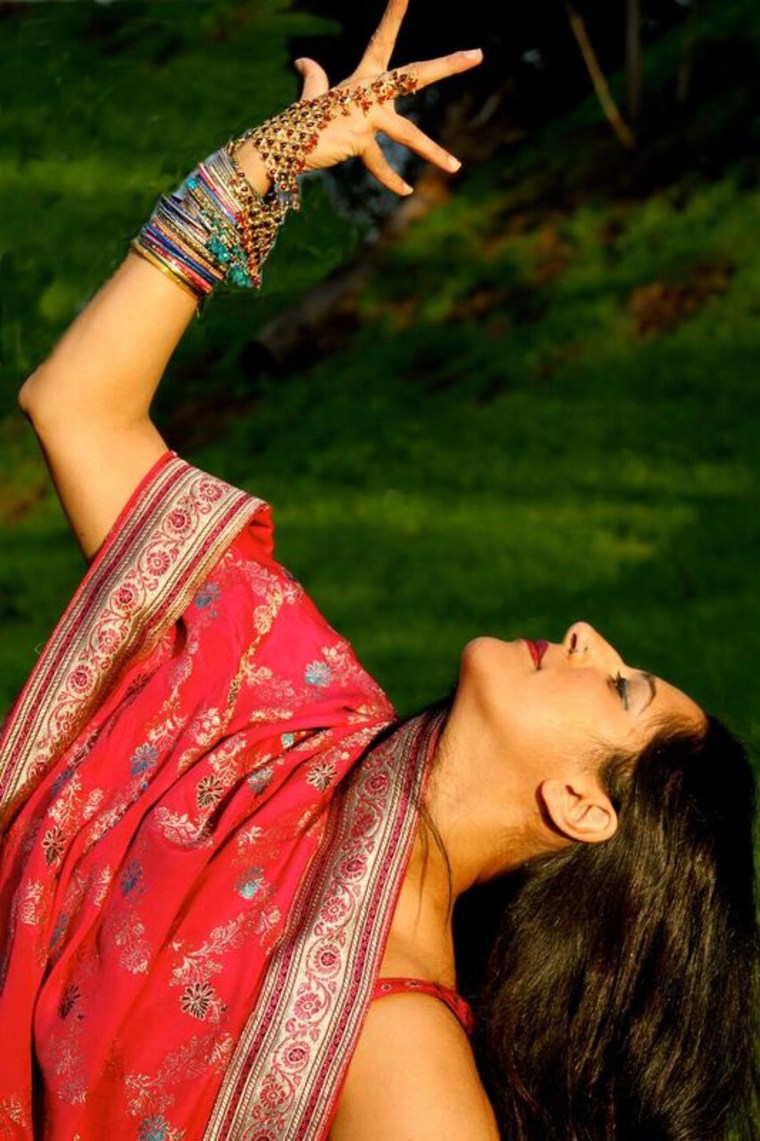 Her mother, Nilli — whose name is derived from the Hindi word for "blue," neela — recalls McDaniel grabbing at every blue object in sight and throwing temper tantrums when she couldn't have a blue toy, McDaniel said.
"I remember crazily being, like crazily, obsessive about it. And that never changed," she said.
That obsession led the first-generation Indian American and lecturer in contemporary Indian dance to name her company Blue13. Founded in 1999, it features dancers of various ethnicities and dance backgrounds. The 13-member troupe features this melange of influences in its pieces, like the upcoming "Dragon" for the 2017-2018 season. Dragon's theme centers on balancing identities that are sometimes at odds with each other — because of ethnicity, sexuality, or otherwise.
"It's about walking that tightrope between two worlds. Everybody has felt and is feeling that in the company — what it means to kind of struggle with your own beliefs or who you are and hide. And [then] to blossom and come out of it and be able to fight and be yourself," she said.
Striking that balance is something McDaniel knows well. Born in Queens, New York, to a neurosurgeon father and businesswoman/homemaker mother, McDaniel grew up in Cleveland, where she started studying dance at age three. She started choreographing at age 14 and joined dance ensembles at local universities.
RELATED: 'Dances Of Transformation': Ananya Dance Theatre Finds Justice Through Movement
Much to the chagrin of her extended family (but with support of her Sikh parents, she said), McDaniel and her younger brother were often chastised for being "too American." She insisted on donning the uniform of a rebellious American teen: combat boots, mini-skirts, and black nail polish. But now, decades later, both she and her brother have built careers rooted in the Indian sub-continent (he works for Saavn, an online service that distributes Indian and Bollywood music).
"Being such a rebel-looking child in the eyes of all the aunties and uncles in the community, now they all have a great laugh about it," she said.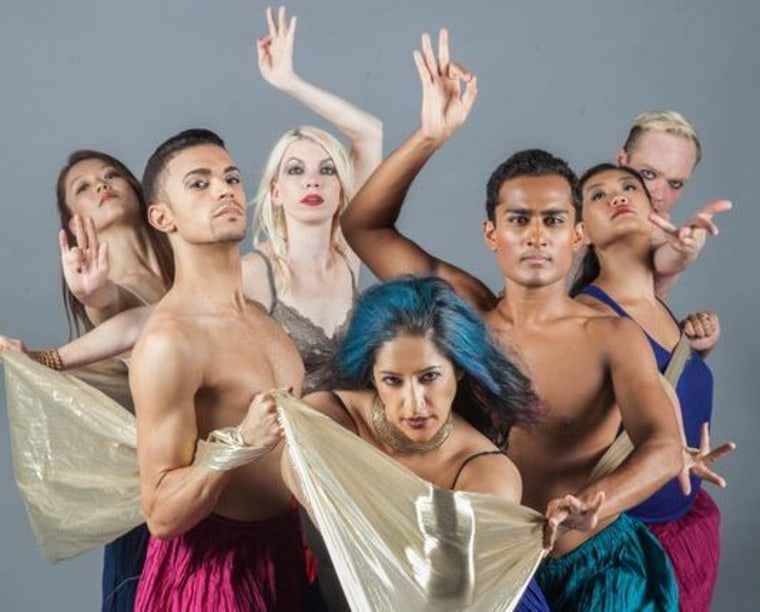 While McDaniel grew up watching Bollywood movies and casually choreographing bhangra for local Indian community gatherings, she didn't formally study the art of Indian dance until after earning her bachelor's in choreography, dance, and theater from New York University. In 1998 and motivated primarily, she said, out of fear over her post-collegiate future, she moved to Bangalore for six months to study kathak, a form of classical northern Indian dance rooted in Hindu storytelling, with guru Maya Rao.
"Don't call this a Bollywood number when your costume department didn't bother to do their research on it."
There, the tightrope-walking continued. By day, McDaniel immersed herself in the study and traditions of a discipline vastly different from the jazz, tap, and modern she learned in dance studios back home. "There were concrete floors, and that's what we're learning on. You had a live drummer playing tabla in class, and you call your teacher didi, which is a respectful word for older sister. You touch her feet before and after class. I loved that."
By night, she helped local dancers choreograph a Western-style, Andrew Lloyd Webber-inspired musical. When she returned to New York in 1999, McDaniel channeled her new-found love of kathak and renewed love for Indian dance into designing and teaching Bollywood dance classes, a novel concept at the time, she said. She moved to Los Angeles in 2001 with her filmmaker husband.
In LA's burgeoning dance scene, McDaniel has become one of the go-to Indian dance professionals, choreographing for commercials (Heineken, Snapple, Bounty), music videos (The Strokes), and TV shows ("New Girl," "The Amazing Race"). She is adamant about conveying accurate portrayals of Bollywood and bhangra in mainstream media.
"Seeing girls wearing belly chains or belts with the coins — that is not Indian, that is not Bollywood. Don't call this a Bollywood number when your costume department didn't bother to do their research on it," she said.
At USC, she will teach two courses in Bollywood dance, exploring the history and origin of the art and its roots in classical Indian dance.
RELATED: How Tabla Teacher Arshad Syed Went from Playing Drums to Recording with the Grateful Dead
She will also continue teaching classes at studios in LA and working with Blue13. The "13" is as integral to McDaniel's brand as the blue is: it's her lucky number. The Punjabi word for the number also means "something of yours that you share," she said, a tenet the company takes seriously by teaching a mix of Bollywood, hip-hop, modern, and jazz at local schools and presenting pieces on concert stages. McDaniel said it can be an uphill battle getting her multi-cultural dance company on said stages, as presenters and theaters insist on featuring mostly Western styles of dance like ballet or modern.
Despite her penchant for the color blue, melancholy is the last thing she's feeling about the success she has found in balancing on various tightropes: South Asian and American, teacher and student. McDaniel relishes standing and dancing in that crevasse. "As you get older and as you create more work, there's this weird home in the discomfort of it all," she said. "That's where your home is, this constant feud."
Follow NBC Asian America on Facebook, Twitter, Instagram, and Tumblr.