The American Civil Liberties Union (ACLU) has joined a lawsuit filed by a Chinese-American scientist who alleges he was maliciously prosecuted on charges of sharing sensitive technology with China that were later dropped.
An amended complaint was filed Tuesday on behalf of Xiaoxing Xi, his wife, and eldest daughter in federal court in Philadelphia.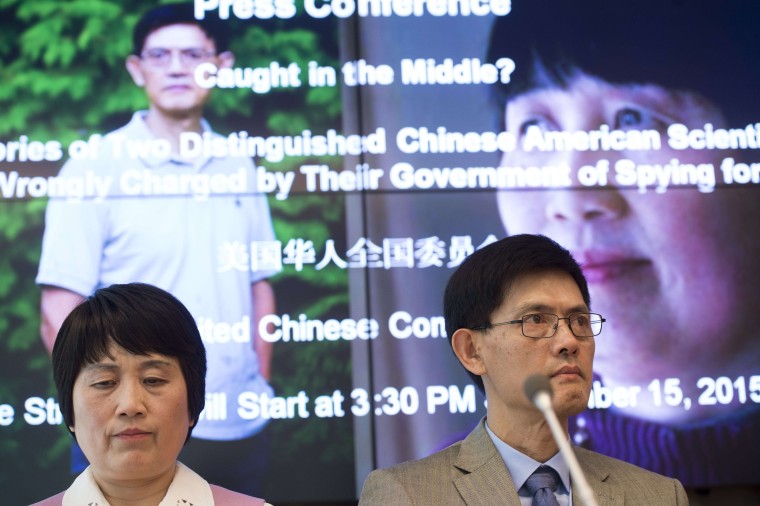 Xi, a Temple University physics professor, has argued that FBI lead case agent Andrew Haugen told prosecutors Xi's dealings with colleagues in China were "for a sinister and illicit purpose," even though Haugen allegedly knew they were "legitimate normal academic collaborations," court filings said.
The amended complaint accuses the federal government of violating the constitutional rights of Xi and his wife by intercepting their communications without a warrant and through orders under the Foreign Intelligence Surveillance Act, which were allegedly obtained without probable cause.
"This case is a glaring example of an innocent American's privacy rights being grossly violated, with disastrous consequences for Professor Xi and his family," ACLU attorney Patrick Toomey said in a statement.
An indictment handed up in May 2015 by a federal grand jury in Pennsylvania accused Xi of sharing information with counterparts in China about a pocket heater, which Xi bought in 2004 for use in his superconductor research, court papers said.
He was charged with four counts of wire fraud in what prosecutors said was an effort to help the Chinese become "world leaders of the superconductivity field."
But the government dropped its case in September 2015 after Xi and his attorney gave a presentation to investigators a month earlier, according to court papers.
Xi's lawsuit has said the only thing he discussed in emails with colleagues in China was technology he himself had invented and published — not the pocket heater.
And that, the suit contends, was a fact Haugen knew before Xi was ever indicted.
A naturalized U.S. citizen born in China, Xi is among several Chinese-American scientists who in recent years have had federal criminal indictments dismissed before heading to trial.
Xi's amended complaint named additional defendants. They include FBI director Christopher A. Wray, U.S. Attorney General Jeff Sessions, and Adm. Michael S. Rogers, who serves as director of the National Security Agency and chief of the Central Security Service.
The Justice Department did not immediately respond to a request for comment Friday.
Follow NBC Asian America on Facebook, Twitter, Instagram and Tumblr.