Asian-American and African-American activists rallied at the Immigration and Customs Enforcement (ICE) office in St. Paul, Minnesota, on Thursday in support of the "Minnesota 8" — a group of eight Cambodian-American refugees currently facing deportation — as well as other Southeast Asian American in similar situations.
The eight came to the United States as children fleeing the Khmer Rouge, according to activists, and were detained by ICE in August to be deported for crimes committed years ago, for which they have already served sentences.
"The case of the Minnesota Eight and the current roundup of Southeast Asian American men is a clear example of how our broken immigration system is tearing families apart, and perpetuating generational trauma by deporting individuals who fled Cambodia and Southeast Asia as refugees to the countries they fled," Quyen Dinh, executive director of Southeast Asia Resource Action Center (SEARAC), told NBC News.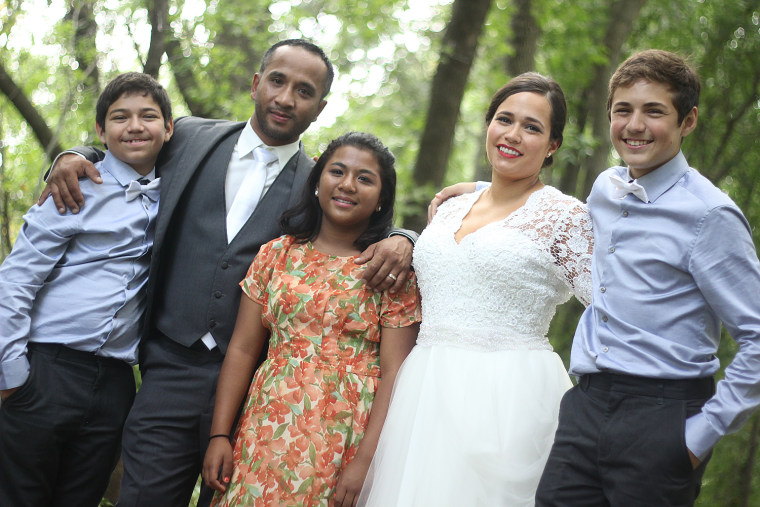 More than 16,000 Cambodian, Vietnamese, and Laotian Americans who have been served deportation orders since 1998, according to SEARAC, despite coming to the United States as refugees. In 1996, immigration legislation passed that expanded the crimes that would make a person eligible for deportation.
"This generational trauma also forces fathers who have paid their debt to society by living transformed lives to be torn from mothers and children who rely on them for security, protection, and stability," Dinh said.
RELATED: Forty Years After Resettlement, Thousands of Southeast Asian Refugees Face Deportation
Last month, SEARAC released a report that recommended ICE clarify its guidelines and training regarding the prosecutorial discretion process — its authority to use judgment in deciding whether or not to detain or deport individuals — to better consider positive qualities like family and rehabilitation, as well as to collect and report more data about the process.
For the report, SEARAC interviewed ICE field officers in Los Angeles, Philadelphia, and Seattle, finding that the positive or exceptional qualities of people with previous criminal convictions were not evaluated clearly or consistently.
"Our country's escalation of blanket deportation for those with criminal conviction records without regard to their individual circumstances and irreparable harm that is created by dismantling families undermines this nation's values of due process, of dignity, of second chances, of family, and of community," Dinh said. "These policies are inhumane and un-American. Our communities deserve better. Their stories of transformation deserve to be heard, and they deserve to have equal protection under our law to safety, dignity, community, and family."
RELATED: Deported to Cambodia, Former Gang Member Gets A Second Chance
"ICE routinely works with foreign governments to obtain travel documents for individuals who have been ordered removed from the United States," an ICE spokesperson told NBC News in a statement. "In cases where ICE cannot obtain a travel document from a foreign government in a timely manner, or cannot otherwise carry out a federal immigration judge's final order, the individuals awaiting removal oftentimes will be released from ICE custody in accordance with federal law. However, their orders of removal remain in effect until their travel documents can be secured and they can ultimately be removed to their country of origin."
SEARAC's report also presents several case studies of people who have already been deported despite never having been to Cambodia. The organization has found some allies in Congress.
In a letter dated Oct. 19 to Secretary of Homeland Security Jeh Johnson, U.S. Reps. Keith Ellison, Mike Honda, and Judy Chu wrote, "While [The Illegal Immigration Reform and Immigrant Responsibility Act of 1996]'s intent may have been to safeguard our nation's security, we are concerned that its current application runs counter to this aim — through the waste of taxpayer resources on actions against individuals who pose no danger to our country, and the resulting instability wrought on families who are torn apart by these actions."
"We should not be in the business of separating families or deporting people we promised to protect for minor, nonviolent, or old offenses," they continued.
Follow NBC Asian America on Facebook, Twitter, Instagram, and Tumblr.
This story has been updated with a comment from ICE.