Organizers with the National Queer Asian Pacific Islander Alliance (NQAPIA), KhushDC, Black Lives Matter D.C., and nearly twenty other local and national organizations commemorated the 15th anniversary of the Sept. 11, 2001, attacks with a performative action in Washington D.C. to bring attention to and to call for an end to post-9/11 Islamophobia and the profiling of LGBTQ South Asian Americans, Arab Americans, Muslims, Black Muslims, and those perceived to be Muslims.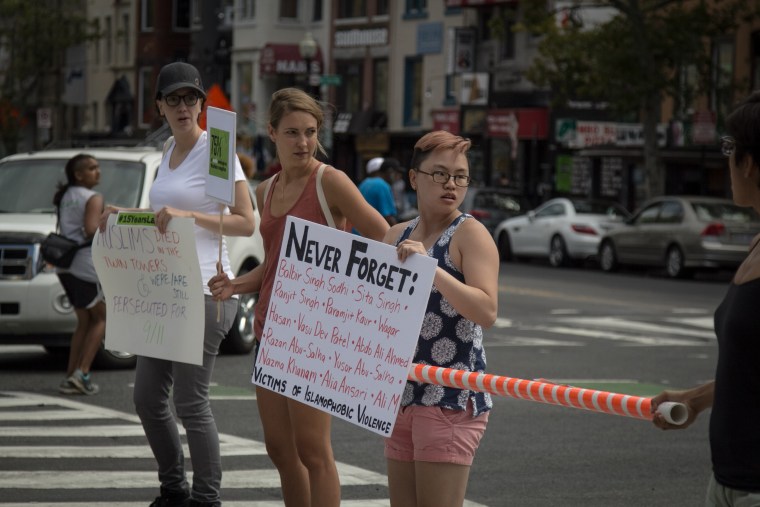 Activists created "checkpoints" in high-traffic areas of Washington, D.C., to replicate various "checkpoints" and experiences that Muslim Americans and those perceived to be Muslims have to go through every day, such as being stopped by the Transportation Security Administration, being denied service, and being called terrorists. Organizers noted that Black Muslims are at increased risk of profiling, sometimes resulting in violence or death they said.
RELATED: Mosque Attacks, Apparent Anti-Islam Spending Up: Report
"9/11 was a devastating tragedy for all Americans," NQAPIA board member Almas Haider told NBC News. "Its legacy continues to traumatize us in different ways. This action calls attention to the experience of Muslims and those racialized as Muslim, who in the aftermath of 9/11 have experienced an increase in physical and verbal harassment, from our religious centers being vandalized to being murdered in and outside our homes."
By training participants about their rights and in de-escalation tactics, organizers sought to not only educate but to also build skills and leadership within the community around issues of profiling and surveillance, they said. Organizers also held a rally to pressure the Department of Homeland Security (DHS) to end legalized profiling and surveillance.
"Fifteen years later, the violence has only increased, sanctioned by legislation and lauded by politicians," Haider said. "We are putting pressure on government institutions like DHS to end the profiling, surveillance and criminalization of Muslims."
Follow NBC Asian America on Facebook, Twitter, Instagram, and Tumblr.