A multiracial coalition of activists and community members are urging North Carolina Governor Pat McCrory to veto a bill that would limit the public's access to law enforcement recordings, such as police body camera and dash cam video recordings.
On Friday, community members presented the governor a petition with more than 3,800 signatures regarding HB972. They also held a rally in front of the governor's mansion, and staged a die-in at the governor's office, according to Southeast Asian Coalition (SEAC) of Charlotte, North Carolina.
"Without access to police recordings, we would not know what happened to victims of police violence," Cat Bao Le, executive director of SEAC, told NBC News. "We will be unable to hold police who kill our brothers and sisters of color accountable for their actions. The purpose of body cameras and police recordings are to build public trust in the police. It is important for Governor Pat McCrory to veto HB 972 for Chieu Di Thi Vo, Jonathan Ferrell, Bong Ackhavong, Sandra Bland, Freddie Gray, Eric Garner, Mike Brown, Alton Sterling, Philando Castile, and many more beloved community members whose lives were ended by police violence."
Under HB972, video and audio recordings made by law enforcement agencies would not be public records. Law enforcement agencies would be the ones to decide whether to release recordings to the recorded individual. If denied, an individual would then have to obtain a court order to view or obtain the recording. Law enforcement recordings would not be released to the general public without a court order, raising concerns of transparency for organizations such as the American Civil Liberties Union (ACLU).
After Chieu Di Thi Vo, a Vietnamese-American woman with bipolar disorder and limited English proficiency, was shot and killed by former Greensboro police officer Tim Bloch on March 25, 2014, her family was not allowed to see the police officer's body cam footage for more than two years.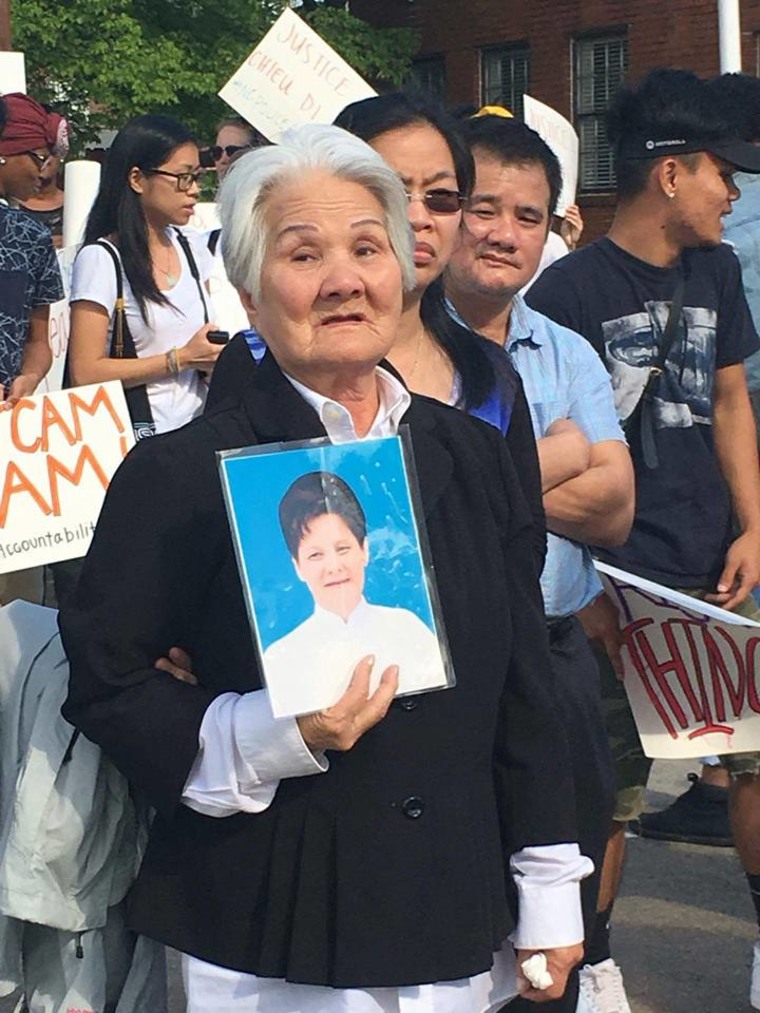 According to police, Vo "ran towards" Bloch while holding a meat cleaver, prompting Bloch to fire his gun after shouting, "Hey, put it down! Put it down!"
Vo spoke little English and was diagnosed as bipolar, according to her family. She died two days after being shot. Bloch was cleared of wrongdoing after an internal investigation, but has since resigned from the police department.
When the family finally did see the video and hear the audio recordings this year, they felt that what they saw did not match the officer's testimony about what happened, according to advocacy group 18 Million Rising.
"Our family should not have had to wait for over two years to finally get answers about the shooting of our beloved Chieu Di," a spokesperson for the Vo family told NBC News. "To get a better understanding of what happened, we wanted to view the body-worn camera footage of the police officer that shot and killed Chieu Di and listen to any audio recordings of the shootings to give us some sort of closure and begin the process of healing. After finally viewing the video and listening to the audio recordings, our family wanted the video and audio recordings to be released to the public so that everyone can witness for themselves the inhumane treatment Chieu Di received from the police officer."
Follow NBC Asian America on Facebook, Twitter, Instagram, and Tumblr.
RELATED
SOCIAL