The Sundance Film Festival has launched the careers of countless directors, filmmakers, and actors, and this year it may have found the next Asian-American male lead.
Korean-American actor Joe Seo is among the award winners for the 2016 festival, which took place from Jan. 21 to 31. The star of "Spa Night," a coming of age drama set in Los Angeles's Korean-Ameriacn community, Seo won the U.S. Dramatic Special Jury Award for Breakthrough Performance.
"Spa Night," written and directed by Andrew Ahn, centers around David Cho (played by Seo), a closeted teen in Los Angeles who discovers an illicit sex culture in Korean spas. The film's exploration into the complexity of identity has won critical acclaim for both its actors and its director.
Lena Dunham and Avy Kaufman presented at the Sundance Closing Awards Ceremony, describing Seo as "an actor whose quiet and intimate performance is deeply moving." Because Seo was not present for the ceremony, Ahn accepted on his behalf, saying, "[Seo] gave so much of himself to this part. I knew it was always going to be so hard portraying this duality of being this gay Korean-American. He gave his whole being to it."
NBC Asian America spoke with Seo following his win.
Congratulations on Sundance! Was winning the award a complete surprise for you, or had you anticipated it at all?
Oh yeah, it was totally expected. [Laughs] No, but seriously, that's why I wasn't even there to receive the award. I actually had to go to LA to meet up with a casting director. I had no idea whatsoever. It came out of left field.
So how did you find out?
Our producer texted me, and I was like, "Cool!" and then I was thinking about it, and I thought, "You guys are just playing me." And then they started sending me pictures, and I was like, "This is real!" It was amazing. I guess being recognized is pretty cool.
"For Asian Americans to have an identity in America, whether it's entertainment or in politics, we need to support each other."
The Sundance jury called your performance "impressive and gifted." How did you prepare for the role?
It was pretty tough, but basically Andrew is very meticulous with what he wants. For a lot of scenes, I had to prepare months ahead to get into the right mindset. [David] is not really a timid guy, but he's very reserved. He's a good kid. He's always there to try to help his parents more than himself.
It was tough because this kid is really sensitive, and I had to really mentally prepare, make sure I don't make bigger gestures. A lot of the things that I had to do, I had to touch back on my past, and you probably know, growing up in an Asian family, especially a conservative Asian family, you get thrown into the fire. You go through a lot of trials. It was emotionally draining, mentally draining. Definitely the toughest role I've had to do because it's so personal.
This is about him becoming a man, striving to know about sexuality, about his sexuality. It's just him struggling to balance what he thinks family culture should be like with what he thinks he himself should be like. I think that's something every immigrant goes through, not just Asian-Americans. When a lot of people came up to me afterwards, it was really heartwarming. When people said, "It really spoke to me. I could really understand this character." To me, that's the biggest prize, more than the Breakthrough Award. When people come up to me and say that, that's what an artist loves to hear.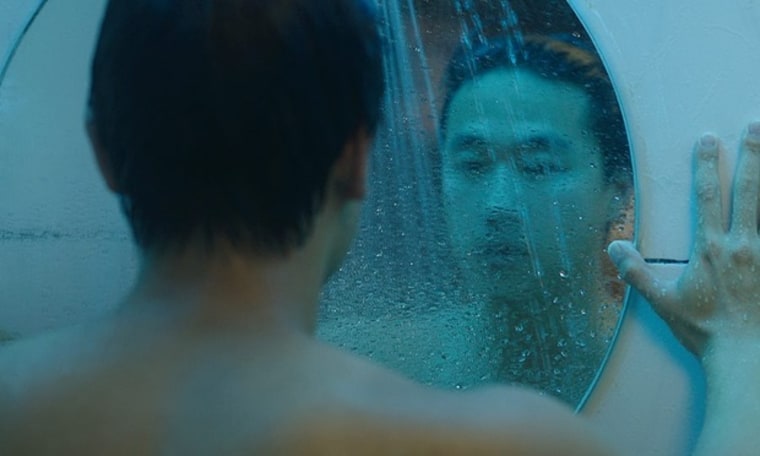 The movie shows that the Korean community in LA can be pretty conservative, particularly when it comes to gay rights. The film does something I think is so important, which is to show a character that is both gay and Korean-American, and struggles because of it. Did you have any reservations about taking on this role?
Even in the media in Korea, there are gay celebrities on TV. It's a little bit more conservative over here than in Korea, actually. The Korean diaspora in LA, because they mostly came in the 70s or the 80s, they maintain these conservative ideas, which make it harder for them to accept change, to accept a different identity. To some degree, the older generation here, they are a little bit more conservative than they are in Korea.
I just felt that the film brings more light to it. It opens dialogue. It can help people to just love more. At the end of the day, whether you're straight, gay, whatever, we're all just people. We all lack something, and we all mess up. Everyone's in the same boat. If I picked the Christian point of view, it would be that, dude, we all fall short of the glory of God, whether you're a pastor or a gay guy. I'm just hoping that this film actually brings to light that this issue, and there will be more people comfortable with coming out, even at church.
Related: "Spa Night," Coming of Age Drama, Makes Debut At Sundance
David's parents are a big part of "Spa Night," and the pressure to live up to your parents' expectations seems to be a recurring theme of the movie. How supportive were your own parents about your going into acting?
Not at all! They're still not. You know how it is! My mom still tells me, "Joseph-ah. It's not too late. You can go back to school. Try to go into medical school." For me, it was medical school. At my dol, they probably had just a stethoscope out for me. Even today, they say it's not too late. It's really tough for me to see my parents that way, because of those reasons. And that's how I can relate to David. All [our parents] did was sacrifice so they could have a stable life for the second generation.
I was always kind of a rebellious kid, though, so I'd always try to do things on my own. I've always wanted to challenge myself, and be independent, so here I am.
You've been active in Asia for the last few years. Did you choose to move to Asia because there was more work there?
I was in China, Japan, and Korea, doing commercial work, a few shows here and there.
I moved there, not because [I was getting ] more work, but because of different work. You can [play] an athlete in Korea, you can be a lawyer. To me that was a breath of fresh air. Here, I'd go to an audition and converse with a screenwriter and say, "This is just fanning the flame of stereotypes. Here is an Asian kid, his best friend is the girl, and he gets beat up by the jocks." It was exactly that role. I was like, "Can we make it so that he also drives a Honda Accord?" It was so ridiculous that I asked the screenwriter, "You don't see this as being blatant?" These things boggled my mind. There were times that I went there just to talk to these screenwriters and directors.
I wanted to play an athlete, I wanted to play a hero, something different. Asia was a great avenue for that. The experience there was great, but it's definitely harder there to survive off the art. I wanted to come back. This is also my home, so I wanted to be back.
What's next for you? You've gotten such a great response at Sundance. Has it translated to anything else yet?
Nothing really concrete. I've had a few interviews and meetings. This award means nothing if I can't do anything with it. I just want more work. I really thank Sundance for the recognition, and hope I can continue doing this. This is just the beginning for me.
Does it feel like we are seeing the beginning of more diversity in television, at least, if not in movies?
Definitely. That's one of the main reasons I did come back from Asia to pursue a career here. I saw potential that people are opening up to new ideas of what the Asian male can be. To me that was somewhat challenging, and I definitely wanted to make a change. Roles like David, for instance, are so encouraging, and it's a challenge but I would love to keep taking these types of roles. I think America needs it. It's refreshing.
I studied minority studies at UCLA, and I think minorities, and especially Asians, need to stick together to a degree. Show each other love. If something sucks, tell each other in a nice way. For Asian Americans to have an identity in America, whether it's entertainment or in politics, we need to support each other. I don't know what the future holds, but it seems pretty exciting.
This interview has been edited for length and clarity.
Follow NBC Asian America on Facebook, Twitter, Instagram, and Tumblr.