Growing up half black and half Filipino, Asia Jackson was not always comfortable in her own skin.
"Having curly hair and darker skin, I had major identity issues as a child," the 23-year-old told NBC News. "People were telling me I'm 'too white' because I don't look black, and I'm not Asian because I don't look Asian. There's always the stigma of looking different. I'm considered light skinned in black communities, but in Asian communities, I'm considered dark."
"One of the reasons I started YouTube and acting — I just want girls who look like me, or who come from the same place as me, to see themselves represented on the screen."
The actress, model, and content creator is no stranger to standing out and dealing with change.
Born in California to a Filipino mother and black father in the military, Jackson's family moved often during her childhood, and she went to schools across the United States, Japan, and the Philippines, according to Jackson. She said those experiences have made it easier for her to be understanding of others.
"I've lived amongst different communities because of my dad's job. I feel like that's why I'm so culturally sensitive and empathetic towards different cultures, why I'm so outspoken on representation…because a lot of people, especially people who look like me, don't have a voice," Jackson said.
Many of Jackson's experiences being "othered" stemmed from her childhood spent in the Philippines. Her mother's family takes pride in their Igorot roots, an indigenous culture from the mountains in Baguio and Northern Luzon in the northern side of the country.
Though a diverse ethnic group, the Filipino Igorots — traditionally farmers and headhunters — were often stereotyped as dark-skinned, unrefined "savages," Jackson said.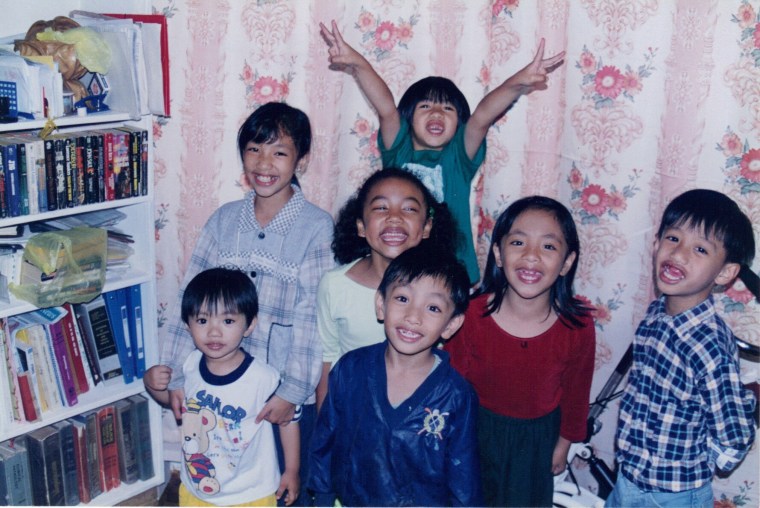 More than 300 years of Philippine colonization by the Spanish, and later the Americans, also contributed to the longstanding desire for lighter skin in the southeast Pacific, especially in tropical and indigenous cultures, Jackson added.
A common thing for Filipinos is to tell their children to stay out of the sun, for fear of "getting dark," she noted.
"Colorism is so deeply woven in Filipino culture, for different reasons. In Asia, it's socially acceptable to try and 'lighten' your skin, and to treat people who are darker differently. People just accept it," Jackson said. "You see it happening everywhere – on billboards, light-skinned and mestiza Asian celebrities, skincare products — that tell you to whiten your skin."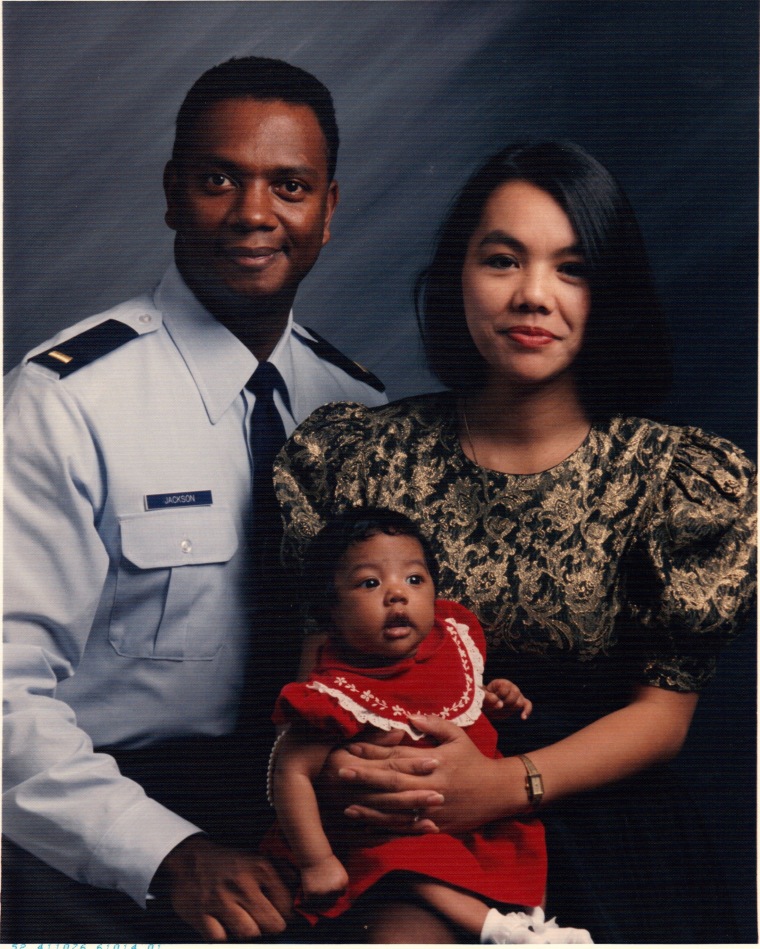 While she never experienced that kind of "white-washing" from her family, Jackson said it took a long time for her to truly accept her brown skin and mixed heritage — especially because growing up, people often questioned or assumed.
"It's something I've had to deal with a lot of my life. I think I've finally reached a point where I can own my own experience," she said. "Eventually, I found myself by connecting with others through the Internet – I found a community of others who looked like me."
Last October for Filipino American Heritage Month, Jackson wanted to start a social conversation challenging whitewashed beauty standards. She developed a hashtag around the phrase "magandang moreno/a," which in Tagalog translates to "beautiful brown skin" and is inclusive of all genders.
Using her Twitter platform, she encouraged tan, brown, and dark-skinned followers to post selfies with the hashtag #MagandangMorenx. The tag was popular in Filipino communities in Europe, Asia, and America, and became a global campaign of self-love, acceptance, and redefining Philippine beauty ideals.
"Colorism in the Filipino community has always been something I'm passionate about because it affected me so much. I was like, I can't be the only one affected by this," Jackson said. "It took me a very long time for me to love my color as it is, and I never want anyone to feel alone like I did. I created #MagandangMorenx to help open dialogue for an issue that, for some reason, everyone likes to ignore."
She repeated the hashtag again on May 5 for Asian Pacific American Heritage Month (APAHM), getting a following from Filipinos both in the U.S. and Philippines. People were posting selfies, loving and embracing their morena skin, mixed ethnicities, and tan bodies, she said.
"I didn't know there were so many people like me…it made me emotional," Jackson said. "A lot of people were telling me their experiences growing up were similar. Now I know I have to be more vocal about this sort of thing."
For APAHM this year, Jackson also wanted to celebrate different Asian cultures. She started a new series on her channel called "Asia The Asian Does Asian Things," where she and other content creators learn and try different traditions, including authentic Indian food, muay thai martial arts, and Filipino martial arts.
Jackson said she hopes to see the #MagandangMorenx movement grow into something concrete where self-love can be celebrated year long. Her dream is to create a skincare line, while pursuing acting and producing movies that promote authentic representation.
"I wanted to set an example to show people to stand up for themselves, when people try to think that they know your experience better than you do," she said.
"I'm attracted to people who are authentically and unapologetically themselves…that's the kind of content I try to create. Like Tupac said, 'I don't like to see myself as a role model; I like to see myself as a realmodel.'"
Creating Her Own Opportunities
Before becoming a content creator with more than 150,000 subscribers on YouTube, Jackson's dream was to be in the computer sciences. Since she was 11, programming and technology came natural to her, she said. She remembers being underestimated as a coder and woman of color.
But while taking computer information systems classes in college near her hometown of Long Beach, California, Jackson soon discovered a passion for acting and shifted her entire focus down a new career path.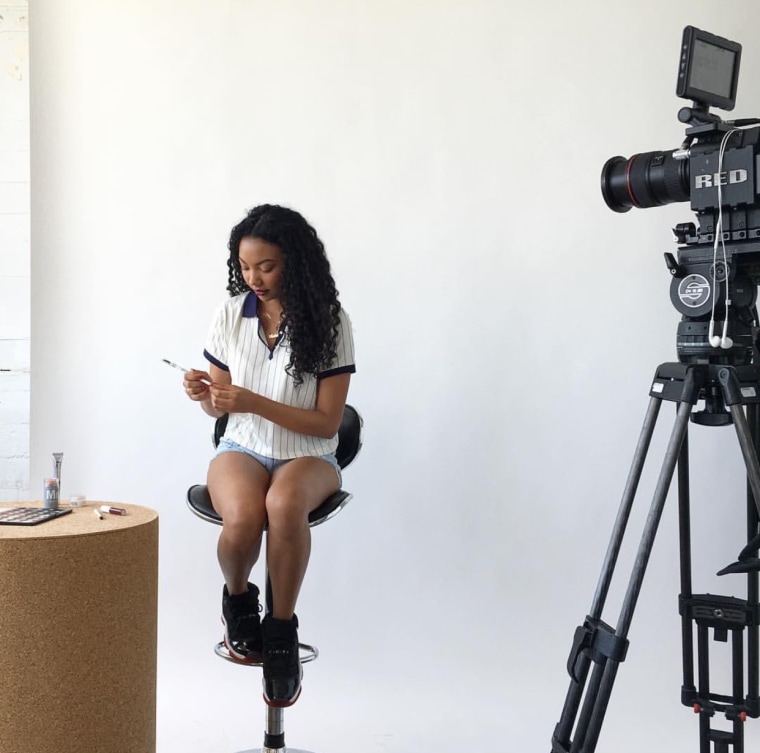 "Suddenly coding wasn't fun for me anymore," she said. "[Acting] and storytelling was something I became passionate about, and I fell in love with it."
"One thing that makes an actor good is humility…you have to learn how to be vulnerable, and that's not easy for people," she added. "Breaking down those walls in that first acting class was really frustrating and scary for me, but it was also so liberating to be able to express myself."
In 2014, she took a risk and left school to audition regularly, landing roles on "Superstore," "ModernFamily," "The Young and the Restless," and "Speechless" over the next few years. She has also appeared in music videos, including Korean R&B artist Babylon's "Ocean Drive."
For Jackson, acting feels "like boot-camp" and "a playground," being both challenging and fun, and allowing her to bring an element of herself into each character.
As a multiracial actress, roles that truly represent her — and other mixed actors — are hard to come across, she said.
"My half white, half Filipino friends tend to audition for Latino roles, and they're called either too white to be Asian, or too Asian to be white," she said. "I've only had one audition for a character that was half black, half Asian. With the roles in Hollywood, 'Asian' really means East Asian…South and Southeast Asians are often erased from the whole conversation when it comes to Asian representation. I never audition for a Filipino, Cambodian, or Thai person — there's just not enough roles for that sort of thing."
Jackson also said that as an actress of color, she has a responsibility not to feed into racial stereotypes.
She believes it's important for actors and casting directors to seek out roles that are "authentic experiences" of people — not white-washing — and to avoid making diverse casting into a "huge event."
"Representation really comes from true diversity behind the scenes. At the higher level, [with] executives, directors, producers — there are so many people of color trying to break through in the industry," she said. "As that continues to happen, we hope it will trickle down into casting roles. As actors, we want to play who we are."
In 2016, Jackson took a step back from modeling and was not booking regular roles. She decided to post more frequently on her YouTube channel, expressing herself through fashion, beauty and lifestyle videos.
"I was tired of waiting for opportunities — so I created my own," she said.
Things took a turn when her channel went from 10,000 to 120,000 subscribers within 30 days. Suddenly, Asia Jackson had a manager, a brand, and a viral platform.
"Having curly hair and darker skin, I had major identity issues as a child. People were telling me I'm 'too white' because I don't look black, and I'm not Asian because I don't look Asian."
"One of the reasons I started YouTube and acting — I just want girls who look like me, or who come from the same place as me, to see themselves represented on the screen," she said. "I'm using my platform to tell people, you can wear and do what you want, instead of putting yourself in a box. People are already going to do that for you."
As a full-time content creator, posting regular vlogs, beauty tips, and brand collaborations gave Jackson the independence to be truly herself — embracing and loving the skin she is in, she said.
Though maintaining a fresh and relevant online presence comes with plenty of challenges, what keeps Jackson grounded is remembering to not control or filter everything — but above all, to be passionate about her craft.
"There's a quote by Bruce Lee; be like water. Water can flow, or it can crash. You kind of just have to go with the flow," she said, talking about her brand. "It's just who I am; it's all over the place, because I've been all over the place. Diversity is my brand."
Follow NBC Asian America on Facebook, Twitter, Instagram and Tumblr.