A White House state dinner for South Korean President Yoon Suk Yeol on Wednesday is set to be a display of Asian American excellence, with a menu crafted by the celebrity chef Edward Lee and performances by Broadway star and the "Mulan" voice actor Lea Salonga.
The dinner is meant to represent a deepening of the alliance between the U.S. and South Korea, according to a White House news release. It's the second state visit hosted by the Biden-Harris administration, after one with French President Emmanuel Macron in December.
State visits, usually marked by glamour and pageantry, happen at the personal invitation of the president and are reserved for the U.S.'s closest allies.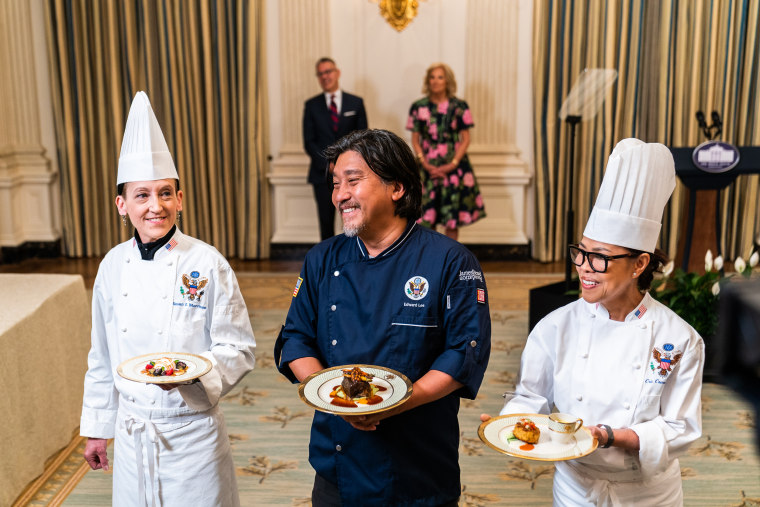 "I'm beyond honored to have been invited by President and Doctor Biden to perform at the White House," Salonga told NBC News. "As we head into AAPI Heritage month, Asian Americans continuing to be represented on a global scale is so important and I'm grateful for the opportunity to help in that representation at such an important event."
First lady Jill Biden hosted Lee on Monday for a preview of the evening. For the main course, Lee showed off a braised short rib served with butter bean grits, sorghum-glazed carrots and pine nuts. The chef said the first family had one ask for the dessert menu: ice cream.
Dessert will be a fusion banana split topped with caramel flavored with doenjang, a Korean soybean paste.
"The first person I called was my mother," the Korean American chef told Reuters, recalling when the Bidens asked him to participate. "To come full circle and to give back and be able to do this was ... a very proud moment for me and also for my mom."
"We hope to showcase the harmony of our cultures and our people intertwined," Jill Biden said on Monday.
Salonga, the award-winning actor and singer, will be performing alongside Broadway peers Norm Lewis ("Les Misérables") and Jessica Vosk ("Wicked"). Salonga has voiced multiple Disney icons, including as the singing voice for Princess Jasmine in "Aladdin" and as Mulan in both "Mulan" and "Mulan II." She also took home a Tony Award for her role in the Broadway production of "Miss Saigon."