SALEM, Ore. — A man who was adopted from South Korea by Americans when he was 3 years old landed on Thursday in his native country — one that is completely unknown to him — after he was deported from the United States, an official and his lawyer said.
U.S. Immigration and Customs Enforcement had ordered Adam Crapser deported because of criminal convictions, including assault and being a felon in possession of a weapon.
His life story highlights the failings of an adoption system that put him in the homes of one set of parents who abandoned him and another that physically abused him and other adopted children, his Seattle attorney, Lori Walls, told The Associated Press in a telephone interview.
ICE spokeswoman Rose Richeson told AP in an email that the 41-year-old Crapser arrived in Seoul, South Korea, on Thursday morning aboard a commercial airline flight escorted by ICE deportation officers.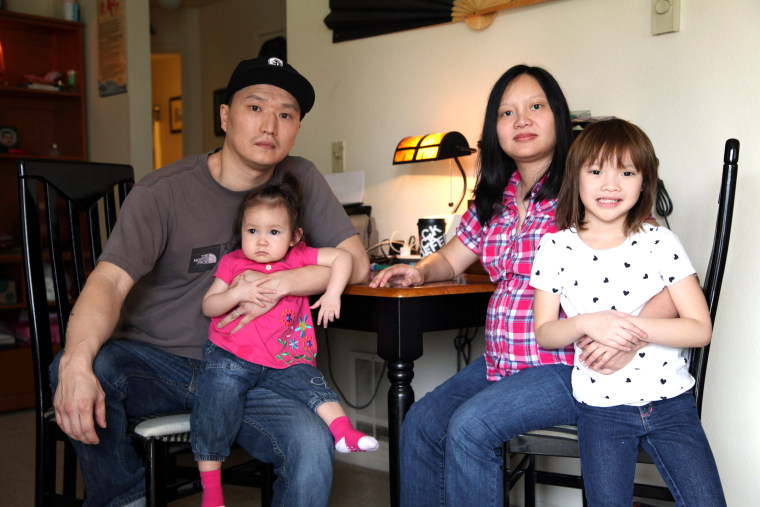 RELATED: Bill That Could Save Adoptees Without Citizenship Waits in Congress
Richeson said Crapser was arrested by ICE on Feb. 8 after serving a 60-day sentence for menacing constituting domestic violence and attempted coercion. He had been held in an immigration detention center in Tacoma, Washington since then. A judge could have allowed Crapser to stay in America but decided on deportation. Crapser's supporters said he waived an appeal because he couldn't stand to stay in the detention center any longer.
Walls said she is astonished that the fact that Crapser "was adopted, abandoned and abused, facilitated by the U.S. government and the state of Oregon ... carried relatively little weight in the decision that the immigration court made."
"The U.S. government facilitated the adoption out of Korea," she said. "No one followed up to make sure he was safe. When that first family abandoned him to foster care he was not visible — there was no follow-up."
No one ever sought U.S. citizenship for him. He and his older sister were adopted by a family who lived in Michigan and who later abandoned them after they moved to Oregon, Walls said.
RELATED: A Push to Protect Adult Adoptees From Deportation
Brother and sister were split up. Crapser was eventually adopted by parents in Oregon who assaulted him and other children in their care. His adoptive parents were convicted of multiple crimes. Crapser eventually left the home and was arrested after he broke in to retrieve some of his belongings from his orphanage in South Korea, Walls said.
Crapser later got into further trouble with the law. He came under the scrutiny of federal immigration authorities after he applied for a Green Card and they saw his criminal record.
RELATED: Feds Targeted Adoptee without Citizenship Because of Crimes
"I'm hopeful Adam figures out how to make a life in that country, where he doesn't speak the language read the language or know anything about the culture," Walls said.
His birth mother in South Korea, who had put her son and daughter up for adoption because she couldn't afford to keep him, is learning English so she can communicate with him when they're reunited, The New York Times reported recently.
"His birth mother, because of publicity in South Korea, came forward," Walls said, adding that a DNA test proved the relationship. Walls noted that the mother is disabled, has a low income "and can't be much help for him."
"I spoke with Adam a couple of days ago," Walls said. "He was trying to stay positive, but I mean it was clear talking to him that he was scared. He's going to a country where he can't even read the street signs."
Walls said there might be legal remedies for Crapser to return to the U.S. but that it would be "an uphill battle."
Follow NBC Asian America on Facebook, Twitter, Instagram, and Tumblr.