Members of the international adoption community gathered in Washington, D.C., Tuesday for the first Adoptee Citizenship Act Day of Action. More than 65 people from across the country came for a full-day of legislative visits with senators and representatives to ask them to vote for S.2275, the Adoptee Citizenship Act of 2015, according to National Korean American Service and Education Consortium (NAKASEC).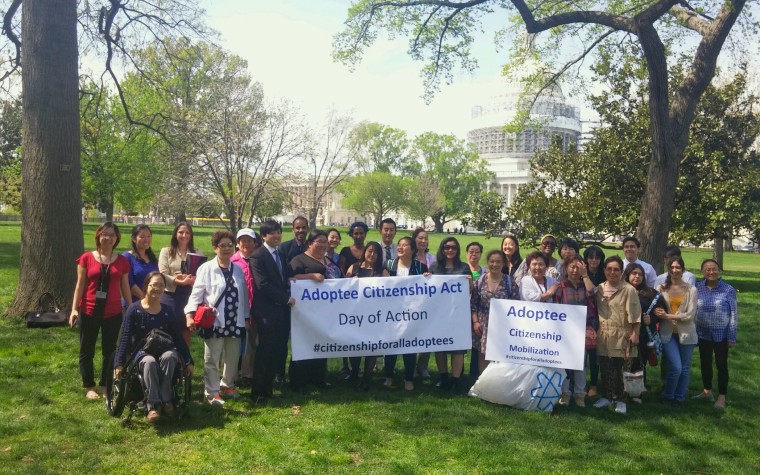 "This day of action is one day of escalation to show the broad support for getting this bill passed, but the adoptee-led efforts will continue until the work is done," Emily Kessel, advocacy director at NAKASEC, told NBC News. "I was adopted from South Korea and my adoptive parents naturalized me. But even if they wouldn't have taken this step, I would still automatically be a U.S. citizen. But how can it be that there are intercountry adoptees, who were also adopted by U.S. parents, but they do not have citizenship?"
RELATED: Bill Would Provide Retroactive Citizenship For All International Adoptees
The Adoptee Citizenship Act is a bipartisan bill that closes a loophole in the Child Citizenship Act of 2000, which automatically grants U.S. citizenship to children adopted by U.S. citizens. The law left out adoptees who were adults by the time it passed in 2000. If the Adoptee Citizenship Act is passed, it would give automatic retroactive citizenship to all intercountry adoptees and allow those who have been deported the opportunity to return to the U.S.
It is co-sponsored by Senators Amy Klobuchar (D-MN), Jeff Merkley (D-OR), and Dan Coats (R-IN) and has been referred to the Senate Committee on the Judiciary.
The day of action is co-sponsored by NAKASEC, 18 Million Rising, Gazillion Strong, the Adoptee Rights Campaign, and the Korean American Coalition.
Follow NBC Asian America on Facebook, Twitter, Instagram, and Tumblr.