Adult international adoptees are speaking out about the light sentence given to an adoptive father in Maryland who killed three-year-old Madoc Hyunsu O'Callaghan in 2014, only 100 days after adopting the special-needs child from South Korea.
Brian O'Callaghan, 38, was sentenced last Tuesday to 20 years for first-degree child abuse resulting in death, with 12 years of his sentence suspended and credit for time served, and he could be released much earlier, according to NBC Washington. He had previously also been charged with first-degree murder, which was dropped as part of a plea agreement according to court documents.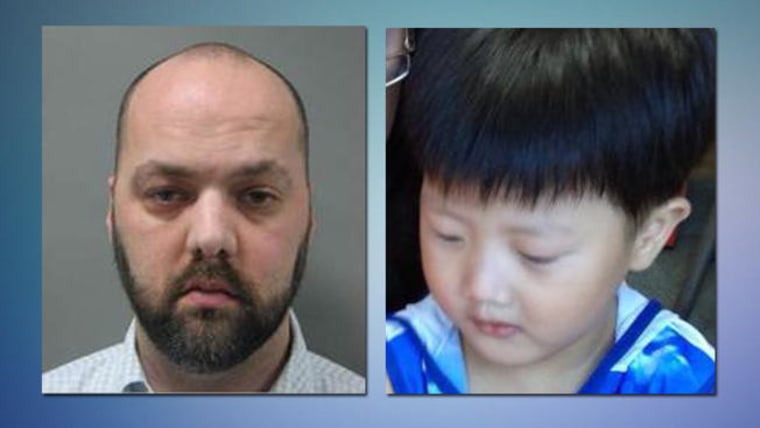 "The tragic case with Hyun-su should drive policy makers and legislators to protect the full rights of adoptees — ensuring that all adoptees are placed in safe and healthy family environments and all intercountry adoptees are granted US citizenship," Emily Kessel, advocacy director at the National Korean American Service & Education Consortium (NAKASEC), told NBC News.
O'Callaghan initially claimed that he was giving the child a shower when the boy slipped in the bathtub, fell backwards, and hit his shoulder. However, doctors reported that the child was possibly already brain dead by the time he was brought in to the emergency room, according to NBC Washington. Doctors determined that the child had multiple injuries including impact trauma on his body, internal bleeding, a fractured skull, trauma to and bleeding in the brain, and hemorrhaging in the eyes. The child's death on February 3, 2014, was ruled by the medical examiner to be a homicide.
In court, O'Callaghan admitted to hurling the child against a wall, according to the Washington Post.
The defense laid the blame on post-traumatic stress disorder (PTSD) from O'Callaghan's service in the Marine Corps Reserves from 1997 to 2004, during which he was deployed to Iraq, according to NBC Washington.
However, O'Callaghan intentionally hid his PTSD from adoption agencies, going so far as to taper his dosage of psychotropic medications in order to pass the required drug test, according to Washington Post.
Neuropsychiatrist Richard Restak, testifying at sentencing on O'Callaghan's behalf, said that what triggered O'Callaghan's PTSD that day was the three-year-old child jumping up and down on his bed instead of taking a nap, and then reaching his arms out towards his father, according to the Washington Post.
"With the admission by Mr. O'Callaghan in open court of his 'significant history of mental illness' on Nov. 23, 2015, this adoption should never have been allowed to take place."
Some adult international adoptees who have been following the case argued that O'Callaghan should never have been allowed to adopt in the first place, and that the adoption agencies bear some responsibility.
"With the admission by Mr. O'Callaghan in open court of his 'significant history of mental illness' on Nov. 23, 2015, this adoption should never have been allowed to take place," AnnaLei Yi, who is an international adoptee, and Sophie Harbert told NBC News. "The admission of mental illness by Mr. O'Callaghan is now being used to get a lighter sentence, yet the defendant intentionally hid his history of mental illness and ended up fatally abusing his adopted child."
Adult international adoptees also argue that more must be done at a policy level to better protect the children being adopted, such as by making sure that all international adoptees are granted U.S. citizenship and by better screening prospective adoptive parents.
RELATED: Bill Would Provide Retroactive Citizenship For All International Adoptees
"The murder of Hyun-su is unfortunately not an isolated instance," Kevin H. Vollmers, executive director of Gazillion Strong, told NBC News. "It should serve as a very important reminder to all of us, especially state and federal lawmakers who have the power, that we need to focus on making the U.S. a better, safer place for adoptees and their families. There are international adoptees brought into our country through adoption who do not have citizenship. There are domestic and international adoptees and their families who struggle to get access to adequate mental health resources. And the recent deaths of adoptees, like Hyun-su, clearly demonstrate the necessity of implementing a more rigorous process for adoptive parents, before, during, and after the adoption."
NBC News contacted Holt International and Catholic Charities of Maryland, who arranged the adoption, but have not received a response.
Follow NBC Asian America on Facebook, Twitter, Instagram, and Tumblr.
RELATED
Correction: An earlier version of this story stated that Sophie Harbert is an adoptee. She is not.