More than a dozen advocacy groups sent a letter last week to the Department of Homeland Security expressing concern over the way DHS has been handling the parole rights of Bangladeshi political asylum seekers in detention centers across the U.S.
The letter—which was co-signed by several groups including Asian Americans Advancing Justice, ACLU of Southern California, South Asian Americans Leading Together, and the UC Irvine School of Law's Immigrant Rights Clinic—was also addressed to Attorney General Loretta Lynch and Secretary of State John Kerry.
"Based on Public Law Center's meetings with Bangladeshi detainees at the James A. Musick Facility as of several weeks ago, of 23 detainees, it appears that only two have been able to successfully post bond and leave the facility," the letter read. "Similarly, at the Adelanto Detention Facility in Adelanto, California, of 38 Bangladeshi detainees, only three have successfully posted bond and been released. We have heard of similar accounts around the country. We are aware of large numbers of Bangladeshi detainees unjustifiably held by ICE elsewhere in the country as well, including in El Paso, Texas."
RELATED: South Asian Detainees Seeking Asylum Hold Hunger Strike
According to Asian Americans Advancing Justice - LA, a disproportionately high number of Bangladeshi asylum seekers have been detained pending consideration of their asylum claims due to DHS policy.
"We became aware earlier this year that Bangladeshi asylum seekers were systematically being denied basic due process rights, including the right to parole, which allows them to be released from detention while their immigration cases are pending," Laboni Hoq, litigation director for Asian Americans Advancing Justice - LA, told NBC News in an email. "We decided to document our findings and submit a letter to DHS, asking it to rescind its unjustified and discriminatory policies against Bangladeshi asylum seekers."
Hoq told NBC News that Asian Americans Advancing Justice - LA visited a local detention facility in Los Angeles to meet with Bangladeshi detainees, and learned that DHS had been denying release on bond to asylum seekers claiming persecution based on their affiliation with Bangladesh's current opposition political party, the Bangladesh Nationalist Party (BNP).
DHS has marked BNP as a Tier III terrorist organization, though a U.S. court recently rejected that claim.
According to Asian Americans Advancing Justice- LA, DHS' policies have also resulted in Bangladeshi asylum seekers being detained for lengthy periods of time.
"There is no evidence that any violence by BNP is rooted in terrorism. That the U.S. government is taking the position that BNP is a terrorist organization is particularly preposterous because when BNP was the ruling party in the mid 2000s, the U.S. was an ally of the BNP government," Hoq said.
U.S. Immigration and Customs Enforcement's office declined NBC News' request for comment on individual cases due to official privacy policies.
The letter to DHS coincides with a number of hunger strikes conducted by South Asian detainees at the El Paso and La Salle processing centers over the past several weeks. Fifty-four South Asian detainees in El Paso, Texas, held a week-long hunger strike in October to protest their detainment, and 14 detainees at the LaSalle Detention Center in Louisiana held a hunger strike in solidarity. A majority of the detainees were Bangladeshi asylum seekers.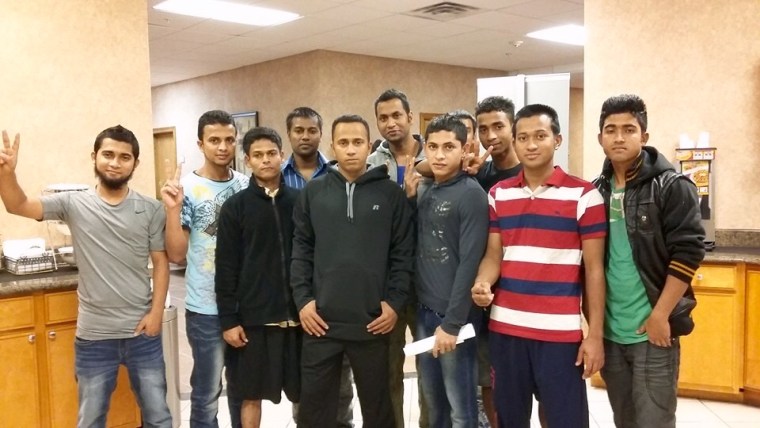 According to DRUM — South Asian Organizing Center, a South Asian immigrant rights organization in New York City working with the detainees, ICE allegedly cut off water to the LaSalle hunger strikers' cells, restricted strikers' access to their commissary money to prevent access to phones, pressured strikers to call their consulates despite the fact that they are fleeing persecution by the Bangladeshi government, and twice attempted forced deportations of one of the strikers.
In response, Bryan D. Cox, U.S. Immigration and Customs Enforcement's public affairs officer, told NBC News the claims were untrue. "In general, tap water to a detainee is turned off as part of hunger strike protocol at some facilities. However, that is not the case at LaSalle as the same water line operates the toilets. The reason for turning off tap water is so that medical personnel can precisely monitor the exact amount of an individual's fluid intake," he said. "As for claims to phones, phone privileges are not restricted during hunger strike protocol."
The U.S. Immigration and Customs Enforcement also issued the following statement:
"ICE takes very seriously the health, safety, and welfare of those in our care. The LaSalle Detention Center is staffed with medical and mental health care providers who monitor, diagnose and treat residents at the facility. ICE also uses outside, private medical/mental health care service providers as needed. Individuals have access to meals served three times daily at the cafeteria, snacks provided by the facility, or food purchased from the commissary."
The El Paso hunger strike ended on Oct. 20 and approximately 11 detainees were released. Hunger strikers at LaSalle ended their strike on Oct. 31.