More than 80 Asian-American organizations from around the country have formed a coalition calling for the Department of Justice (DOJ) inspector general to investigate the federal cases brought against Chinese-American scientists for spying that were dropped following further scrutiny.
"We are requesting an independent investigation into the policies and practices that led to this apparent pattern and practice of wrongful prosecutions, and in particular whether there is—or has been—any improper reliance on race, ethnicity, or national origin," a letter from the coalition, which includes the Advancing Justice coalition, the National Council of Asian Pacific Americans, the National Asian Pacific American Bar Association, and OCA-Asian Pacific American Advocates, reads.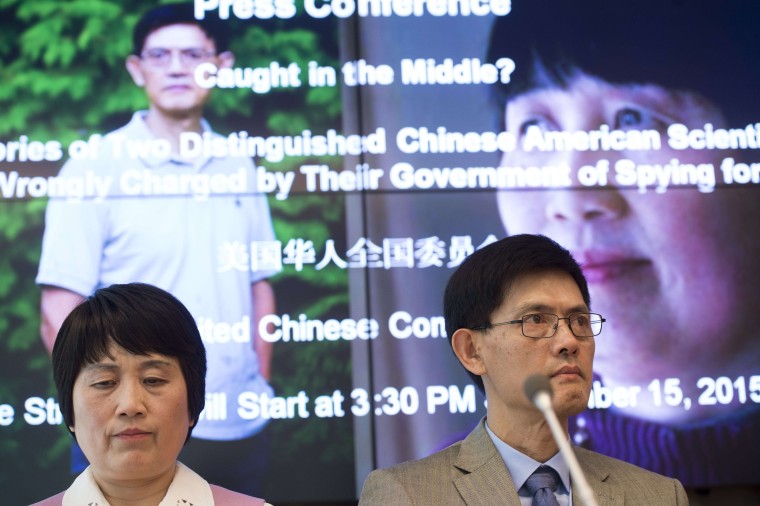 The letter addressed to Michael E. Horowitz, inspector general of the DOJ, is scheduled to be delivered this week. It specifically details the cases of former Temple University physics chair Dr. Xiaoxing Xi and National Weather Service hydrologist Sherry Chen. Both cases were ultimately dropped, but not before subjecting the scientists and their families to major disruptions in their lives.
"My family is very grateful for this call from Asian American and Pacific Islander, civil rights, and civil liberties organizations for a DOJ inspector general investigation," Joyce Xi, the daughter of Xiaoxing Xi, told NBC News. "Finding out what led to these wrongful prosecutions is a first step towards preventing such cases from happening in the future.'
"My father's case remains an injustice," she continued. "The government prosecuted him before understanding the science at the heart of their case. This experience has been a nightmare for our family, and we still haven't heard an explanation for why it happened."
The coalition includes OCA — Asian Pacific American Advocates, the National Asian Pacific American Bar Association, and the National Council of Asian Pacific Americans, among others, and is just the latest call for a more thorough look into why Chinese-American scientists have been accused.
Follow NBC Asian America on Facebook, Twitter, Instagram, and Tumblr.
RELATED