More than 120 organizations signed an open letter to education officials in California Monday, urging that schools in the state not comply with federal authorities in immigration raids and deportations.
The letter, coordinated by the College for All Coalition, also asks for resources to promote inclusion and diversity in K-12 schools and colleges, and to protect students from intimidation and harassment based on such categories as race, religion, gender, and ethnicity.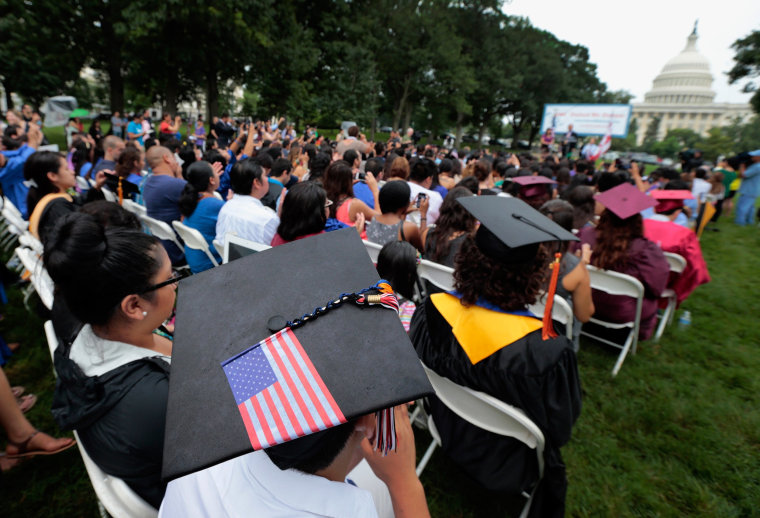 "We in California have an obligation to counter bigotry and hate by protecting the safety and well-being of our diverse students and their families," Stewart Kwoh, president and executive director of Asian Americans Advancing Justice-LA, one of the letter's signatories, said in a statement.
The requests come as hundreds of hate crimes have been reported in the weeks following Donald Trump's Nov. 8 election, according to the Southern Poverty Law Center. Harassment most commonly occurred in K-12 schools and on university campuses, the center said. The FBI also reported a general spike in anti-Muslim hate crimes in 2015, a number that grew by 66 percent.
RELATED: 'Sanctuary Cities' Vow to Protect Immigrants From Trump Plan
Fears of deportation have also jolted immigrant communities across the country, leaving some undocumented students, including those from Asia, to wonder if Trump will cancel an executive action that grants temporary relief to those eligible to remain in the U.S.
Trump recently said 3 million people — mostly convicted felons — would be the priorities in forced removals from the U.S.
The open letter asks for "an unequivocal and public declaration" that all K-12 public schools, as well as colleges and universities throughout the state, be designated as sanctuary schools and campuses. To that end, schools should not comply with immigration officials on raids and deportations, and should not permit immigration agents on school property without a judicial warrant, the letter reads.
"We in California have an obligation to counter bigotry and hate by protecting the safety and well-being of our diverse students and their families."
It also says campus police should not act on behalf of federal authorities to enforce immigration law.
Some K-12 California districts and colleges and universities have already said they plan to take steps to protect undocumented students, according to a news release from Advancing Justice-LA.
California has the greatest number of undocumented immigrants, some 2.3 million as of 2014, according to the Pew Research Center.
The letter additionally calls for state and local funding for programs to promote learning environments that are free from bullying and discrimination, and for schools to "take prompt action to ensure accountability and justice" when such incidents do happen through approaches that "focus on repairing the harm caused to the victim and the wider community."
RELATED: How Trump's First 100 Days in the White House Could Affect Asian Americans
Advancing Justice-LA said in a statement that the open letter was being sent to a number of California education officials, including state Department of Education superintendent of public instruction Tom Torlakson.
An NBC News request for comment sent Monday to the state Education Department was not immediately returned.
Follow NBC Asian America on Facebook, Twitter, Instagram, and Tumblr.