A federal grant program aimed at preserving the history of World War II-era Japanese-American incarceration could be in danger under President Donald Trump's proposed 2019 budget.
The budget proposal, unveiled last month, declines to request funding for the Japanese American Confinement Sites (JACS) grant program, which has provided more than $21 million of funding for the research and preservation of World War II-era incarceration camps, collection centers, and Department of Justice prisons over nearly a decade.
In 2006, Congress authorized up to $38 million for the life of the grant program and began appropriations in 2009, with funding levels at about $2 million per year.
David Inoue — executive director of the nonprofit Japanese American Citizens League (JACL), a civil rights organization formed in 1929 by multiple Japanese-American groups — said that if approved by Congress, the loss of funding would be coming at a critical time.
"A lot of it goes into preserving the stories of people who were incarcerated, and a lot of those people are dying right now," he said. "So that's why it's imperative that we do keep funding going. There's always the possibility that we could restart funding in a year if it's cut this year, but the problem is how many possible people whose stories haven't been preserved will have been lost in that one year?"
The JACL is encouraging people to contact their representatives about the issue before Friday, the deadline for members of Congress to submit their requests for funding.
Democratic Rep. Doris Matsui of California, who was born in the Poston incarceration camp in Arizona, is also writing a letter in support of the program to the House Appropriations Committee, and is asking other Congress members to sign on, her office said.
The White House Office of Management and Budget did not reply to a request for comment.
"The proposed budget makes a historic investment in our National Parks infrastructure backlog," Heather Swift, Department of the Interior press secretary, said. "The budget prioritizes funding for core operations in the National Park System and addressing the $11.6 deferred maintenance backlog in parks across the nation through the Public Lands Infrastructure Fund. The budget request identifies savings in other programs, including some competitive grant programs."
Bruce Embrey — co-chair of the Manzanar Committee, which has organized the annual pilgrimage to Manzanar for the past four decades— said that the grant isn't a partisan issue — it's one that both Democrats and Republicans have supported in the past.
"Ever since Ronald Reagan signed the Civil Liberties Act in 1988, every sitting president has worked to make sure this story of what happened to Japanese and Japanese Americans during World War II was in everyone's minds," he said, referring to the law that included a formal apology and reparations to survivors of Japanese-American incarceration. "Every president except the current president has made sure that the lessons from a xenophobic, racist law not be lost on our country."
The JACS grant program, signed into law by former President George W. Bush, has funded a variety of books, films, oral histories, traveling exhibits, museums, as well as digitizing archival materials and preservation projects at internment sites.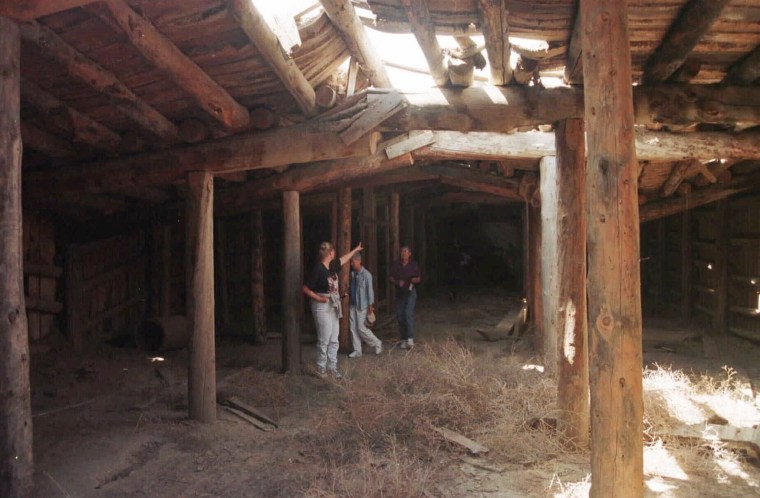 Last year, the Japanese American National Museum in Los Angeles received a grant to digitize 45 home movies made by Japanese-American families from the 1920s through the 1950s. In 2011, the Seattle-based nonprofit Densho was awarded funds to develop a curriculum to train hundreds of teachers about incarceration. And in 2009, the Manzanar Committee received a grant to create a full-length documentary about a group of internees who crawled under barbed wire fences to fish in nearby lakes.
Dakota Russell, museum manager at the Heart Mountain Interpretive Center — which has received funding from the JACS grant — credits the program for boosting public awareness about incarceration.
"As soon as these funds started being appropriated in 2009, I think you can definitely see a marked increase in the number of people who are aware of our story," he said. "If the center wasn't here, I think this would be a collection of buildings that nobody knew about. But having people and exhibits on the ground, videos where people can hear the story from the words of former internees makes a huge difference in explaining a chapter of history that isn't understood by most Americans."
Without continued funding, he said, "We're really going to struggle."
Samuel Mihara, who spent three years behind barbed wire at Heart Mountain starting in 1942 when he was just 9 years old, agreed.
"It's the physical presence of Heart Mountain that reminds people that this is for real — it really happened, right here," said Mihara, now a board member of the Heart Mountain Wyoming Foundation. "You need to have a facility where people can go and see, touch and feel — and therefore remember."
Hiroshi Shimizu, who was born at Topaz, an incarceration camp in Utah, and then spent the next three years at Tule Lake in California, called the slash to funding "an insult."
"If anything they should be helping us to tell this story," he said.
But it's not just the Japanese-American community that will suffer, Shimizu, who is president of the Tule Lake Committee, noted.
"There's an important story that needs to be told to America that the Confinement Sites grant funds," he said. "And without it, it's America that will lose."
Follow NBC Asian America on Facebook, Twitter, Instagram and Tumblr.